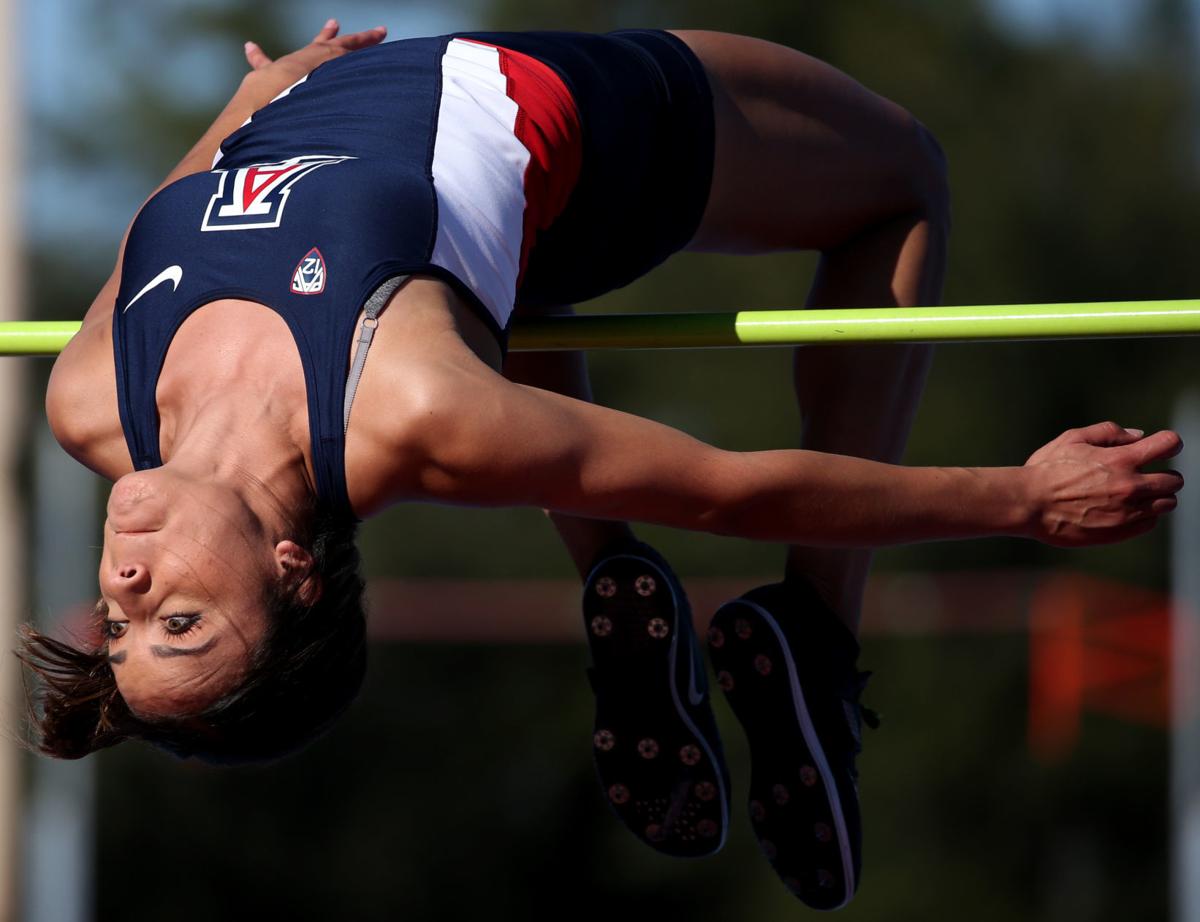 Arizona's Karla Teran qualified for the national track and field championships Thursday by tying for first place in the high jump at the NCAA preliminary round in Sacramento.
Teran, who won the Pac-12 high jump title two weeks ago, tied with Nevada's Nicola Ader by clearing 5 feet 10¾ inches. Teran cleared all her attempts, and both she and Ader, having already qualified, decided not to have the bar raised higher.
Teran, a junior, holds the nation's second-best jump of the outdoor season so far at 6-2. She will compete in the NCAA championship finals at the University of Texas, Austin, June 5-8.
Another UA junior, Carlos Villarreal, qualified for Saturday's final in the 1,500-meter run by winning his heat in 3:48.41. He will be going up against defending NCAA outdoor champion Oliver Hoare of Wisconsin, William Paulson of ASU and other top runners. The top 12 will qualify for Austin.
The Wildcats qualified two men in the 400-meter hurdles and two women in the same event, which is a coaching specialty of UA head coach Fred Harvey. The finals in the 400 hurdles will be contested Friday.
James Smith ran 50.84 for the ninth-fastest time among the 48 runners Thursday, and Maksims Sinculovs, who placed seventh in the national finals last year, ran 51.04 to finish in 13th and qualify.
In the women's 400 hurdles, Karolina Pahlitzsch ran the 10th-best time of the day, 58.31, and Shannon Meisburger finished 18th at 58.66.
Among Wildcats who did not qualify Thursday were Grayson Fleming in the hammer throw; PJ Austin, long jump; April Sutton, 400 hurdles; Kaelyn Carlson-Shipley, javelin; and Alexa Porpaczy and Diana Ramos in high jump.
The preliminary heats in the 400-meter dash were still to be contested Thursday when the Star went to press.
UA sophomore Jordan Geist is set to compete Friday in the discus and Saturday in the shot put. He qualified for the national finals last year in both events.
Be the first to know
Get local news delivered to your inbox!