For a few days last month, Dave Heeke got away.
The Arizona Wildcats' athletic director flew to the Midwest, packed a car and drove to a place with no land-line phone, TV, internet or cellphone service.
It was his first vacation in a year — and the first time in ages he could truly unplug.
In September, Heeke watched as federal agents arrested assistant basketball coach Book Richardson as part of a nationwide sting. Heeke fired Rich Rodriguez on Jan. 2, the same day the football coach's former administrative aide filed a $7 million notice of claim alleging sexual harassment. Two weeks later, Heeke hired former Texas A&M coach Kevin Sumlin. In March, Heeke and UA President Robert C. Robbins made the decision to keep basketball coach Sean Miller following an ESPN report that said he discussed a pay-for-play scheme.
Later in the spring, Heeke fired a women's tennis coach, hired a new one, then watched as the women's golf team won a national championship and Wildcats' athletes posted their highest-ever cumulative GPA.
"There were some real, real challenges, no doubt. But in the midst of all of that, I really believe we had a good year," Heeke said.
"On one side, we learned a lot. We're going to be better for that. On the other side, we were pretty good competitively. … While we had the challenges, and there were these clouds flying around, we continued to maintain a level of excellence and push forward, and our student-athletes really excelled. I believe we're positioned to have a lot of success in the future."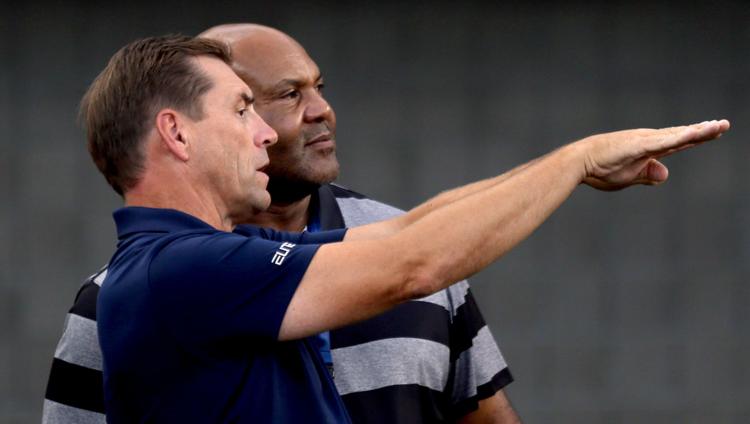 The Star talked to Heeke this week about his first 16 months as Arizona's AD. Here's some of what he said over the course of more than an hour:
On how he dealt with the ups and downs: "It was at times very challenging, complex, confusing — but at the same time, I found it really exciting and exhilarating. You'll always be faced with challenges in this industry, not unlike large companies or businesses. … All you do is step back, face it head-on and try to deal with the situation in the best way possible, learn and grow from it and be better coming out the other side. I never felt like something was overwhelming or insurmountable."
On the decision to fire Rodriguez: "There had been a lot of conversations on where to go with our football program. … There are a number of factors contractually, financially that you have to consider. That was the process that was driving things more than the external pressures. … I wouldn't draw a lot of conclusions from the timing of other things."
On the deciding factor: "We were driven by the process to get us in the right place. Quite frankly, let's be really honest, those aren't easy things to do. It's not easy to separate. There's a lot of soul-searching. … It is personally tough. You have to step back and say, 'Where are we going? What's the best for this program? What's the right thing to do for this university?' And stay the course.
"We really felt strongly that we needed to move in a different direction for the long-term health of our program.
"Timing was everything. … We needed a change. We needed a different feel and vibe."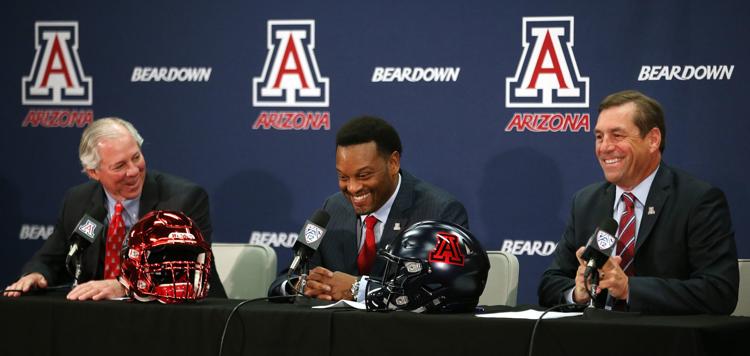 On the coaching search: "You can't get caught up in the external world that wants to influence or get involved in the process. You've got to stay focused. You know where you want to go. Let's stay the course, do it the right way, not get distracted and we'll get to the right place in the end."
On what job candidates told him about Arizona's football program: "'I'm not sure why it's not more successful. Why can't you be more successful? You're located in the right area, between Texas and California. Great campus.' People were surprised; at the same time, virtually everyone said it could be done. It has the ingredients to be successful."
On courting Sumlin: "What stood out was his excitement, his vision about the program and what he thinks is important, where he wants his programs to be. We wanted to make sure he was ready to get back into it (after being fired at Texas A&M). He was excited. We talked early and then came back to him. He said, 'This really feels right.' When he said that, we said, 'OK, let's keep talking.'"
On how he celebrated the hire: "Really, the first thing I did was call President Robbins and say, 'We got our guy.' Then I called Liz, my wife. Then I collapsed and got some sleep."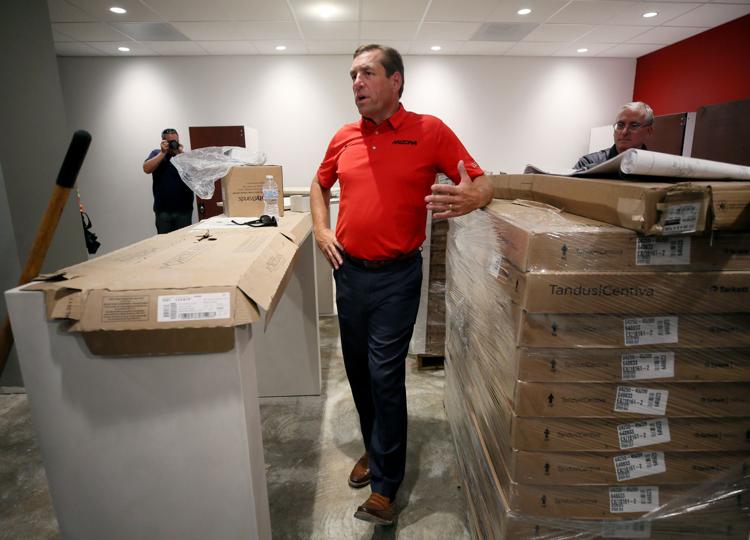 On his goals for the football program: "We want to be a program of excellence. We want to be a program that competes and contends for championships in the Pac-12. When we do that, we're going to be a nationally competitive program.
"We shouldn't shy away from that. Why wouldn't we aspire to be that? That's the kind of program that we want to build. We have to be patient. We have to have the right focus. We can't lose our way. Too often, you're looking for a quick fix, quick success. You want to build a program that can sustain success.
"Foundationally, we were a little unstable — that's recruiting, culture. I want a positive culture. I want a program with young people who are proud to play football at Arizona and understand our program and our history."
On changes at Arizona Stadium: "We need to continue to make the experience better for our fans. You can get a lot (by watching) on TV. But until you sit in that stadium and watch (quarterback) Khalil Tate and be part of a big win or unbelievable atmosphere. … you can't get that on TV. We have work to do, but we will get there for sure."
On his desire to sell out Arizona Stadium: "Fundamentally, the clearest and best way to support all our programs is to buy a football season ticket or support through football. That's a trickle-down. All the seats we're not filling are inventory where we could provide resources to other programs. That's our growth zone. The opportunity to serve — for those that are interested — beer and wine … that's another option. We're looking at other food options and should have some news there soon."
On raising the money — $100 million or more — to renovate Arizona Stadium: "It sounds like a big number, but it's about breaking that down. We need to find very creative revenue streams. We need strong support from individual donors for some lead gifts. … You don't write a check for all of it; it's a long-term investment, a debt-service plan. I'd say I'm a little bit more on the conservative side. We're behind across the board on facilities. We needed some quick things accomplished. The football thing is a glaring issue and we need to do that."
On his plan: "We have to have a really clear vision of what we want to do in the stadium, and then we have to share that story with people who can help us. My dad was a guy who said, 'Deal in cash; don't over-extend that credit.' You make investments in facilities, and you amortize that over a number of years. That's part of the way we grow. People don't completely fund something out of the gate in private business. We cant be traditional or too conservative; we have to move forward."