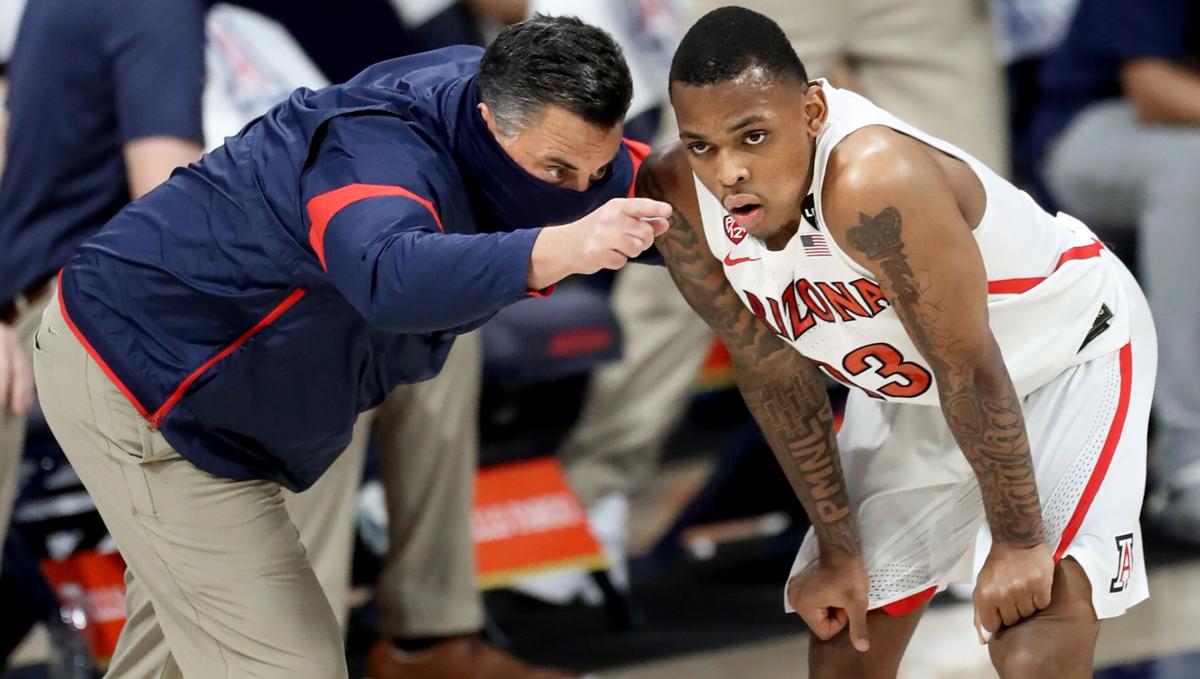 With at least three games to go but an uncertain recruiting future ahead after that, UA coach Sean Miller was asked Tuesday if he'd had any discussions about a contract extension and what does he say in the meanwhile with players he is recruiting.
In what has been the elephant in his office for a while now, Miller's contract has not been extended since before the FBI's 2017 investigation and is set to expire after next season.
"You know, I'm just not there right now," Miller said during his weekly Zoom conference, in response to a question from Arizona Desert Swarm. "Right now, for me and our team and everything that we're doing, it's more about the questions that you guys have already asked and that is, how are you gonna finish this season, how are you going to be the most ready you can be, what are your goals, what are you talking to your guys about?
"That's the box that we're in."
Since Tuesday's Zoom conference might have been Miller's last pregame media session of the season, he may not be available to address it to media again any time soon.
But UA is likely to make a decision of some sort this spring, since it is highly unusual (and difficult) for a coach to recruit with only one year left on his contract, since technically he wouldn't be able to say if he'll actually be around to coach a recruit by the time he arrives.
Miller is scheduled to earn a guaranteed $2.9 million this season, minus $360,000 pay cut to match the university-wide COVID-related reductions, and next. Details are addressed in item four of this explainer.
---
While Miller said UA will hold a Senior Day ceremony Saturday for senior managers and senior players Ira Lee, Terrell Brown and Matt Weyand, he would not say if they are all leaving for sure.
Since the NCAA is not counting this season toward any winter sport athletes' eligibility clock, all three have the option return but doing so might create a significant logjam on the Wildcats' roster.
Teams are limited to 13 scholarships, and most of UA's 11 non-senior scholarship playes are expected to return -- plus UA has already signed three high school seniors: Shane Dezonie, Shane Nowell and K.J. Simpson.
When asked if he's at least had any preliminary conversations with Lee and Brown, Miller said:
"Those conversations are just not fair at this point simply because we have not completed what we've set out to do. We have more practices. We have more games. Now we've added a game. So those are all things we'll address when our season ends."
---
The three seniors will each be allowed to have four guests attend, Miller said, making Saturday's game the first since the Wildcats' season opener against Grambling State that anybody other than players, staff and media has been allowed inside McKale Center.
UA hasn't allowed player guests to attend any games, even road games such as at ASU in which the hosting team allows them for both teams.
Miller said the families won't be allowed on the court, which is pretty much required with COVID protocols prohibiting everyone not in the "Tier 1" player/coach/official group on the floor to stay at least 25 feet away.
"I mean, everybody has sacrificed," Miller said. "Our families of our players haven't been allowed to see their sons play live for a long time and I believe that's a small part of what's helped us get through this season COVID-free to this point. But I believe they're also itching to see their sons play. It's nice that they can see them here in the last game."
---
About that extra added game: UA will now play Oregon next Monday, and it's not clear if that will be the season-ender. The Wildcats also have a nonconference game they could play but Miller said it might be difficult to find an opponent for later next week because many teams are already playing or about to play conference tournament games.
"We're certainly looking for an additional game, but it's just not easy to find," Miller said. "And we have to be smart as well. We're playing Thursday-Saturday-Monday so that takes out the early part of the week for us. ... We don't have a lot of options."
The Wildcats technically could play the last game anytime next month, but when asked if he'd want to wrap it up next week, Miller said he didn't know.
"I didn't even know we were playing at Oregon until late afternoon yesterday," Miller said. "Things seem to change and as you guys know, the three games we're currently scheduled to play could change. We've always taken it kind of one game at a time."
---
Washington State was without leading scorer Isaac Bonton for its last three games but coach Kyle Smith said Tuesday he's now day to day and will make the trip to Arizona.
"I feel good about him playing at some point," Smith said. "Hopefully, Thursday would be great."
In the meantime, Noah Williams has made up a lot of the difference, earning the Pac-12 Player of the Week award after dropping a total of 72 points on the Bay area schools last weekend.
"Can't say I saw that coming," Smith said, chuckling. "Not that I didn't think he's a good player. But he's just got a great will to succeed and compete. He's not afraid to fail."