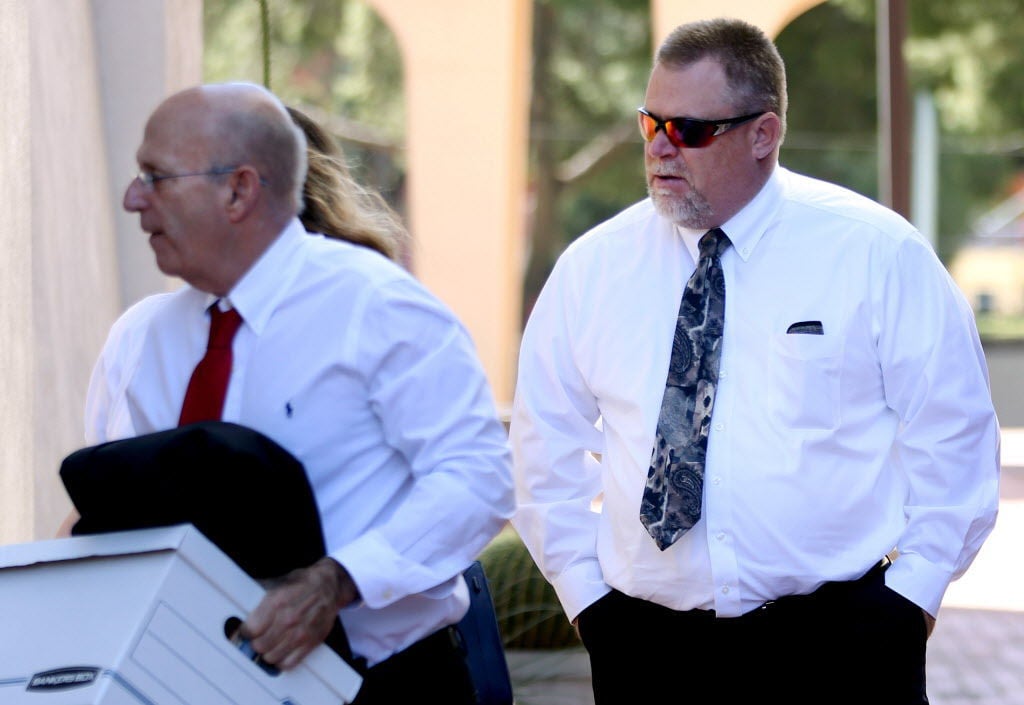 Craig Carter snapped on April 20, 2015, when he put his hands on University of Arizona athlete Baillie Gibson and threatened her with a box cutter.
Attorneys for the prosecution and defense in Carter's trial agreed on very little during opening statements Wednesday, but the fact that Carter attacked Gibson in his office was one of the few not in dispute.
Dan Cooper, one of Carter's attorneys, said the coach's actions did not meet the statutory guidelines for aggravated assault.
Prosecutor Jonathan Mosher spoke first to the jury of six women and four men — including two alternates — saying that the despite what information jurors may be presented with, the case came down to only two questions that needed to be answered: Did Carter strangle Gibson and did he threaten her with a box cutter?
Carter was arrested in May 2015 after Gibson told campus police about the assault in the office and provided dozens of text messages, emails and voicemails from the day of the alleged attack and days immediately following it, in which Carter both apologized for his actions and threatened Gibson's life.
During his opening statement, Mosher played a video of Carter admitting to the attack in an interview with UAPD detectives.
In the video, Carter said "I got the box cutter out of my pocket and I said 'I'll freaking hurt you' and I, you know after how long, maybe five seconds of that, it was kind of like I thought 'what are you doing?' I let go, I put the box cutter down and I told her not to leave, said I was sorry and I was going to just stick it in my neck because I knew I was pretty screwed right then."
Carter first met Gibson, a shot put and discus thrower, when he recruited her as a junior in high school. The two entered into a sexual relationship in 2012, Gibson's sophomore year at the UA.
Gibson told police their relationship was consensual for a month before she decided she wanted to stop. Gibson couldn't, she said, because Carter threatened to share provocative photos of her.
The day of the incident in Carter's office started with an argument between the two that continued through much of the day, Cooper said.
"Craig then starts to go ballistic," Cooper said to the jury, before moving onto the situation in the office during which he says Carter grabbed Gibson's "shoulder-throat area" before pulling a box cutter out of his pocket. "Track coaches have to do a lot of work themselves. Craig always had a box cutter with him because he had to fix equipment."
In his statement to the jury, Cooper also addressed the aggravated assault charges, which he said don't apply to the situation in Carter's office.
A person commits aggravated assault if they commit assault by either intentionally, knowingly or recklessly causing any physical injury to another person, intentionally placing another person in reasonable apprehension of imminent physical injury or knowingly touching another person with the intent to injure the person, according to Arizona law.
"The words 'strangle' or 'threaten' aren't in the statute," Cooper told the jury.
Gibson described the day of the incident while on the stand Wednesday. Carter was angry that she wanted to leave Tucson after graduation, which was a few weeks away, and became distraught, threatening to hurt Gibson and then himself, she said.
Instead of calling police, Gibson said she went to confront Carter in his office. While there, Gibson said she told Carter the relationship was over. She told the jury that Carter grabbed her by the strap of her tank top and pushed her onto the couch in his office, grabbing her throat with one hand and a box cutter — blade extended — in the other.
Fifteen or 20 seconds later, Gibson said, Carter collapsed on her in tears before threatening to kill himself.
During his cross-examination, Cooper confronted Gibson with her interview with UAPD detectives in which she said she and Carter were intimate for the first time in his office in the McKale Center. She told ESPN's "Outside the Lines" and ABC's "20/20" that the first sexual encounter happened at the Olympic trials in Oregon, and that she was too drunk to consent.
"Intimate relationship doesn't mean it's all just sex," Gibson responded. "Intimate means touching, flirting. It doesn't mean sex to me."
Cooper likened the situation to that of former President Clinton, to which Gibson replied, "Honestly, I don't know about Bill Clinton."
"You're too young," Cooper said before moving on.
Cooper addressed text messages in which Gibson appeared to have genuine feelings for Carter, the sexually provocative photos she admitted to sending the coach and the nearly two hours she spent in his office the day of the incident involving the box cutter.
After the jury was excused, Laura Udall — another Carter attorney — asked Judge Teresa Godoy for a mistrial over Gibson's statements about intimate relationships. Godoy denied the motion.
Testimony from campus police officers who investigated the case will begin Thursday. Jurors will also hear from Gibson's former roommate and teammate, Julie Labonté, before the week is over. It's unclear if Carter will be testifying in his defense.