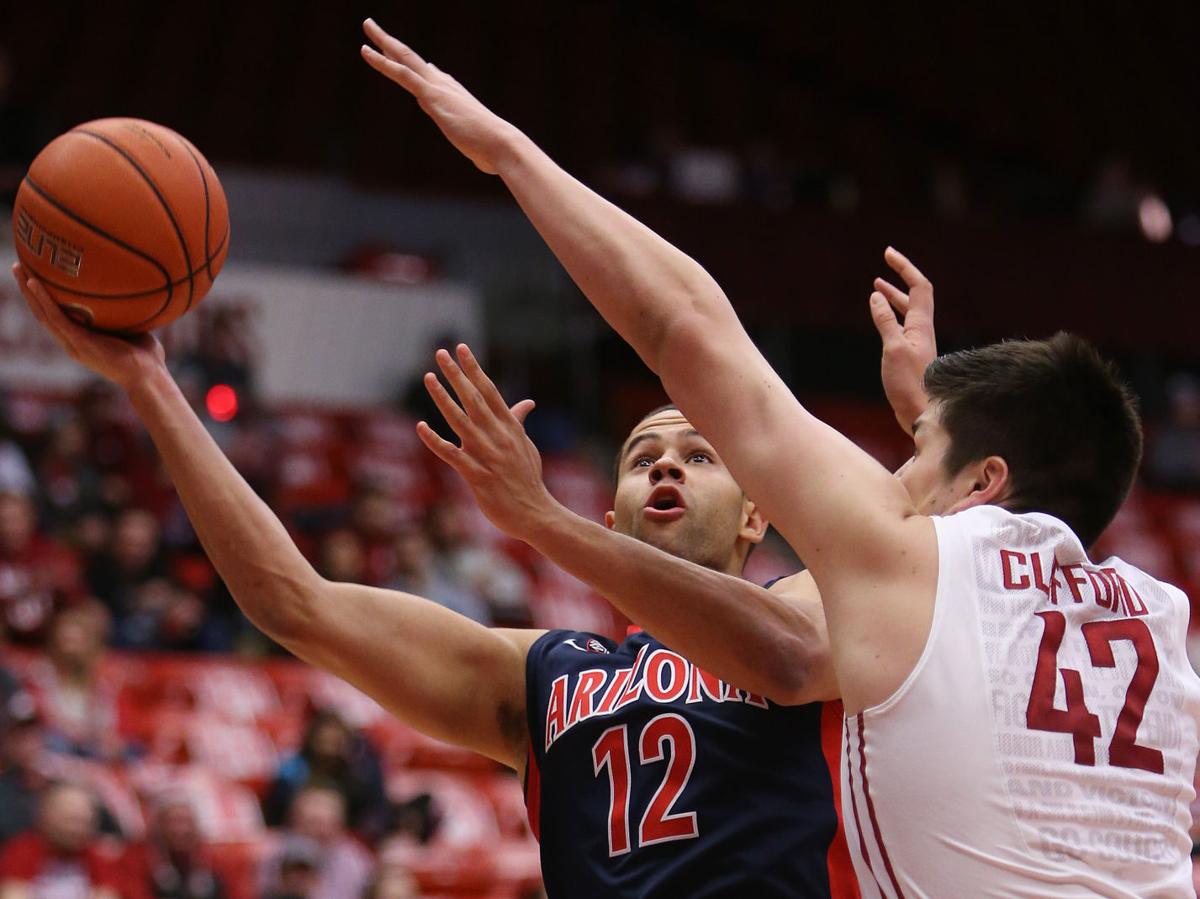 PULLMAN, Wash. – Leave it to Mr. Consistency, Ryan Anderson, to power the Arizona Wildcats in front of a lifeless crowd at Beasley Coliseum.
Anderson had a career-high 31 points and 12 rebounds, his 11th double-double of the season, while the Wildcats beat last-place Washington State 79-64 despite struggling early and at times in the second half.
Mark Tollefsen added his first UA double-double with 12 points and 10 rebounds, though he had four at the University of San Francisco.
Gabe York added 14 points for Arizona while Kaleb Tarczewski had seven points and 10 rebounds.
The Wildcats' normally efficient offense sputtered at times and finished with only 42.2 percent from the field. But UA held WSU to just 34.9 percent shooting on the other end while scoring 17 points off the Cougs' 14 turnovers. UA also outrebounded WSU 45-40.
The win moved Arizona to 18-5 overall and 6-4 in the Pac-12, entering a game Saturday at Washington. The Cougars dropped to 9-13 and 1-9.
The Wildcats went on a 13-5 run immediately after halftime and led by as many as 19 points in the second half. But WSU went on a 10-1 run of its own to close within 59-49, prompting UA coach Sean Miller to call a timeout.
But, except after Que Johnson hit a pair of free throws with 8:47 left to cut UA's lead to eight points, the Wildcats managed a double-digit lead the rest of the way.
In the first half, Anderson had 11 points and six rebounds to help Arizona dig out of an early eight-point deficit and take a 39-30 halftime lead.
Although WSU's Josh Hawkinson nearly put up a double-double in the first half (14 points and nine rebounds), Arizona overall held WSU to just 37.5-percent shooting and scored nine points off the Cougars' nine turnovers.
Struggling early in an empty atmosphere at Beasley Coliseum, which had only about 3,000 fans on hand at tipoff, Arizona broke out of a 26-26 tie with five minutes, going ahead 32-28 on a three-pointer from Mark Tollefsen with 3:18 left.
The Wildcats missed 6 of 7 and 9 of 12 shots to start the game and fell behind 17-9, when Ike Iroegbu hit a three-pointer with 10:21 left. But UA scored eight straight to tie it at 17, and the game was tied again at 26 entering the final five minutes.
Parker Jackson-Cartwright made his first career start Wednesday in place of Kadeem Allen, whom a UA spokesman said has been ill. Allen played seven minutes before fouling out.
Arizona guard Allonzo Trier participated in pregame warmups but sat out a seventh straight game because of the broken hand he suffered on Jan. 9. He is questionable for UA's game at Washington on Saturday.