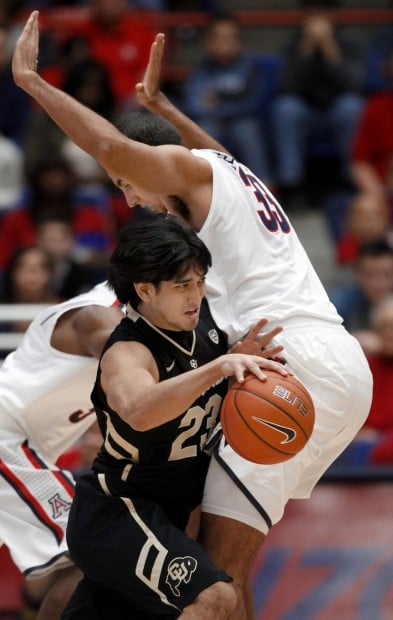 Sabatino Chen glanced up at the shot clock two seconds before it would become the most-viewed electronic box on every television screen in the sports-loving country.
It read 1.5 seconds, then 1.4.
Just shoot it, he told himself.
He did, and it banked in. He wanted to celebrate, thinking he had just given Colorado an 83-80 victory against No. 3 Arizona as the McKale Center buzzer sounded.
"I was shocked, honestly, until all my teammates all started rushing at me," the senior guard said. "A lot of emotions."
"For a second," he said. "I knew they were going to review it, so I didn't want to over-celebrate."
Officials looked at the courtside feed - which typically features five television views and two in-house camera angles but was more limited Thursday night - and decided the greatest shot of Chen's life, capping the biggest game of his life, was no good.
Arizona went on to win 92-83 in overtime.
"I thought it was good," Chen said. "I thought when we went and saw the tape that it was good or too close to overturn."
Coach Tad Boyle was more blunt. Asked about the shot, he laughed.
"I mean, are you kidding me?" he said. "It's disappointing, because our team played well enough to win."
Boyle was asked later if the call would have gone differently were the Buffaloes at home.
"I don't know," he said. "It shouldn't matter. That's why we have replay."
UA coach Sean Miller said after the game that he was rooting for the shot to not count but "was going to be good with either call."
He joked that because the ball banked in and Chen didn't call it -streetball etiquette demands that you do - then "the basketball gods" were at work if it was disallowed.
The controversial video spread across the country before overtime began, and Chen's game-winner was no more. It would have been his first.
The Louisville, Colo., native had a lot of firsts Thursday night, scoring a career-high 15 points on 6-of-10 shooting.
Before then, he had a career-best 12 points twice - within nine days of each other while a sophomore at the University of Denver.
His CU high came Nov. 9 against Wofford.
He made two three-pointers Thursday - as many as his entire career total with the Buffaloes.
Chen is not a prolific scorer, having averaged just over two shots per game in his Colorado career before Thursday.
He hadn't scored more than six points in a game since November. In the Buffaloes' three biggest non-conference games this year - against undefeated Wyoming and ranked Baylor and Kansas - he attempted a total of six shots.
He called Thursday the best game of his life.
"He looked like Reggie Miller out there tonight," Sean Miller said, "including one that banked in and could have been the game-winner."
The Wildcats denied the Buffaloes' other offensive players as time expired; rather than try to find a covered Askia Booker off a flare screen, Chen was forced to shoot from two feet beyond the three-point line.
"He played like a senior," Boyle said. "He played fearless. His shot has gotten better since he came to campus."
Booker said Chen "made big plays and kept us in it."
Mark Lyons, the Wildcats' point guard, said he was deceptively tough to guard.
"A game like him, his type of game, is hard to guard … It's kind of European," Lyons said. "We denied everybody. I knew he had to shoot that."
Once the call went against the Buffaloes, it was hard for CU to rebound.
"I think it showed that we didn't recover," Booker said.
The Buffaloes coach said CU "battled for the first couple minutes (of overtime), and then we couldn't get stops."
After averaging two points per minute in regulation, Colorado totaled only three in the five-minute extra frame.
"It hurts," Boyle said. "It hurts bad. I'm not gonna lie."