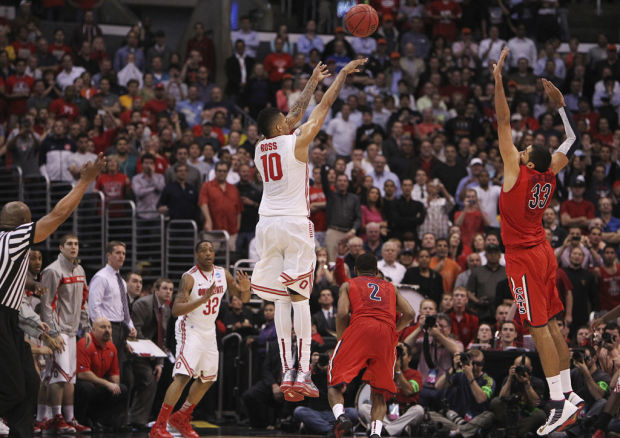 A 15-foot freeway sidewall stared at Deborah York for a horrific split-second last month, and her motherly instincts took over.
She lunged for her son, Gabe, and tried to hold on while her 2007 Chevy Malibu veered out of a middle lane on California State Route 55.
"When I saw the wall I thought we were going to die," Deborah said. "I reached over and grabbed Gabriel, just to hold him. I remember hearing the glass break, but my eyes were shut. In my mind I kept telling myself it's not over."
Fortunately for Deborah and Gabe, an incoming Arizona Wildcats freshman guard, it was not. The car rolled over twice, but landed on its wheels, facing the traffic but not hitting any. Glass was everywhere, lacerating Deborah's hands and neck, and the stench of a gunpowder-type smell from the car's air bags was so thick she thought there was a fire.
The doors were broken, but Gabe crawled out the window and pried open a door so his mother could get out.
Before long, they were on the way to a six-hour hospital stay. There, Gabe anxiously tweeted out an update.
"Ayyy everybody moms and I got in a car accident this am," his Twitter page read during a 12:01 p.m. update on March 15. "It was really bad. She aint doing too good pray for her please love yall."
A few hours later, Gabe and Deborah were released from the hospital, with examinations revealing no broken bones or internal bleeding. Deborah said she still has whiplash symptoms but that's nothing compared to what they could have had.
Gabe York said God must have had a plan for them, in part because he simply couldn't explain it any other way.
"It's really a miracle that we got out of there," he said. "When we went into the wall, we were going about 60-65. I didn't look at my mom, but I maybe thought there was nothing else. My mind kind of went blank. I thought, 'I guess this is how I'm leaving.' Having to go through that as an 18-year-old, it was really scary."
He was not the only one surprised they are alive today.
"The police and fire department were astonished two people could walk away from that," Deborah York said. "They couldn't believe it."
Deborah said the crash was the result of being cut off by a driver going 20 mph faster, an account she said a witness corroborated, No charges were filed. But she still felt responsible for putting her son in danger.
"To this day, I suffer tremendous guilt we went through that," York said. "As a mother you're supposed to be the protector."
The drive down Route 55 was the result of Deborah York's trying to make it easier on her son. For three years, the two commuted 60 miles round-trip from West Covina to Orange, so Gabe could go to school and she could reach her job, but they moved into an Orange County apartment last year when the Yorks lost their home in the real-estate crash.
It was the second time in less than three months that Deborah had suffered a mother's heartbreak. On New Year's Eve, just 24 hours after Gabe had his third straight 30-point game to break Orange Lutheran's career scoring record, he sat in the hospital while doctors told him he needed an emergency appendectomy.
His life was not threatened quite like that morning on the freeway. But his senior season suddenly was.
"It didn't seem like it could be possible," Deborah York said. "As a mom I said is there any alternative? They said 'No, we need to operate now.' … He had abided by all the rules. He waited his turn to be a senior and then to have that happen your senior year and have the doctor tell you that you will miss six weeks, he couldn't even put his mind around it."
In fact, he didn't, initially. Gabe York spent most of the day figuring he just had a really bad stomachache.
"I had 38 points the night before and then I wake up and my stomach's killing me," York said. "I asked a friend, 'Tell Coach I can't practice today.' I waited until 10 that night before I actually went to the hospital. Then, within three minutes, the doctor said I had appendicitis. It was really crazy."
Gabe recovered quickly, so quickly that his eagerness to play again wound up costing him more time. On the day he was cleared to play again, before he rejoined his high school team, York suited up briefly for a shorthanded adult-league team that his brother, Eli, was playing on.
"Obviously, I hate not being able to play," York said. "I love basketball that much. I didn't go with the intent of playing but it was out in Ontario, and I had shoes in the car. I told them I might as well give it a shot."
Gabe and Deborah said they had no idea that he was violating a CIF outside-competition rule, and that's what she told the CIF. But the rule carries an automatic suspension of twice the number of outside games played, so Gabe missed two games after his planned return.
Between the appendectomy and the suspension, York sat out six games. Lutheran lost four of them, and York struggled even after returning. He scored more than 20 points in his second and third games back but still didn't feel right.
"It was definitely harder to get those points," York said. "I was just so tired right away and wasn't physically able to play how I used to and obviously that's really frustrating. It took me probably about another two or three weeks after I was out playing to get back into shape."
Still, York finished strongly enough to average 24.9 points and 4.8 rebounds a game, leading Lutheran to the second round of the I-A playoffs and becoming the CIF Southern Section Division I-A player of the year. He also shifted over to point guard at times out of necessity, a function he also might be needed for at UA next season.
"He had a really good career for us," Lutheran coach Chris Nordstrom said. "I'm not sure he's not the best kid I've ever coached."
Nordstrom said he believed York would have been named to the McDonald's All-American game if not for the appendicitis. York was also not invited to Jordan Brand Classic - in which fellow UA signees Kaleb Tarczewski, Grant Jerrett and Brandon Ashley played last weekend - but he was named to the All-American Championship in New Orleans and the Ballislife regional all-star game in Fullerton, Calif.
As he kept playing in the postseason, too, eye-opening things kept happening. But they were all good. Not only did York survive the car crash relatively unscathed, but he became an MVP of the Ballislife game and he kept receiving a nice taste of life as a Wildcat.
Deborah York said UA fans showed up at her son's playoff games, taking pictures with him afterward, and the two were stunned during a layover en route to the All-American game in New Orleans.
"We were just at this taco bar in the Dallas airport and an Arizona fan came up to him and said 'Gabe York!' like he was a long lost friend," Deborah said. "It was crazy. It was just the strangest thing.
"It's been a year of really unexpected things."