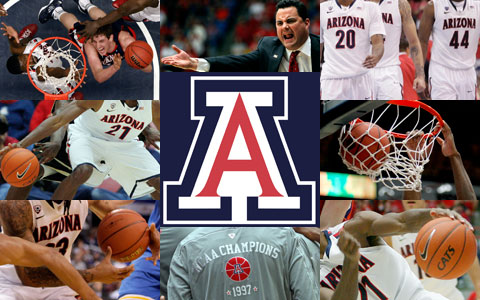 Eighteen months after he was accused of attempting to murder Arizona Wildcats forward Kevin Parrom, Jason Gonzalez has received a six-year prison sentence in Bronx Supreme Court.
Attorneys on both sides agreed last month to a plea bargain with a six-year sentence, and Gonzalez pleaded guilty to the top charge of attempted murder. The formal sentencing was issued late Friday afternoon and confirmed by the court to the Star on Monday.
Parrom and UA coach Sean Miller have declined to discuss the case, and Parrom's father, Kenneth, could not be reached by telephone Monday. In addition, neither Sara Jacobson, the district attorney representing the state, nor Gonzalez's attorney, Alexander Sanchez, returned calls seeking comment.
Gonzalez, 21, has been jailed since his arrest on Sept. 30, 2011, six days after Parrom was shot twice while with a female friend in his father's Bronx apartment during a visit home to visit his cancer-stricken mother. Gonzalez is expected to receive credit for spending the past 18 months in jail.
Gonzalez was charged with attempted murder and four other charges. He initially pleaded not guilty to the charges on Jan. 25, 2012, and the case was adjourned five times before he entered the guilty plea on Feb. 4.
Gonzalez' first attorney, Javier Solano, said in December 2011 that "every indication" was that the case would eventually go to trial, but Sanchez took over the representation of Gonzalez in 2012.
The original New York police deposition said Parrom told police that the defendant and other men were together in the early morning hours of Sept. 24, 2011, when they kicked open a bedroom door and that the defendant pointed a silver firearm at Parrom.
Police said Parrom told them a struggle ensued and that the defendant pulled the gun several times, shooting Parrom above his right knee. Parrom later told the Star he also was shot in the left hand.
Police said Parrom told them the gunshot wound caused him "bleeding and substantial pain, as well as annoyance, alarm and fear for his physical safety."
Parrom missed a month of activity with the Wildcats in the fall of 2011, making his first appearance in a game on Nov. 13, 2011.
Although Parrom played too much in 2011-12 to meet normal NCAA medical hardship criteria, the UA is planning to appeal for a fifth year of eligibility because of the time he lost in 2011-12 and as a freshman with foot injuries in 2009-10.
UA coach Sean Miller said forward Grant Jerrett would practice fully this week after injuring his right elbow against Harvard on Saturday. A UA statement on Sunday said Jerrett would regain full strength and sensation in his elbow, and Miller found things more encouraging on Monday.
"Looks like Grant's a full go, which is great news for us," Miller said. "I think it's completely back."
Miller said he would let the Wildcats decide if they would wear blue or red uniforms as the lower-seeded team Thursday, and an hour later, athletic director Greg Byrne said on Twitter that the Wildcats chose red.
The Wildcats are 4-2 in red so far this season, with four nonconference wins (Texas Tech, Clemson, ETSU and Miami) and losses at Oregon and to UCLA in the Pac-12 Tournament.
Three-point threat returns
Arizona hit a combined 56.3 percent from three-point territory last weekend in Salt Lake City, but Miller indicated it's not an anomaly as much as it is going back to the way the Wildcats were earlier this season.
Arizona made 39.1 percent of its three-pointers through the nonconference season before making 34.5 percent in Pac-12 games.
"We've been a very good three-point shooting team," Miller said. "We hit a slump for about three weeks where it didn't seem the ball would fall.
"Prior to our conference beginning, we shot the ball very well. And this weekend we almost returned to form. We took good threes and we had a number of guys contributing."
Ohio State won this year's Big Ten Tournament title, has been to four straight Sweet 16s and reached last season's Final Four.
So having to play Arizona at the Wildcats' sort-of second home in Los Angeles, Miller said, probably won't bother them. But it could be worse.
"I'd much rather play Ohio State in L.A. than in Dayton, Ohio," Miller said. "We have to take advantage of that."