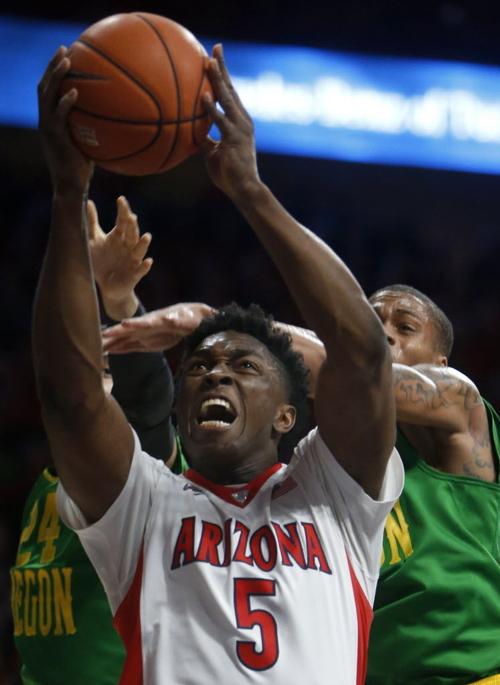 CHICAGO — Maybe Stanley Johnson did waffle a bit before deciding to leave the Arizona Wildcats for the NBA as a freshman, but he sure doesn't sound like that guy anymore.
While NBA draft prospects are typically encouraged to be confident during interviews with teams and media — after all, who wants to invest millions in someone who isn't sure of himself? — Johnson took things to an extreme during the NBA combine last week.
Expected to be picked in the second half of the NBA lottery range — roughly between the 8-14 spots — Johnson declared himself the best player in the draft. He said he and teammate Rondae Hollis-Jefferson are the two best defensive players in the draft. And he said he can play four positions, point guard through power forward.
Allow Johnson to further explain, in his own words, 10 reasons he should be drafted at the top on June 25:
1. I bring versatility, toughness and character
"I can move all over the court. I can start a game at three, two or four, and I can be the primary ballhandler in any pick-and-roll or any two-man situation. And on defense I'm gonna play hard. I'm gonna play smart and I'm a nasty competitor. I don't think there's many guys out there who want to compete as hard as I do."
"I'll be a great character in the locker room, a great leader on the team and I think no team can have enough people with great attitudes.
2. I adjusted to a similar leap last season that I'll be making now.
"High school to college was learning how to play learning the mental game, learning the game of college basketball, and letting your talent take over after that. I would imagine it's the same thing in the NBA, learning how to play the right way, and let your talent take over.
3. I want only what I earn. I'll come off the bench
"One hundred percent. Nothing comes easy. I didn't walk into Arizona looking at a starting position. I don't wanna walk into the NBA looking for a starting position. I want to work for everything. Anything that's given to you can be counterfeit. So I want to work for everything I get."
4. My midrange game developed at Arizona (he shot 47.8 percent from two-point range)
"I've been polishing that a little bit more. Through the season I gained a midrange game, I gained a floater, I gained a pull-up. Now I'm working on post-ups, turnarounds, stuff like that, making plays off the fadeaway. So I think next season when you see me play, it should be part of my game that shines a lot, part of my game that I will rely on a lot in the league.
5. The NBA three-point range shouldn't be a problem (Johnson shot a better-than-expected 37.1 percent from three at UA)
"I don't think it will be that much. I've been shooting my butt off. Was prepared to do this about a year ago. I don't think it'll be a big change for me. I should shoot about like I did in college.
6. The Thunder told me I'm the best two-way player in the draft.
"They know a lot about it. I got coached under Billy Donovan (with USA Basketball's U18 team last summer) so he knows a lot about me as well. They're very familiar with who I am and what I do."
"I think I can be most dominant at the two position, but I'm comfortable with all three of them. The way the league is going, you've got 6-2 players playing the two, 6-6 players playing the four. It's about who you can guard. I think I can guard all four.
"People think I can't finish at the rim. That makes no sense. You say I get to the rim with ease but I can't finish? It's decision-making, that's what it is: whether to shoot a floater or a layup, dunk or layup, dunk or pass, stuff like that, I get caught up in the air with a charge call a lot. (Last season) was the first time I had to deal with it.
"If you watched me in high school, I had no problem finishing at the rim. I get to the rim with ease. I'm athletic enough. I tested everything at P3 (the training facility in Santa Barbara where Johnson is working out). You put me in a workout with anybody in the draft; I'll do that as well.
8. Playing pack-line defense at Arizona helped a lot.
"The pack line at Arizona — we were probably the best defense in the country this year. We played a hell of a lot of defense, and defense isn't about scheme. It's about how much you want to play defense. With coach (Sean) Miller, if you didn't play defense, you're not in the game. I think I'll be more prepared than anyone else.
"Me and Rondae are the best two defensive players in the class this year just because we want to do it, we know how to do it and we're nasty with it. That's how coach Miller trains his players and that's what we bring to the table.
"I'm just a good guy and a nasty competitor who wants to play. I think I'm the best player in the draft. I bring that confidence and that willpower and strength. I know what adversity is like. I can handle it as well.
10. I'm ready. Although I consulted with everybody about whether to leave — and I love Arizona dearly — it was not a split decision.
"No. You're either 10 toes in, or 10 toes out. You can't be, 'Uhhhh.' I was 10 toes in. So I left."