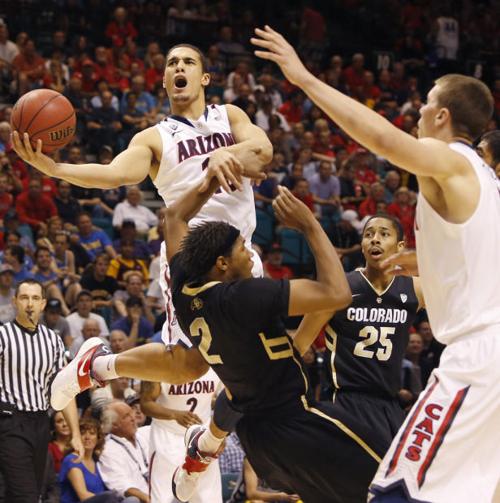 If there's one man responsible more than any other outsider for jump-starting the Sean Miller era at Arizona, it's Tim Floyd.
If it weren't for Floyd's decision-making, in fact, the Miller era doesn't even happen. Floyd, who will bring UTEP into McKale Center tonight to face the Wildcats, was last seen in Tucson with then-AD Jim Livengood in April 2009, mulling an implicit offer to take over as Lute Olson's permanent replacement.
When Floyd opted to stay at USC, Livengood courted and eventually landed Miller.
Three months later, Floyd unknowingly gave Miller a major recruiting infusion when he opted to leave USC in the wake of administration battles and NCAA issues that revolved around standout O.J. Mayo. (The NCAA cleared Floyd a year later of wrongdoing.)
When Floyd left, a couple of USC commits named Derrick Williams and MoMo Jones were deemed free to go - and they chose Arizona, where Miller had plenty of playing time and scholarships to offer.
(UA senior Solomon Hill, who committed to Floyd after Olson retired in October 2008, opted to join Miller before Floyd left the Trojans.)
Since it's been well documented what kind of impact Williams, Jones and Hill have had on the resurgent Wildcats, you figure it could be a bit ironic - or painful - for Floyd to be roaming the visitors sideline tonight.
But Floyd says he doesn't look at it that way, that the talent was indicative of the rise USC was on before he left. In discussing with the Star the UA job, leaving USC and taking over at UTEP in 2010-11, Floyd also said:
• He intentionally set up a rugged schedule this season at UTEP, where he was an assistant coach under legendary Don Haskins early in his career.
"UTEP was like Arizona is now, before Arizona was Arizona. It was rocking and rolling in the '60s, '70s and '80s. We had some good teams in the 2000s, too. We're just trying to get it back to where it was, and to do that we have to play some nationally televised games. We're not ready for it, but I can say that this schedule has allowed us to recruit the kind of guys that are going to allow us to play this schedule in the future."
• The varying stops his career has made - to Idaho, the University of New Orleans, Iowa State, the Chicago Bulls, USC and the New Orleans Hornets - were part of a logical progression.
"Low-major to mid-major to NBA to high-major. Now kind of returning home to where it all started, where we were received well. The truth is, I probably needed that after leaving USC. Coach Haskins asked me to come back before he passed away. He told me he'd like to see me rebuild it."
• He said he left USC because of lack of administrative support during the NCAA investigation.
"Thank goodness we had a chance to meet with the infractions committee. If we had been guilty of anything, I wouldn't be coaching today. I had been offered the job at Arizona and at Memphis and elected to stay with an investigation that had been going on for 12 months because I knew I had done nothing wrong.
"It was too bad because there were no violations, and they should never have sanctioned them. That's life. That's history, but I'm really proud of the fact that at the end of the day there were no violations."
• It wasn't hard to watch Arizona succeed with Williams and Jones.
"I don't look at it from that standpoint. I look at it as we did a great job at USC. We had hit rocking and rolling. I don't have any regrets because we did it absolutely the right way.
"I knew that those guys would be good. We had a lot of other good players - Nikola Vucevic, Dwight Lewis, Alex Stepheson, Marcus Simmons, Marcus Johnson. We were putting together a great team in a down Pac-10. There was no reason to feel anything but great about it."
• Arizona was an attractive opportunity.
"It had nothing to do with anything other than if you're happy at a place, you stay. So I stayed. I didn't want to leave with an investigation going on. But hindsight is a beautiful thing. Had I known that I was going to be put through, what I was put through…"
• The two-year series - which will resume in 2014-15 with UA playing at El Paso - happened in part because of Floyd's respect for Miller.
"He was a coach's son; I was a coach's son. I coached against Sean when he was a player at Pitt, and I've followed his career. I've always marveled at the greatness that's come out of Xavier and the coaches, and Sean is the latest. I love the way he handles himself. I love the way his teams play, and he's an ethical recruiter. Arizona got the right guy. They got the right guy. Everyone knows that. I know that."
• Who: UTEP (1-0) at No. 12 Arizona (1-0)
• Radio: 1290-AM, 107.5-FM