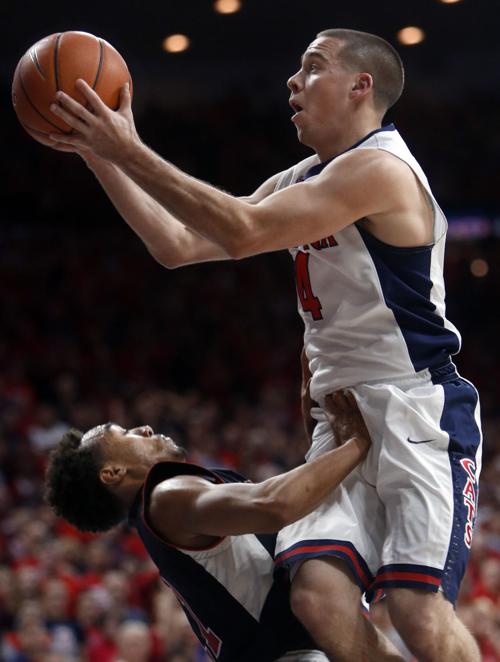 T.J. McConnell and Stanley Johnson helped the Arizona Wildcats protect McKale Center and reassert themselves in the early Pac-12 race with a 69-51 win over Utah today at McKale Center.
The win extended Arizona's homecourt winning streak to 32 games and moved the Wildcats to 16-2 overall and 4-1 in Pac-12 play, entering games at Stanford and Cal next week. Utah dropped to 14-3 and 4-1.
The Wildcats also pulled into a first-place tie with Utah and Stanford at 4-1, and Washington State will also be 4-1 if it beats Oregon State at home later tonight.
Arizona won the game largely by crushing the Utes on the boards, gaining a 40-19 rebounding advantage. UA had 17 offensive rebounds and scored 18 points off them, negating the fact that they were only 1 for 7 from three-point range. Utah had just four offensive rebounds.
McConnell scored 12 points in the first half to help pull UA out of an early 10-2 hole, and finished with 16 points on 8-for-10 shooting, while dishing six assists and having only two turnovers.
Johnson had 18 points on 6-for-12 shooting with nine rebounds. Brandon Ashley added another 14 points and eight rebounds.
Defensively, the Wildcats held Utah to 39.0-percent field-goal shooting and largely contained the Utes' leading scorer, Delon Wright, after he scored the Utes' first seven points. Wright finished with 10 points and seven assists.
McConnell's aggressiveness was reminiscent of the 21-point effort he had on Jan. 8 at Oregon, when he shot 9 of 14 from the field and had three assists to only one turnover.
Taking a 31-36 lead at halftime, the Wildcats continued their momentum early in the second. They prompted a Utah timeout with 13:11 left, having hit 7 of 11 shots after halftime to that point while Arizona outrebounded them 5-2 in the second half.
From there, Utah cut UA's lead to just 57-47, on a three-pointer by Jordan Loveridge with 7:11 to go but the Utes couldn't get within single digits after that.
In the first half, McConnell led the Wildcats to their 31-26 halftime lead, hitting 6 of 7 field goals while often penetrating the Utah defense for short jump shots.
The Wildcats wound up shooting 48 percent from the field and outrebounding Utah 18-9 in the first half.
Arizona had eight offensive rebounds, scoring eight second-chance points, while Kaleb Tarczewski had five rebounds in the half and three on the offensive glass. Tarczewski fouled out in the second half, however.
Down by eight points early, the Wildcats closed it to within three points after Tarczewski defended a shot from Utah's Jakob Poeltl, with Rondae Hollis-Jefferson getting the rebound and Tarczewski drawing a Poeltl foul on the other end, hitting both free throws to make it 17-14.
The Wildcats pulled to 21-18 later on a 15-footer from McConnell and later tied the game at 22-22 on a hook shot by Ashley.
Through the final media timeout of the half, with four minutes left before halftime, the Wildcats had made eight of their previous 11 shots and were outrebounding Utah 13-5 to that point to tie the game.
Arizona struggled out of the gate, trailing 10-2 at the first media timeout (with 14:17 left). The Wildcats were 1 of 7 from the field, missing badly on two long jumpers and had two turnovers, one of which Wright converted into an easy layup.
To that point, Utah made 4 of 6 shots, including a 25-foot bomb from Brandon Taylor, and outrebounded UA 5-3.
But Arizona closed the gap somewhat to 12-8 with the help of reserves such as Dusan Ristic, who scored inside while McConnell scored twice.