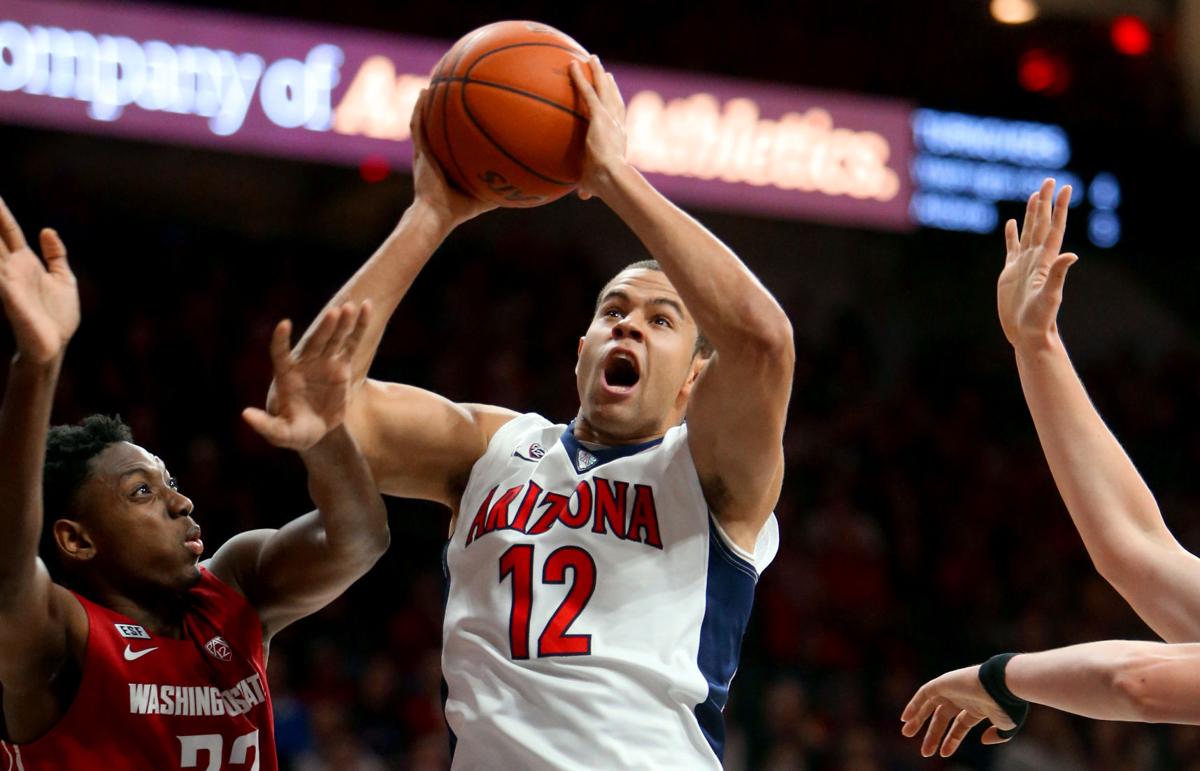 Ryan Anderson led a balanced Arizona attack with 15 points and eight rebounds while the Wildcats clamped down again defensively in the second half en route to a 90-66 win over Washington State at McKale Center.
Parker Jackson-Cartwright (13 points), Gabe York (11), Mark Tollefsen (11), Dusan Ristic (10) and Kaleb Tarczewski (10) also all scored in double figures for the Wildcats, who won their 49th straight game at McKale Center.
The Wildcats outrebounded WSU 35-23 and shot 54.2 percent from the field. UA has shot better than 49 percent in four of its five Pac-12 games.
The win moved UA to 15-3 overall and 3-2 in the Pac-12, while setting the Wildcats up for a chance at 50 straight homecourt wins if they can beat Oregon at McKale Center on Jan. 28. Arizona will play its next game at Stanford on Thursday.
WSU dropped to 9-8 and 1-4, having shot under 40 percent in the second half after making half of its field goals before halftime. Ike Iroegbu led WSU with 13 points while Charles Callison and Josh Hawkinson each had 12, though Hawkinson was held under his double-double average with only eight rebounds.
Up 46-31 at halftime, UA took control of the game with a 10-0 run early in the second half.
After Callison hit two free throws to cut UA's lead to 13 points, the Wildcats rattled off a three-point play from Anderson, an 18-foot jumper from Kadeem Allen and three-pointer from Allen and a memorable dunk from Gabe York.
With 17:35 left, York stepped in front of Callison's pass along the perimeter then took it coast-to-coast for a dunk that gave UA a 56-33 lead.
At that point, UA held WSU to 0-for-5 shooting, and the Cougars didn't score until Iroegbu made a layup on their first possession after York's dunk.
In the first half, Arizona hit 7 of 10 three-pointers in the first half while taking a 46-31 halftime lead.
Tollefsen led the Wildcats in scoring with 10 points while Jackson-Cartwright had nine points on 3-for-3 three-point shooting and Anderson had eight.
However, UA's defense allowed its opponent to shoot 50 percent or better in the first half for the fourth straight game. The Cougars finished at exactly 50 percent in the firt half but shot under 40 percent in the second.
With 31 points in the first half, WSU still had a lot more offense than it did in its last appearance at McKale Center. During the 2013-14 season, the Cougs' last under coach Ken Bone, WSU set McKale Center records by scoring just seven points in the first half and 25 for the game. But under second-year coach Washington State coach Ernie Kent, WSU had eight already in less than four minutes, trailing UA by just three points at that moment.
Arizona built leads of up to 11 points in the first half, getting seven straight points to go ahead 32-21 with 8:32 left before going on a scoreless streak for nearly five minutes while WSU closed within six. But Tollefsen made an alley-oop tip-in with 3:38 to go, drawing a foul and hitting the ensuing free throw to put UA up by nine, and they held the lead until halftime.
The Wildcats also won a major victory even before the game started. Earlier Saturday, 2016 five-star guard Kobi Simmons announced on ESPN he will play for the Wildcats. Simmons will join Finnish big man Lauri Markkanen in the class, while UA is also still pursuing wings Josh Jackson and Rawle Alkins, along with forward Harry Froling of Australia.