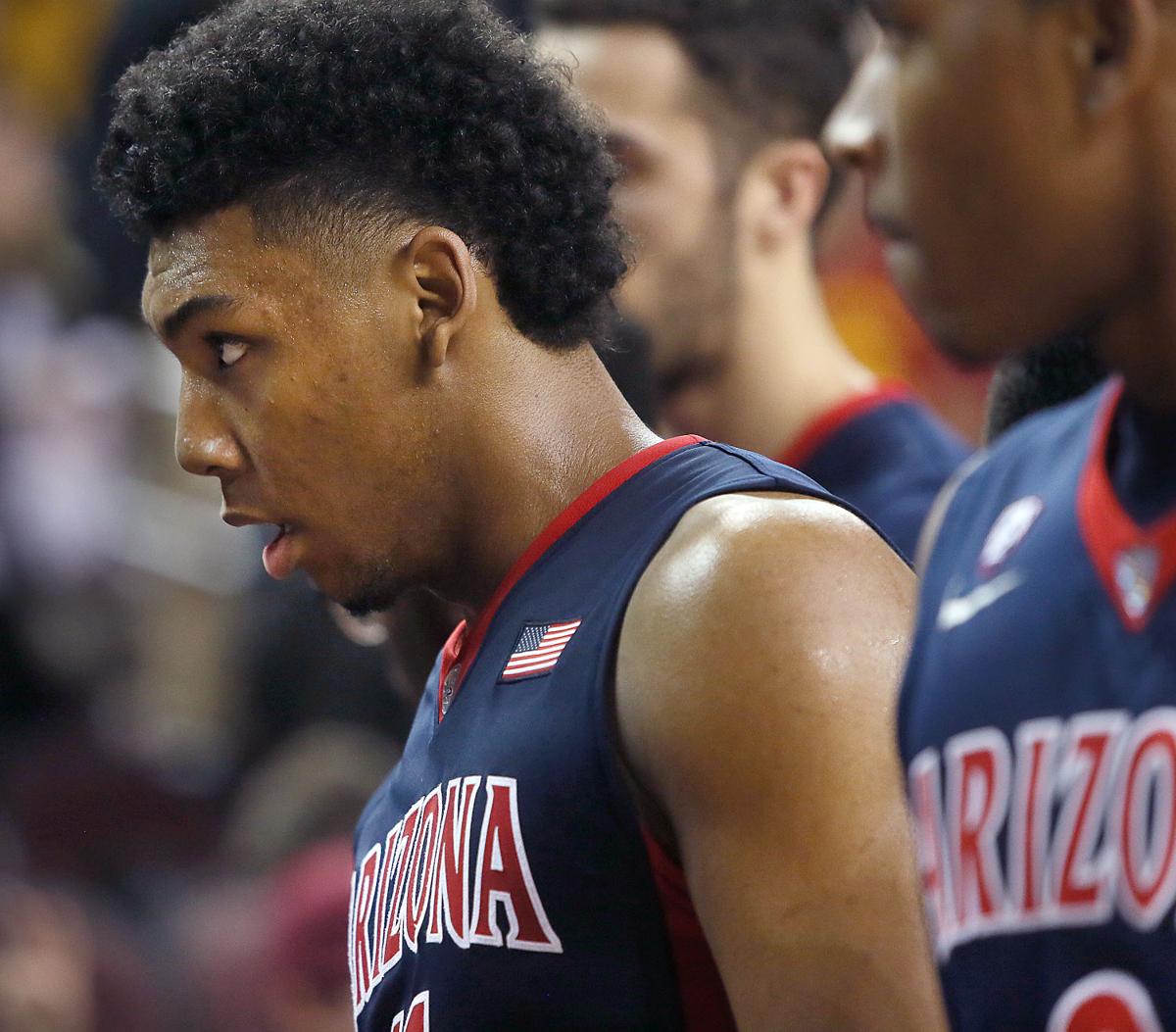 LOS ANGELES – Arizona's defense sputtered again early Saturday, and the Wildcats wound up paying an exhausting, frustrating and ultimately historical price.
The Wildcats lost 103-101 to USC in the Wildcats' first-ever four-overtime game, having given up 64.3 percent shooting before halftime and never able to take command in the riveting extra 20 minutes of play.
USC's Elijah Stewart hit two free throws for the ultimate difference, after he was fouled by Justin Simon while taking on an 18-foot jumper with 22 seconds left. Stewart, who hit 5 of 8 three-pointers earlier in the game, led all scorers with 27 points.
Arizona had a final play after Stewart's free throws but lost critical time when Jordan McLaughlin tipped the ball out of Gabe York's hands. York regained the ball but had to scramble with just four seconds left, and the ball eventually went to Kadeem Allen, who fired up a desperation and errant 18-footer as time expired.
The loss dropped Arizona to 13-3 overall and 1-2 in Pac-12 play. While the Wildcats will finally get to return home for the first time in Pac-12 play Thursday, they will have to face the conference's lone unbeaten team, Washington.
It was the first time UA has lost two straight games since the Wildcats were swept in Los Angeles toward the end of the 2012-13 season, though they managed to reach the Sweet 16 after winning four of their next five during the end of that season and into the postseason.
USC improved to 14-3 and 3-1, and is likely to be ranked in the Top 25 on Monday for the first time since the 2008-09 season
Allonzo Trier led the Wildcats with 25 points, 19 of which were scored after halftime.
In the third overtime period, Parker Jackson-Cartwright drove the baseline for a layup that gave UA a 93-89 lead with 2:53 to go but the Trojans hit four free throws to tie it yet again at 93 with 1:19 left.
Nikola Jovanovich then put back a miss with 42 seconds left to give UA a 95-93 lead and UA called timeout with the ball and 33 seconds left. Gabe York drove inside on the ensuing possession to tie it at 95.
But Jordan McLaughlin missed an 18-footer at the end of the third overtime period, sending the game into a fourth overtime period while some of the Galen Center crowd began to groan.
Gabe York hit a three-pointer with 2:51 left in the second overtime period to give UA an 84-81 lead, but USC scored regained the league with layups by Bennie Boatwright and Elijah Stewart before Jovanovich hit the second of two free throws to make it 86-84.
York was fouled while driving inside with 19.6 seconds left, and hit both free throws to tie it again at 86 but the Trojans turned it over twice on their final possession, and the game went into a third overtime.
In the first overtime, neither team led by more than a basket, and a pair of free throws from Julian Jacobs gave USC a 79-77 lead with 20.5 seconds left. UA called timeout to set up a final play, and Kaleb Tarcewski tipped in Gabe York's missed layup.
After USC turned it over on its final possession of the first overtime period, UA had 1.5 seconds to win it, but Mark Tollefsen's three-quarter-court inbounds pass to Tarczewski didn't get it in his hands and the game went to a second overtime.
In regulation, the Wildcats held the Trojans under 40-percent shooting in the first 16 minutes of the second half but still trailed 71-64 heading into the final four minutes. Trier almost singlehandedly kept the Wildcats in the game offensively in the second half, scoring 11 points after halftime by aggressively driving inside and hitting 1 of 3 three-pointers.
But the Wildcats' defense clamped down late in the game while they went on a 12-0 run, and UA tied the game at 71 on a rebound basket from Tarczewski.
Nikola Jovanovich and Kadeem Allen traded baskets to tie the game again at 73 entering the final 25 seconds of regulation, but Julian Jacobs missed two baskets during the possession and the game went into overtime.
In the first half, USC shot a blistering 64.3 percent against Arizona's struggling defense while taking a 45-37 halftime lead.
Stewart led the Trojans offensively before halftime while scoring 11 points while hitting 3 of 4 three-pointers against a defense that gave him good looks at the basket.
Jacobs had seven points and four assists for USC, while Jordan McLaughlin added another 11 points.
Not only did the Trojans shoot well but they were opportunistic, converting UA's eight turnovers into 14 points. Arizona shot 44.1 percent and made 5 of 10 threes, but its defensive struggled negated their offense.
Dusan Ristic led the Wildcats with 10 points, though the Wildcats started Tarczewski on Sunday for the first time since his Nov. 27 foot injury. He played UA's first two Pac-12 games off the bench, but logged 24 minutes on Thursday at UCLA and UA coach Sean Miller praised his defense in that game.
UA led early by up to eight points but the Trojans scored nine straight points toward the end of the half to take a 34-30 lead on a layup by Jacobs with 4:55 left.
On the offensive side of the ball, the Wildcats also slumped toward the end of the half. They made just 1 of 9 field goals during one late stretch until Gabe York made a corner three with 2:20 left and finished the first half on a 2-of-12 drought.
Kadeem Allen hit two three-pointers early to help the Wildcats take a 17-10 lead, but Arizona mostly went through its centers for scoring. Through the first 12 minutes of the game, centers Ristic and Tarczewski combined for 15 shots – while the rest of the team took only nine.
Ristic hit 5 of 7 early shots while Tarczewski was 2 for 9 to that point.
The Wildcats are coming off an 87-84 loss at UCLA in which the Bruins shot 51.6 percent. After that game, UA coach Sean Miller said the Wildcats' defense was the worst since his first season at Arizona in 2009-10.