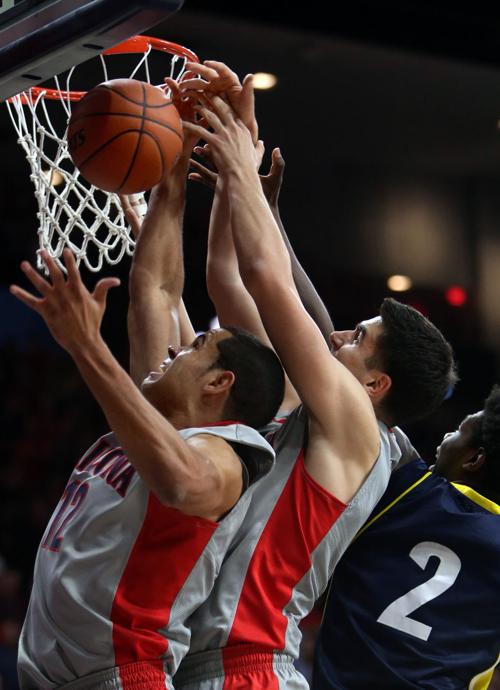 Disjointed early Wednesday against NAU, the Arizona Wildcats leaned on seniors Ryan Anderson and Mark Tollefsen. Then the rest of the team showed up in the second half and it was quickly over.
Arizona tore off a 33-4 run immediately after halftime to romp toward a 92-37 blowout of NAU at McKale Center, where the overmatched Lumberjacks shot just 21.8 percent from the field and were outrebounded by 20.
UA also mopped up on the glass, outrebounding NAU 49-25. The Wildcats scored 19 points off 14 offensive rebounds, while also scoring 15 points off NAU's 14 turnovers.
NAU struggled offensively throughout the half but no more so than in the beginning of both halves, forcing McKale Center fans for what might be a record amount of time. Fans stood for a total of 8 minutes and 52 seconds, sticking with the McKale tradition of standing until the opposing team scores in each half.
That made things rough even for Pac-12 Networks analysts Matt Muehlebach and Steve Lavin, who had to stand up themselves to see all of the action because the courtside fans next to them were standing.
Tollefsen had 13 and Anderson 12 points before halftime, helping UA take a 40-24 halftime lead even as the Wildcats failed to take a double-digit lead over the Lumberjacks for 14 minutes.
Tollefsen finished with 19 points while Anderson had 18 points and 12 rebounds.
Arizona built leads of up to 53 points in the second half before UA coach Sean Miller began inserting his walk-ons with 3:27 to go.
The win moved UA to 10-1 entering a game Saturday against UNLV at McKale Center while NAU dropped to 2-7, winless against Division I teams.
The Wildcats shot poorly early and led by single digits over the first 14 minutes unti they went on a 9-0 run to go ahead 29-16. But they held NAU to just 25.0-percent shooting and had a 27-15 rebounding advantage.
The Wildcats had their own shooting troubles, making just 1 of 9 three pointers and getting a 1-for-5 effort from previously hot shooting Allonzo Trier. But they capitalized on nine offensive rebounds by scoring 13 second-chance points; NAU had four offensive rebounds and no second-chance points.
Arizona kept NAU scoreless for almost five minutes at the start of the game, building a 7-0 run. But all wasn't well on UA's side of the ball, either. UA shot just 30 percent through the first 10 minutes, while coach Sean Miller was whistled for a technical foul.
The Wildcats played their third straight game without backup forward Elliott Pitts, who is out because of an unspecified issue.