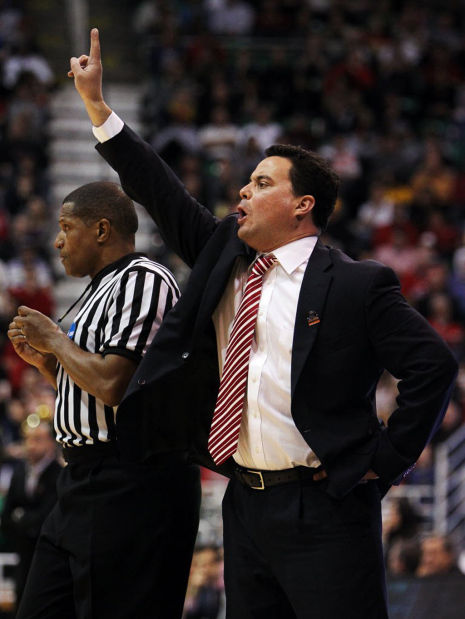 While MoMo Jones' future remains uncertain, fellow Arizona Wildcats transfer Daniel Bejarano found a new home Wednesday at Colorado State.
Bejarano was unavailable for comment, but Colorado State coach Tim Miles said the guard will bring a "great skill set" to the Rams program.
"He is a tremendous shooter; he plays well without the ball and he competes well," Miles said in a statement. "I expect him to be a very productive player in the Mountain West."
The Rams, 19-13 last season, will add Bejarano to a transfer class this spring that includes Minnesota big man Colton Iverson and Florida guard Cody Mann. NCAA rules require transfers to sit out a year.
Bejarano, who also considered Nevada, was well regarded for his personality and effort with the Wildcats. But he never came close to cracking the playing rotation, appearing in just eight games, and none past New Year's, while totaling 30 minutes.
Jones, meanwhile, left as Arizona's second-leading scorer, yet faced an uncertain role next season with the arrival of freshman guards Josiah Turner and Nick Johnson. Jones has cited his grandmother's health as a reason for transferring, and he was believed to be considering St. John's near his New York home.
However, Jones cannot go to St. John's this year because of an NCAA rule prohibiting schools from recruiting players associated with any noncoaching staffers it hires for two years. Jones' former high school coach, Moe Hicks, is director of basketball operations for St. John's.
UA assistant coach Book Richardson, a godfather to Jones and a chief recruiter in 2009, said he is unsure where Jones might land.
"I wish him well," Richardson said Tuesday. "I hope he finds success but I haven't spoken with him."
Former St. John's and Seton Hall assistant coach Dermon Player, who is advising Jones, told Zagsblog.com that Jones is considering Connecticut, Seton Hall, Iona, Hofstra and Siena. Maryland has also expressed an interest.
Arizona added a Dec. 20 home game against Oakland - and former Wildcat guard Laval Lucas-Perry - while moving closer to finishing its 2011-12 schedule.
The only holes left to be finalized are a Dec. 10 game against an ACC school at McKale Center - coach Sean Miller told California boosters last week the opponent was Clemson - as well as a likely home game with Ball State in mid-November, and the matchups for the 2K Sports Classic (aka Coaches vs. Cancer).
Contracts for Clemson and Ball State have yet to be completed, in part because of television contractual details. The Pac-12 will have a new contract in place in 2012-13, when the second half of the Clemson series will be played.
In the 2K Classic, Arizona is among four teams that will host two early games, then advance to New York in a fixed bracket along with St. John's, Texas A&M and Mississippi State.
The UA's games against Oakland, and probably Ball State, are guaranteed, in which Arizona pays them a one-time appearance fee, while the Clemson game will be a home-and-home series, likely to be returned in South Carolina during the 2012-13 season.
The Wildcats do not have any players remaining from the 2007-08 season in which Lucas-Perry played as a freshman before transferring in December 2007 to Michigan. He then transferred to Oakland last summer and sat out last season, with his senior year still to play in 2011-12.
Arizona is also scheduled to face Florida, New Mexico State, San Diego State and Gonzaga on its nonconference schedule next season.
The UA's Academic Progress Rate score of 950 for men's basketball meant the Wildcats essentially escaped their messy transition from Lute Olson to Sean Miller unscathed by an APR penalty.
The current reporting period includes the 2006-07 to 2009-10 seasons, when four coaches presided over the program and 11 players left early to transfer or turn professional.
But most of those players left with their eligibility intact, causing minimal damage in the rating, which measures retention and academic eligibility. UA associate AD Rocky La Rose said the school has also instituted a policy not to automatically issue transfer releases for players who leave with less than a 2.6 GPA, the threshold in which there is no APR penalty whatsoever.
LaRose and UA athletics academic director Mike Meade said they were glad to see the direction men's basketball is heading, having increased its APR score six points this year.
"I know that Sean (Miller) is a big supporter of making sure students are graduating or at least putting themselves in a position to receive degrees," Meade said. "That is the key - the support from the coaching staff."
Departing forward Derrick Williams said last week he finished his spring courses and began online work last week, even as he prepares for the June 23 NBA draft.
• Arizona has offered scholarships to 2012 guards Katin Reinhardt, a Mater Dei High School standout who decommitted from USC last week, and Gabe York of Orange (Calif.) Lutheran.
• Memphis coach Josh Pastner told the Memphis Commercial-Appeal he will interview former UA and NBA guard Damon Stoudamire today for one of his two vacant assistant coach jobs. Stoudamire was under consideration for the UA assistant's position Joe Pasternack filled last week.