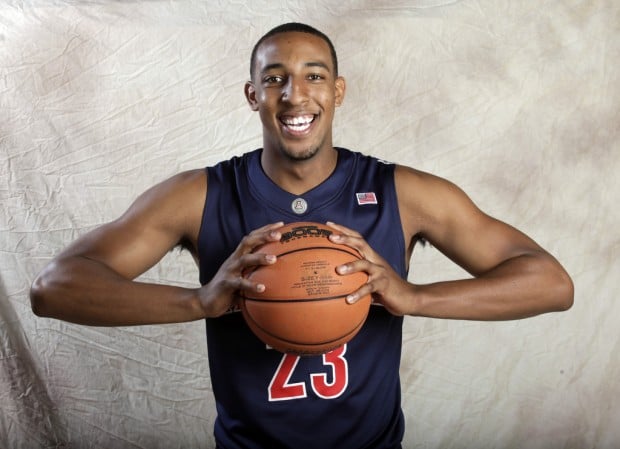 Arizona sophomore forward Derrick Williams has declared he will enter the June NBA Draft today and sign with an agent, forgoing his final two years of eligibility with the Wildcats.
The move has been expected since Arizona oversigned recruits in anticipation of his departure last fall and Williams' outstanding sophomore season made it more likely, although Williams' enjoyment of UA and the NBA's unsettled labor situation gave him something to think about.
"After careful consideration and with the support of my family and coach (Sean) Miller, I have decided to declare for the 2011 NBA Draft," Williams said in a UA statement. "I have enjoyed my two years at Arizona both on and off the court. I want to thank my teammates, who are like brothers to me, my coaches and all Wildcat fans for making my experience an unforgettable one."
At 6-foot-9 with 245 pounds, Williams demonstrated enough athleticism, efficiency and potential that he is projected as the No. 1 overall draft pick by NBADraft.net and No. 2 overall pick by DraftExpress, behind only Duke's Kyrie Irving.
Williams' reputation grew as the regular season wore on, as he averaged 19.5 points and 8.3 rebounds en route to becoming Pac-10 player of the year. His reputation grew in the NCAA tournament, when Williams made key plays in the final seconds of early round wins over Memphis and Texas, then played his best half of the season before halftime of the Wildcats' Sweet 16 win over Duke.
Williams finished his career with 1,227 career points, which ranks 27th on the UA career scoring list. Williams scored more points in his first two seasons as a Wildcat than any other player in school history. He also is tied for seventh on the Arizona career scoring average list (17.8 ppg), sixth on the career free throws list with 405 and seventh on the career free throw attempts list (563).
The Pac-10 Player of the Year this season, Williams was the league's leading three-point shooter (56.8 percent) as well as its second-leading scorer and fourth-leading rebounder.
"Today is a great day for Derrick Williams and for Arizona Basketball," Miller said. "Derrick is a special player and rightfully should be considered to be one of the all-time great Wildcats. As good of a player as he is, he is an even better person."
Williams said he would complete his coursework this semester at UA and planned to continue pursuing his college degree in the future.
"I am a Wildcat for life," Williams said.
Williams earned first-team all-American status by Sports Illustrated, was one of five finalists invited to the Wooden Award ceremonies, and was a second-team all-American by several other organizations.
Williams, 19, had until April 24 to declare if he was going to enter the draft and May 8 to withdraw, if he did not sign with an agent.
He is the 14th Wildcat to declare early for the NBA Draft since 1984: Brian Williams (1991), Mike Bibby (1998), Gilbert Arenas (2001), Jason Gardner (2001), Richard Jefferson (2001), Michael Wright (2001), Andre Iguodala (2004), Chris Rodgers (2005), Mustafa Shakur (2006), Marcus Williams (2007), Jerryd Bayless (2008), Chase Budinger (2008 and 2009) and Jordan Hill (2009). Of that list, only Gardner, Rodgers and Shakur returned to school and completed their eligibility.
"We are all excited to follow his journey to the NBA, and I have no doubt he will be very successful as an NBA player," Miller said. "We wish him all the best and know that he will be a part of our basketball family forever."
Williams' departure means the Wildcats are now two over their 12-man scholarship limit for 2011-12, so more roster transition is expected.
Be the first to know
Get local news delivered to your inbox!