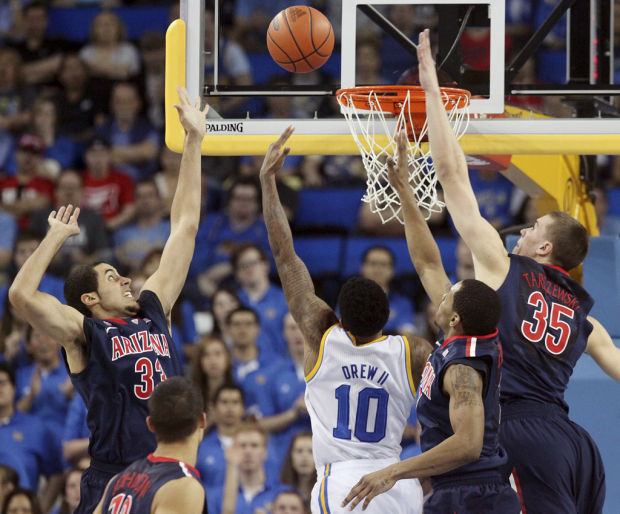 When Sacramento guard Josiah Turner announced last month he would play basketball for the Arizona Wildcats, coach Sean Miller suddenly had his highest-ranked recruit yet and a top-10 recruiting class for 2011.
Now Miller just has to figure out where to put everybody.
On paper for 2011-12, the Wildcats have 14 scholarship players but only 12 scholarships to offer. This season, they have 13 players on scholarship (counting guard Dondre Wise, whose conditional scholarship is not likely to be renewed) and are only certain to lose senior Jamelle Horne.
Arizona also has three commitments from high school seniors for 2011-12 - from Turner, guard Nick Johnson and forward Sidiki Johnson - and the Wildcats can offer only 12 total scholarships in 2011-12 and 2012-13 because of NCAA sanctions.
That makes the math 13 minus 2 (Horne, Wise) plus 3 (recruits) equals 14. Not 12.
But what is on paper now could mean little by next fall. It is the nature of elite teams both to produce players capable of leaving early to play professionally and to frustrate good players who transfer when they can't crack the rotation.
Arizona isn't alone in the Pac-10 in pushing the limit. UCLA, which is already at the scholarship maximum on paper for 2011-12, is hosting former UA target Quinn Cook of Washington, D.C., this weekend, knowing that underclassmen Tyler Honeycutt and Malcolm Lee could leave for pro basketball.
"It's very difficult to compare today's climate in college basketball to anything in the past because every program, even the most elite, experience more unexpected turnover than they ever have before," Miller said. "That can come in the form of young people leaving early to make money, whether it be in Europe or in the NBA, or young people who just want a bigger opportunity and are at a place where they don't have the opportunity they once thought they did."
Miller said he has had several conversations with UA athletic director Greg Byrne about his program and recruiting, and Byrne said he is comfortable with Miller's approach.
"Obviously the dynamics of college basketball have changed dramatically with the one-and-done rule," said Byrne, referring to the NBA rule rendering players ineligible for its draft until their high school class is one year removed from graduation. "You have to manage that and also maintain academic credibility. It's a fine line you walk there. I'm confident Sean will be able to do both."
Although no current UA player has expressed a desire to leave, there are some ways the roster could slim down. By next spring at UA, it is possible highly regarded sophomore forward Derrick Williams will leave for the NBA, or that even Ukrainian sophomore big man Kyryl Natyazhko could opt to play for a paycheck in Europe. One of UA's many perimeter players could transfer to find more playing time. And by graduating next spring, redshirt junior center Alex Jacobson will have the option to transfer immediately if he chooses a school that offers a graduate program UA does not. (That's the so-called Jeremiah Masoli rule, after the former Oregon quarterback who transferred to Mississippi this season.)
There are options, so many that Miller's staff is known to be keeping an eye on a handful of 2011 recruits who won't sign until the spring, in case they have more than two unexpected departures by then.
"These things have a way of working themselves out," says Clark Francis, longtime recruiting analyst for HoopScoop. "A lot of coaches in this day and age sign guys and figure it out later. This is a cutthroat business, and scholarships are renewable. You don't have to renew them."
While scholarships are technically year-to-year, the NCAA has instituted Academic Progress Rates in order to prevent coaches from "running off" players. APRs can penalize teams whose players leave early or become academically ineligible, although they are four-year rolling averages that allow schools some leeway to compensate for a year of heavy turnover.
But some oversigning situations become murky, none more so than when John Calipari took over Kentucky in the spring of 2009. Calipari had 18 scholarship players on paper for 2009-10 at one point; four of the relocated players have indicated their departures were not entirely voluntary.
Last April, Missouri announced that forward Tyler Stone and sophomore guard Miguel Paul were transferring to seek more playing time, even though Stone's mother told The Associated Press that "they had to get rid of somebody." Two days later, the Tigers signed two top junior college players, guard Matt Pressey and forward Ricardo Ratliffe.
It's a trend that concerns Ramogi Huma, a former UCLA football player who heads the National College Players Association advocacy group. Huma published a study saying that 2009 NCAA tournament teams averaged a 22 percent unexpected turnover rate, though that includes walk-ons.
"We're not saying it should be a mandatory five-year (to play four) scholarship, but whatever you promise, put it in writing," Huma said. "By and large, recruits have not been told the truth. It's actually more of a concern when a new coach comes in. You look at the Calipari situation. … Players were subject to a tryout when they had been promised a scholarship by the school. There's a blur between what the coaches promise and what the school delivers."
For Arizona, however, the scholarship crunch is likely to be settled by April. Miller also prevented an especially tight situation by ending fall recruiting after Turner's commitment - UA canceled a scheduled recruiting visit from Dallas forward LeBryan Nash and an in-home recruiting visit with Detroit forward Amir Williams.
"Some of the decisions I made to say 'no' to recruits are hard decisions, but they're made with our current team's best interests in mind," Miller said. "At the same time some of the decisions we made and will make are aggressive - we also have a big picture in mind of where we'll be next year. We absolutely have to rebuild our program into the nation's elite."
The Wildcats have 14 scholarship players who could play in 2011-12 but a 12-player scholarship limit (down from the normal limit of 13 because of NCAA sanctions). Here's what the projected roster looks like now:
Daniel Bejarano, sophomore