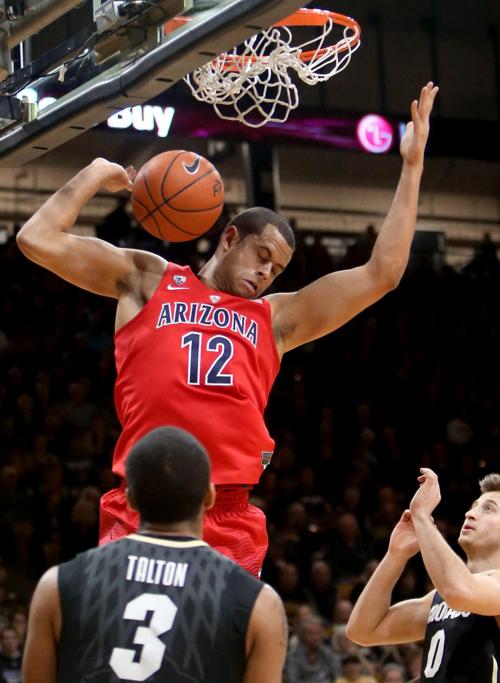 BOULDER, Colo. – Colorado nearly assured itself of a much-needed ticket to the NCAA tournament Thursday with a 75-72 win over Arizona, and at the same time may have ripped the Wildcats' outright Pac-12 title hopes out of their hands.
A classic defensive battle in the first half transformed into an offensive race in the second, with both teams shooting over 50 percent through the first 17 minutes after halftime.
But Josh Scott crushed UA with 26 points and nine rebounds and the Buffs held on despite hitting just 1 of 10 field goals during a stretch near the end of the game.
The loss snapped UA's six game winning streak and dropped the Wildcats to 22-6 overall and 10-5 in the Pac-12, where they now appear likely to finish no higher than in a tie for first place in the Pac-12.
Colorado improved to 20-9 and 9-7.
Ryan Anderson had 19 to lead Arizona, which had a chance to tie the game with eight seconds left after Scott was called for traveling in the backcourt. But Allonzo Trier missed a three-pointer just before time expired.
Up by four at halftime, Colorado went on a 6-0 run early in the second half to take a 48-38 lead, aided by UA coach Sean Miller.
Upset over an offensive call against UA center Kaleb Tarczewski, Miller protested vehementely as he had through much of the game – CU shot eight more free throws in the first half, after all – and was whistled for a technical foul.
Colorado's Xavier Talton hit both resulting free throws to give the Buffs the 10-point lead, which they carried the rest of the way.
UA cut it to five points on several occasions after that, but Scott singlehandedly kept the Buffs ahead through the middle of the second half. Scot scored 10 points for Colorado in less than four minutes, mostly inside but adding a 15-footer that gave CU a 73-64 lead with 6:37 left.
In the first half, Colorado took a 37-33 halftime lead despite shooting just 36.7 percent from the field. The Buffs edged UA in the first half by nearly matching them in rebounding (21-20) and took nine more free-throws than Arizona. Colorado hit 13 of 17 free throws while UA made 7 for 9, with the six-point difference alone enough to give CU the halftime edge.
Scott led CU with nine points and four rebounds.
Anderson led UA with nine points and six rebounds after starting the half with 0-for-6 shooting. Arizona shot 41.9 percent overall and was 0 for 4 from three-point territory.
Colorado opened up a six-point lead, 33-27 when Wesley Gordon hit both ends of a one-and-one opportunity with 2:37 left. At that point, UA had six turnovers and was battling Colorado even, 18-18, in rebounding.
Both teams struggled early from the field but the Wildcats fell behind 9-5 when they missed six straight field goals near the start of the game. Later, after UA went ahead 15-13, it was a stretch of five UA turnovers in five minutes that allowed the Buffaloes to take a 23-19 lead toward the end of the half.