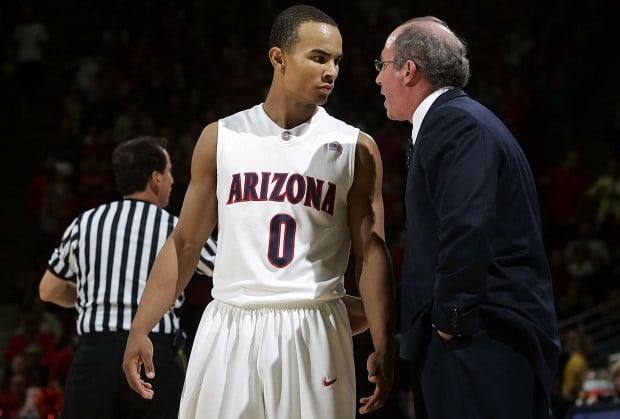 Kevin O'Neill effectively lost 23 percentage points in his college basketball coaching career record this week, but he'll live with it.
"You mean I did all that for zero wins?" O'Neill said jokingly, when told the NCAA would erase his 19 wins as interim head coach for the Arizona Wildcats in 2007-08. "Wow."
It's not clear yet how others might react to the historical revision necessitated by the NCAA Committee on Infractions, which ordered Arizona's 2007-08 wins and its 2008 tournament appearance erased because of violations during the Lute Olson era.
Gary Johnson, the NCAA's associate director of statistics, said Friday he has adjusted Arizona's record to 0-14 in 2007-08 and will vacate UA's 19 wins and one tournament loss from O'Neill's record. UA also must erase the statistics and records from the two ineligible players that season, likely Jamelle Horne and Jerryd Bayless, though that has not been finalized yet.
Richard Paige, UA's director of sports information for men's basketball, said he was still working out with the NCAA how the situation will be handled. Paige said privacy rules prevented him from naming the two ineligible players.
Horne said Friday he knew nothing about being ineligible while Bayless' mother, Denise Bowman, said she also had no idea about any possible changes and could not believe her son was ever ineligible.
The UA and NCAA reports did not specify which players were ineligible, though Bayless, Horne and Zane Johnson were the only ones to fit the criteria of playing for the Wildcats in 2007-08 and having participated in the 2006 Arizona Cactus Classic, which the NCAA said was financed with the help of Olson's impermissible aid.
Johnson redshirted half of the 2007-08 season, playing just 15 games, and his father, Wayne Bryce, said Friday he also had not been told that his son was ineligible. A freshman in 2007-08, Johnson now plays for Hawaii.
Bayless spent just the 2007-08 season with the Wildcats so his entire career could be affected by the ruling. He did not play in the 2006 Arizona Cactus Classic but he did appear with his club team during the recruiting showcases, and could have received benefits indirectly from his club team.
"This is the first I've ever heard of it," Bowman said. "That's very unfair. I can tell you Jerryd didn't take anything. That's ridiculous. I worked so hard to make sure he didn't say anything or take anything."
UA admitted in its February response to the NCAA violations that individual prospects realized "nominal sums (in the tens of dollars) for actual and necessary expenses" while they also received benefits indirectly from their club teams, which had some expenses covered by the Cactus Classic.
The NCAA's final report Thursday said the university documented that two players competed while ineligible during the 2007-08 season "based on their receipt of impermissible benefits in conjunction with the 2006 Arizona Cactus Classic."
UA players faced no eligibility issues in subsequent years, possibly since many of them paid restitution following the November 2008 questioning by the NCAA.
Several then-UA players told the Star in November 2008 that they had discussed paying up to $60 for excessive benefits, which could have included pizza and rides given during the May event, though interim coach Russ Pennell said at the time that they had not paid anything.
Paul Dee, the NCAA's infractions committee director, indicated Thursday that any restitution paid to restore future eligibility was a separate matter from past ineligibility. No players were ruled ineligible for 2008-09 and 2009-10, after UA players may have paid restitution.
The NCAA also said in its report that the impermissible benefits from the 2006 Cactus Classic "directly involved the former head coach." However, the vacated wins will come from the record of O'Neill, who was serving as interim head coach that season because Olson was taking a season-long leave of absence.
So O'Neill's college record drops to 185-207 (.472) from 204-208 (.495), counting one 17-14 season at NAIA Marycrest College. But the NCAA's Johnson said he would add a note of some sort in the NCAA records indicating O'Neill was not responsible for the violations that resulted in the vacated games.
"This is the first case where something like this has happened," Johnson said. "This is the only one where it's been a one-year penalty and it's been a different coach."
Johnson said UA would be advised on how to adjust its records. He said the two ineligible players' contributions must be vacated, though they will remain in cases where an imbalance would occur - such as in season statistics or game box scores.
If Bayless was ruled ineligible, UA also may have to delete the single-game free-throw record he set with 18 at Houston on Jan. 12, 2008, as well as his 20-attempt record from that game, and a McKale Center record of 16 free throws against Stanford on Feb. 16, 2008.
Johnson said first-place record holders are taken out of the top spot and typically a note is made after the list saying the player set the mark but it was later vacated.
Meanwhile, UA's once-ballyhooed 25-year NCAA tournament appearance streak between 1985 and 2009 no longer officially exists. Johnson said the NCAA staff determined a year ago that vacated games can no longer be counted as appearances.
Therefore, UA's longest NCAA tournament streak is 14 years, from 1985 to 1998, which is tied for fifth in the NCAA records. UA vacated its 1999 appearance for violations involving former standout Jason Terry, but the school had considered the appearance as counting toward the streak.
The UA's another streak was eight from 2000 to 2007.
North Carolina still holds the nation's top tournament streak, at 27, while Kansas now has the nation's second-leading NCAA tournament with its current run of 21 straight years.
Johnson said he formerly had it in his books that vacated games did not affect streaks but was told during a staff meeting last year to change that practice.
The changes have been implemented in the NCAA men's basketball record book for 2011, which will be available online this fall.
STRIKE THAT FROM THE RECORD
What UA likely will scrub out of its record books after its NCAA infractions case was settled:
• Team record change: Team record of 19-15 in 2007-08 will change to 0-14.
• Wins erased: The 19 wins and one NCAA tournament loss will be erased from the season and career records of interim head coach Kevin O'Neill.
• Cut-down streak: The NCAA tournament streak of 25 years will officially be known only as a eight-year streak from 2000 to 2007 as well as one of 14 between 1985 and 1998. (UA also vacated its 1999 tournament appearance and the NCAA no longer allows vacated games to count toward streaks.)
• Vacated stats: Season statistics of two players (a combination of Jamelle Horne, Jerryd Bayless and/or Zane Johnson) will be vacated.
• Bayless losses: Two free throw records, as well as several postseason honors, for Bayless may be no longer acknowledged.
SANCTIONS AND MORE SANCTIONS
In detail, the sanctions UA self-imposed and the NCAA's ultimate decision:
1. Two years' probation beginning Feb. 5, 2010, when UA submitted its official response to the NCAA allegations. The NCAA changed the probation period from today through July 28, 2012.
2. Reducing official recruiting visits from the maximum of 12 to 11 in 2009-10 and to eight for 2010-11. (The UA said the higher number in 2009-10 reflects the number already used at the time of their response.) The NCAA increased the reductions to six visits for each of the 2010-11 and 2011-12 recruiting years.
3. Reducing recruiting "person-days" from the maximum of 130 to 120 in 2009-10 and to 110 in 2010-11. The NCAA further reduced it to 100 days in 2010-11.
4. Reducing recruiting person-days from 60 to 52 this July. The NCAA did not change this; the July period is almost over.
5. Reducing scholarships from the maximum of 13 to 12 for 2011-12. The NCAA also took away a scholarship for the 2012-13 season.
6. Institutional recertification that the UA's current policies and practices conform to NCAA requirements. The NCAA also ordered a disassociation between UA and the promoter of the Arizona Cactus Classic, former Goazcats.com publisher Jim Storey, for at least the two years of probation. In addition, it ordered vacating the UA wins in 2007-08 because of the ineligible athletes.