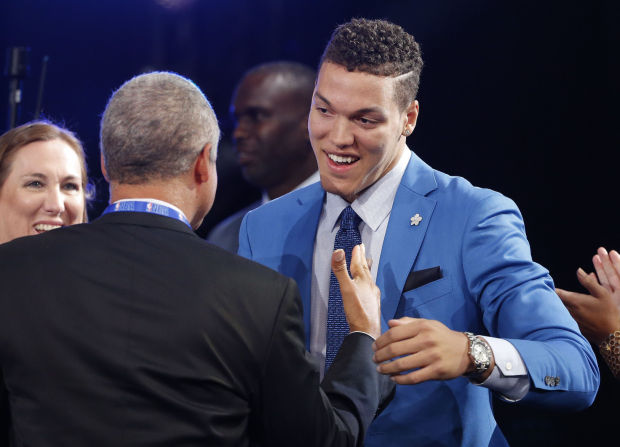 NEW YORK — When Aaron Gordon singlehandedly picked out his NBA draft night suit, he went with his values and a color he simply liked.
"He likes to be flashy, but still have class to it," said his sister, Elise.
So "Vibrant Blue" it was. Or, as it is known in the NBA, Orlando Magic Blue.
The former Arizona Wildcats forward was taken fourth by Orlando, the fourth highest selection ever for an Arizona player, while ex-teammate Nick Johnson went to Houston as the No. 42 overall pick in the second round.
For Gordon, the No. 4 pick was the ceiling of where he had hoped to be picked, while the No. 42 wasn't far off that for Johnson. While he missed the first round, where contracts are always guaranteed, Johnson said he was glad to join the Rockets organization.
"I was really happy," Johnson said via telephone from a Phoenix hotel room, where he gathered with friends and family. "The Rockets are a great organization that has the opportunity to win a championship right away."
Five years earlier, former Wildcat forward Chase Budinger started his NBA career in a similar spot, going to Houston in a trade as the No. 44 pick.
Gordon, meanwhile, came close to the No. 2 selection that Derrick Williams was given in 2011 by Minnesota. He had worked out for all teams holding picks between 4-8, but most of the smoke coming out of the NBA rumor mill had him going fifth to Utah, sixth to Boston or even seven to the Lakers.
"We'd been hearing all sorts of rumors that it was the Lakers," said Gordon's mom, Shelly Davis. "We heard the Magic was really interested in him and we thought it was maybe Boston. But that's the fun thing because nobody knows."
Yet, maybe on a subconscious level, somebody or something did. Because not only did Gordon wear indigo on the draft night stage, but Shelly wore a dark blue dress to the green room.
"Our agent was giving me a hard time because of the color," she said. "As soon as we walked out, it was 'Oh, she knew.' "
In his draft night interviews, Aaron swore he didn't know anything either.
"It is close (to the Magic's color), but I really came in today having no idea," Gordon said. "The anxiety and the anticipation were all there. I just happened to like this color."
Actually, there was somebody who knew in the hours before the draft: Gordon's agent, Calvin Andrews. So once Andrew Wiggins (Cleveland), Jabari Parker (Milwaukee) and Joel Embiid (Philadelphia) had gone in order at the top of the draft, Andrews told his client what was going on.
"I had the information for a while and told Aaron about five minutes before (Orlando) started picking," Andrews said. The Magic "spoke a lot about his winning attitude. They understand he's wired to win. They really like his versatility and they can use him a lot of different ways."
And sure enough, Magic GM Rob Hennigan said exactly that.
"As we went through the process, there were quite a few things about him that stood out that we grew to like," Hennigan said according to the Magic's web site. "Mainly his competitiveness, his desire to want to play team basketball and to impact the game in a variety of ways."
While UA coach Sean Miller did not attend the draft as he originally planned, having already been on the road for over two weeks for USA Basketball duties, he praised Gordon for similar reasons in a UA statement.
"While his physical talents speak for themselves, the most impressive thing about Aaron is that he's the ultimate winner," Miller said. "Being as young, smart and resilient as he is, he has as great of an upside as anyone picked in this year's draft.
"Where he'll be three to five years from now is going to be a much different place than he is today because of his work ethic, discipline and drive to be the best."
Johnson, of course, also brought a notable track record. He led the Wildcats to one of the most successful seasons in school history, picked up the Pac-12's Player of the Year award and, according to a statement from Miller, has even more upside.
"Nick is far from being a finished product," Miller said. "He has tremendous upside and an incredible work ethic. Nick is the ultimate team player, and when he's given a role in the Rockets organization, he's going to fulfill that role through hard work and a willingness to be coached. In my mind, he's going to be a very good NBA player."
But on draft night, six Pac-12 players went in the first round, and Johnson was not one of them. That could have been a source of frustration but Johnson tried to keep it in check.
"It was tough," Johnson said of slipping to the second round. "But seeing all the Pac-12 get drafted in front of me, my confidence went up because I was the Pac-12 Player of the Year.
"But everything happens for a reason. Maybe I would have gone earlier but I'm just happy to be with the organization I am. What I have is a great opportunity."