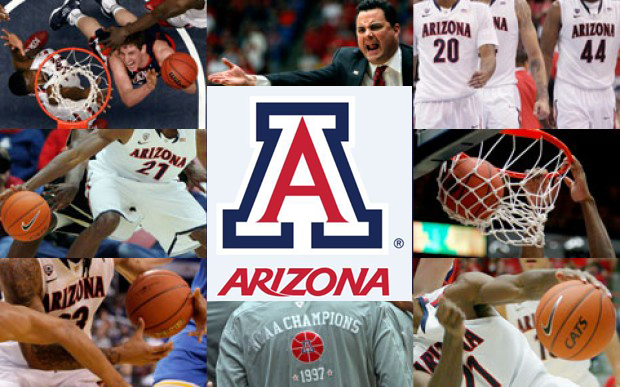 When Arizona ran its own players through vertical leap testing last fall, it was no surprise that the player known occasionally as "Bunnies" led the way. Nick Johnson had a 47-inch maximum vertical leap, when running starts are allowed.
That was a full three inches higher than the top max vertical at the 2013 NBA combine, by Shane Larkin, the guard from Miami (Fla.) who now plays for the Mavericks.
So guess what might happen today, when the 2014 tests are conducted?
"Maybe I can open up some minds a little bit with the testing," Johnson said.
While there are several notable leapers at this year's combine – Johnson was told Michigan's Glenn Robinson III can do 44 inches – the former Wildcat guard was confident of his chances.
"I had a 47 earlier this year, so I'm going for 50," Johnson said. "That's my goal: 50. We'll see if it happens."
Aaron Gordon didn't hesitate when a reporter asked him what was attractive about playing college basketball at Arizona.
"For one, it's always sunny," Gordon said. "Two, there's really no complaints. The weight room's incredible. The practice facility is incredible. McKale sells out all the time. Coach (Sean) Miller is just a basketball mad scientist, and he's a real good player's coach."
Of the 10 Pac-12 players on hand for the combine, none of them have been closer to Johnson over the years than ASU guard Jahii Carson. Both are from the Phoenix area; while Carson played for Mesa High School, Johnson played at Gilbert Highland before transferring to Nevada's Findlay Prep as a high school junior.
"Me and Nick have been competing since we were kids," Carson said. "It's fun competition. We're pulling for each other to do well. The competition has helped us throughout the years."
"We've always talked about it since eighth grade. We worked so hard, encouraged each other to pursue each other's dreams. And now that we're here, it's like a childhood friend that you grew up with is achieving his dreams like you."
Of all the sales jobs NBA prospects have to do this week, ex-Colorado guard Spencer Dinwiddie might have one of the toughest.
Not only is he a borderline first-round prospect, but he also has to get somebody to invest some blind faith in him after he blew out his knee last season. Dinwiddie is still unable to participate in combine drills.
But, as he was at Colorado, Dinwiddie remains supremely confident.
"They gotta watch tape, interview me and see if they like my personality and things like that," Dinwiddie said. "They have to understand they're going to be getting a player that's leaner, stronger, and quicker than he was before the injury.
"If they liked who I was before the injury, then they're going to be getting that, 2.0."
Good times (for him, anyway)
Among the things Ohio State's LaQuinton Ross says he's trying to show NBA folks is his ability to shoot.
He could start by queuing up the final seconds of Arizona's Sweet 16 loss to the Buckeyes in the 2013 NCAA tournament. Ross took advantage of a defensive lapse to nail a three-pointer over the outstretched arms of Grant Jerrett with two seconds left, sending Ohio State to the Elite Eight with a 73-70 win. He said the shot is still a career highlight.
"That was definitely by far No. 1," Ross said. "It was a big game and it was crazy because I was playing in the arena (Staples Center) of one of my favorite players, Kobe Bryant. … That was great."
78 Percent of uncontested jump shots Nick Johnson hit off the dribble in testing Thursday (14 of 18)
48 Percent of uncontested NBA-range three-pointers Johnson hit Thursday.
1.5 Inches lost between Johnson's official listed height at Arizona (6-3 with shoes) and the NBA's official shoe-less measurement (6-1½)
10 Pounds gained by Aaron Gordon, according to NBA measurements Thursday. He was listed by Arizona at 210 before the start of last season.
6-11.75 Wingspan of Gordon, who measured 6-7.5 inches tall without shoes.
7-2.75 Wingspan of UCLA's Kyle Anderson, who also measured 6-7.5 inches tall.
"It's a perfect mix: Old head, young body. You wouldn't go wrong with that."
— ASU's Jordan Bachynski, who said his body is fresher than his 24 years of age might indicate because he took a two-year Mormon mission.
Be the first to know
Get local news delivered to your inbox!