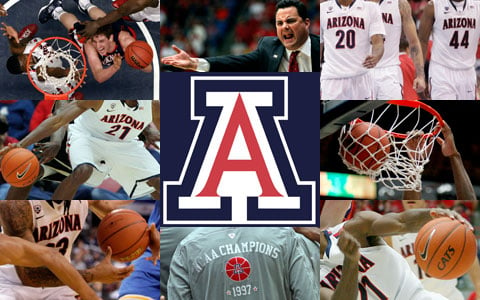 By the standards of Arizona basketball freshmen this season, you could say Angelo Chol has been flying under the radar.
Sidiki Johnson was dismissed. Josiah Turner has been disciplined three times. And Nick Johnson has stood out while shouldering heavy loads at both guard spots.
But all that doesn't mean Chol has had it any easier. He turned from a guy slotted for power and maybe small forward into a center out of necessity, backing up Jesse Perry and banging with players often much older, much stronger and much taller than he is.
"I think I've come far but I'm still working on it," Chol said. The biggest challenge is "guarding bigger guys, who are like 40 pounds bigger."
It helps that Chol is bigger himself. Estimated at between 205 to 210 pounds as a high school senior, the 6-foot-9 Chol is now nearly 220, according to coach Sean Miller. Chol is listed at 217 in Arizona's media guide.
"He's one of the few guys who gained weight over the last month and a half," Miller said. "Part of it is his dedication to lifting weights and getting bigger and stronger. He's so much stronger right now than when he got here this summer."
Another part of it, Miller said, is Chol's drive.
"He almost wants to do so well that it works against him sometimes," Miller said, "but he's starting to get more confident."
Chol had five points, five rebounds and a block in 13 minutes in Arizona's 63-47 win over Clemson on Saturday, a performance Miller said was the best of his young career so far.
There could be more to come.
"He's a very, very hard worker," Miller said, "and it's just a matter of time before his talent takes over."
Miller isn't the only one nudging Turner to improve what the coach calls his "everyday" effort, a lack of which has been cited for Turner's suspensions.
Junior forward Solomon Hill has, too.
"I talked to Josiah even before it" happened, Hill said. "Just to have him try to buy into (the Cats' plan). It's like, 'We're trying to do something big here; and for you to be a part of it, you just gotta change some daily habits, maybe wake up and get to a class on time or come to practice and be ready.'
"But I think he's buying into it now, and I really like the way he's been playing."
Miller said Turner has had a "great attitude" since he was kept home during the Florida trip for unspecified reasons.
That's "really telling in that he wants to be here," Miller said, "and really most important that he's understanding that it's nothing against him as much as we're trying to help him."
Johnson, meanwhile, will continue to play mostly off the ball after the freshman spent a lot of the Florida game at point guard.
"As long as Josiah and Jordin (Mayes) are part of what we're doing, Nick is going to be best off the ball," Miller said. "He plays like a point guard out there sometimes, but it's remarkable what he did at Florida, to play against that pressure and a quality opponent."
Miller said Johnson would continue to play some at point guard during practices, in case he is needed because of injury or foul trouble.
• Arizona has nominated guard Kyle Fogg for the Pac-12 Player of the Week award, after Fogg averaged 13.5 points and 5.0 rebounds while playing solid defense against Florida and Clemson.
• Miller said he was not surprised Saturday's Xavier-Cincinnati intra-city rivalry game featured a brawl that resulted in eight player suspensions.
"Happens every game. I'm proud of those guys, I really am," Miller said of Xavier, his former team. "I would fully expect there to be a fight."
• Because of finals week and the extra time before they play again Saturday against Gonzaga in Seattle, the Wildcats took Sunday off and are scheduled to also take Tuesday off.
• Who: Arizona vs. No. 23 Gonzaga
• Radio: 1290-AM, 107.5-FM
Be the first to know
Get local news delivered to your inbox!