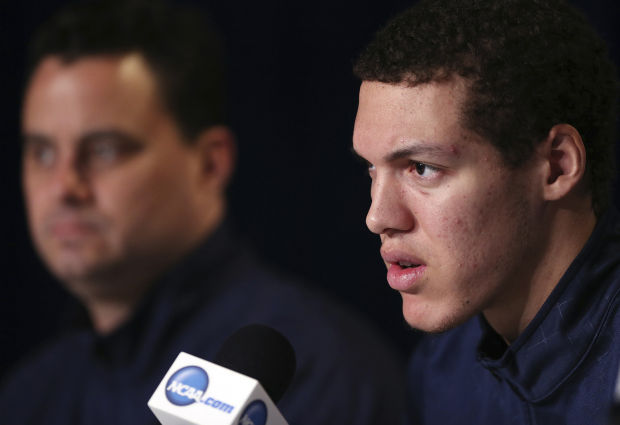 Aaron Gordon's sister is graduating from Harvard next month. His older brother graduated from New Mexico. Dad has a degree from San Diego State. And his mother owns a bachelor's and an MBA.
So guess what Aaron's probably going to be doing during his spare hours as an NBA player in the future years?
"If I didn't get my degree, I'd probably be made fun of a little bit," Gordon said Tuesday, after announcing his decision to enter the NBA draft.
Gordon added that wants a degree because he values education and is analytical, something that became clear a year ago when he and his mother, Shelly Davis, popped out an Excel spreadsheet to analyze his college choices.
A degree also is required for being a college basketball coach, which Gordon and fellow departee Nick Johnson say they want to be at some point.
"My goal is to graduate with my senior class, with T.J. (McConnell) and some of the other guys," Johnson said. "It definitely is going to be on my mind."
But while Johnson has just a year's worth of credits left to squeeze in, things are trickier for Gordon. He'll have a full three years of classes to take, and likely won't have time to do much this summer with the demands of being a probable lottery pick.
It should help, though, that Gordon will be able to finish off the spring semester without major interruption. While many top draft prospects are whisked away to major cities for predraft training during the spring semester, Davis said her family insisted to the agents at BDA Sports Management that her son stay in Tucson for the spring.
Instead, she said, BDA has agreed to place a trainer in Tucson to prepare Aaron for the draft. He also will attend the NBA combine at Chicago in mid-May.
One way or another, she said, Aaron will get it done at some point.
"I think in our family, there hasn't been a question that you finish college," Davis said. "That's just kind of how it's always been. It's not like we're going to write him out of the will if he doesn't, but for what he wants to do he needs a degree. The whole idea is being able to self-actualize."
Ashley staying patient
Sophomore forward Brandon Ashley has finally escaped the crutches that accompanied him since injuring his foot Feb. 1 but remains limited while continuing to wear a boot.
"I just shoot free throws," he said.
Ashley has been expected to return at some point over this summer, but said a timetable remains uncertain. UA has been vague about his Feb. 1 injury, describing it only as a "foot injury" that required surgery on a ligament on Feb. 11.
"At this point there's really no rush," Ashley said. "There could be a possibility where I can take it a step further, but I'm just making progress, taking my time. I really don't want to rush anything. I want to make sure I'm covered and get back 100 percent."
BC transfer interested in UA
Boston College transfer Ryan Anderson, a 6-foot-9-inch forward from Lakewood, Calif, has tweeted that UA is one of three recruiting visits he is anticipating next month, along with Iowa State and Indiana.
"I would be happy at any of these schools!!" Anderson posted on Twitter.
However, UA is at its scholarship limit for 2014-15 as of now, unless there is a transfer out this spring, which coach Sean Miller said he does not expect.
Anderson, who averaged 14.3 points and 7.3 rebounds last season, must sit out next season under NCAA transfer rules but is having back surgery that could keep him out for up to six months, anyway. He has one season of eligibility remaining.