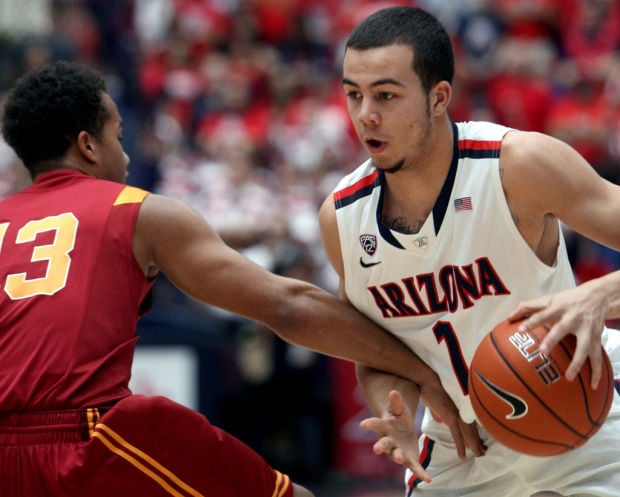 Three months have passed since Kevin Parrom was shot in the right leg, and the improvement continues.
But with the Wildcats entering the Pac-12 season Saturday against ASU, Arizona Wildcats coach Sean Miller has come to a realization about the junior forward's near-term future.
"I don't think, unfortunately for Kevin, that he'll ever get this year to where we anticipated him being," Miller said Thursday, during his weekly news conference.
The Wildcats had hoped Parrom would expand on a productive sophomore year last season, when he averaged 7.6 points and 3.4 rebounds while bringing a physical presence off the bench. Miller was even looking for him to play with forward Solomon Hill, possibly in a starting role, instead of splitting duties with Hill.
But Parrom was shot in the right leg and left hand on Sept. 24 in New York, and his prognosis has always been in doubt because of the nerve and tissue damage to his right leg.
The good news for the Wildcats is that Parrom continues to make what Miller called "small steps" in each practice and game.
"I do believe that he's making great progress and he can really return close to the player he was last year," Miller said. "Then, hopefully, in his senior year we can see the best that we've seen from him."
Parrom is hoping for such a timetable - or better.
"It's possible I can get back to myself during the Pac-12 season, but I'm still going to be valuable to the team," Parrom said. "Not with scoring as many points - little things like I did my freshman year, take a few charges, rebounding, just be a garbage player, get little putbacks and stuff like that."
Hill said Parrom and his teammates alike are frustrated that the forward-guard is not yet the same player. But at the same time, Hill said, Parrom also needs to be patient and keep working.
"It's the mental aspect - Kevin needs to buy into what happened to him," Hill said. "He needs to not force the issue but look at his body. Maybe get some extra work in, maybe do a couple of things he didn't have to do last year.
"But he's slowly going back to the player he was last year," Hill added. "It's kind of frustrating to him and myself that he can't really do what he did last year. I think he sees that as a step back and he really doesn't like that. But he just needs to look at the situation and say, 'I know I'm not the same person but I can work hard every day and get back to how I used to be.' I think once he owns that he can get a little extra work in and come back and be the player that everybody saw last year."
That realization may have hit Parrom already.
"I think I can do the little things on the court first," Parrom said. "It's not going to come back in two weeks, three weeks. It's going to take time."
While Miller said he intends to start Pac-12 play with the same starting lineup and rotation he did in the Wildcats' final nonconference games, he said he wanted Parrom and guard Brendon Lavender to play more. Parrom is averaging 15.3 minutes off the bench while Lavender has averaged 9.6 after making 6 of 8 three-pointers against Bryant last week.
"With the way Brendon is playing and our optimism about Kevin continuing to develop, we're looking at both of those guys trying to carve out an even bigger role," Miller said. "Not by leaps and bounds, but sometimes an extra two or four minutes. With Brendon's ability to shoot and Kevin's ability to be big and physical at (small forward) - it's a way for us to be both bigger and more physical."
That's a role Parrom has no problem with. He said he doesn't mind if he comes off the bench all season, and that he knows opponents may try to cause trouble inside considering UA's small size.
Parrom is ready for that. Right now.
"I know when I'm in the game I'm not going to let anyone bully us," Parrom said. "I don't think that's going to happen too often, especially when I'm in the game. I hate when teams bully us."
• Freshman Sidiki Johnson, who was dismissed from Arizona earlier this month, did not finish the fall semester academically, Miller said. Although the UA men's basketball team has been in good shape with Academic Progress Ratings, Johnson's departure will cost UA a point in retention and an extra point in ineligibility while the rolling four-year APR scores are computed in future years.
• Miller said all the Wildcats returned on time from their three-day Christmas break, including Jesse Perry, who went to St. Louis, and Parrom, who said he visited the family of UA women's player Davellyn Whyte in Phoenix. Hill said he remained in Tucson to take a winter-session course.
• What: Arizona State at Arizona
• When: 3:30 p.m. Saturday
• Radio: 1290-AM, 107.5-FM, 990-AM (Spanish)
Season PPG RPG MPG FG% 3FG%
2010-11 7.6 3.4 20.1 50.8 41.8
2011-12 4.7 2.6 15.3 36.2 32.0