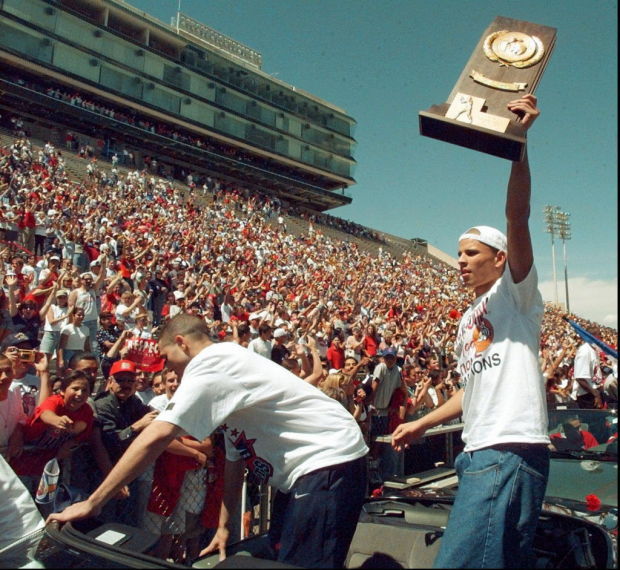 Common basketball wisdom says the Arizona Wildcats won the 1997 NCAA title a year ahead of schedule, with a freshman point guard and no seniors in a rotation that had been battered into a fifth-place finish in the Pac-10.
But that's just old-school thinking, the way Miles Simon sees it. One of several 1997 players scheduled to be on hand Friday at the Fox Theatre for a charity reshowing of the title game, Simon said those Wildcats were just ahead of things, period.
"I truly believe it was our time," said Simon, now an ESPN commentator and private trainer. "We earned it. We had really, really good players. And teams that have won it in recent memory have had young players. Maybe we were a trendsetter."
Indeed, while Simon returned for his senior season in 1997-98, Mike Bibby stayed for a sophomore year that next season and Jason Terry stuck around for two more years — things that might not happen today — most of those Wildcats went on to collective success in pro ball. Bibby was the No. 2 pick of the 1998 NBA draft, Michael Dickerson was a lottery pick that year, and Terry was a lottery pick in 1999 and is still playing in the NBA. In addition, both Simon and A.J. Bramlett had brief NBA stints and long overseas careers, and Bennett Davison played 12 years around the world.
"We were very successful," Simon said. "Maybe you could say we struggled during the season, but the Pac-10 was really good that year. We had four Sweet 16 teams (UA, UCLA, Cal, Stanford), two in the Elite Eight (UA, UCLA) and the national champions."
The Wildcats lasted the longest by famously defeating three No. 1 seeds in the NCAA tournament — Kansas in the Sweet 16, North Carolina in the national semifinals and Kentucky in the title game, while also escaping Providence in overtime of an Elite Eight game.
However, while Simon said he has watched highlights of the entire NCAA tournament run, he said he's never watched the entire championship game video. It hasn't been a huge focus for Bramlett, either, over so many other big games.
"I actually have it, but I haven't watched it very often," Bramlett said. "I watch the Kansas game and the North Carolina game. I'm a historian. I love watching old games, whether college or whatever. So it will be fun to watch the championship."
Friday's event will be the first gathering of the 1997 gang since an August 2007 Lute Olson All-Star event at McKale Center, in which many of '97 players faced other ex-Wildcats.
Bramlett finished up his professional career just months after that game, having capped his mostly Spanish career with a Latvian title in 2006-07.
"I was having major back issues at the time, and it would have gotten worse if I kept playing, so I decided to retire early," he said. "I had three kids and said, 'Forget it — let's try for the next chapter.' "
In his hometown of Albuquerque, Bramlett now runs a firm that holds basketball camps, fitness events and corporate challenges, but for one night, he'll take a look back at the UA chapter in his life. So will most of the other 1997 players scheduled to be on hand.
Tickets are $25, with net proceeds scheduled to benefit the Primavera Foundation and the (Joseph) Blair Charity Group.
"I'm excited about it," Bramlett said. "Any time we can all get back in one setting, it's fun for us, and to help Primavera and Joseph's foundation is even better. We're excited to get back together and laugh."
Oregon wing Kameron Chatman, a four-star 2014 wing, is scheduled to arrive Thursday night for a weekend visit with the Wildcats, according to his father, Canaan Chatman.
Kameron Chatman has already visited Michigan and USC, and Oregon and UConn have also been under consideration. However, Canaan Chatman declined to comment on his son's recruitment, saying via email that they are staying low-profile as they evaluate choices.
Rashad Vaughn, a five-star Arizona target in the class of 2014, kept the Wildcats on his updated list of seven schools Tuesday while cutting Kentucky, UCLA, UConn and Georgetown.
The 6-6 wing from Minnesota, who now plays at Nevada's Findlay Prep, is also still considering North Carolina, Baylor, Kansas, Minnesota, UNLV and Iowa State. According to Zagsblog, Vaughn has scheduled visits to Baylor and Iowa State but postponed one to UNC.
Guard Nick Johnson posted eye-opening vertical leaps of 47 inches (while running) and 38 inches (no step), according to test results released by UA. Those numbers would have been among the top two in NBA predraft testing last spring. Freshman Aaron Gordon was second in both tests with 43 inches (running) and 34.5 (no step).
Johnson's brother, Chris, had the most reps, 20, of any UA players in its 185-pound bench press test. Nick Johnson was second with 18, and forward Matt Korcheck did 16. Jordin Mayes (13) and Kaleb Tarczewski (12) rounded out the top five, according to the UA.
Because full practices begin Friday — a new NCAA rule allows them to begin six weeks before a team's first game — the UA will hold its annual preseason media day today.