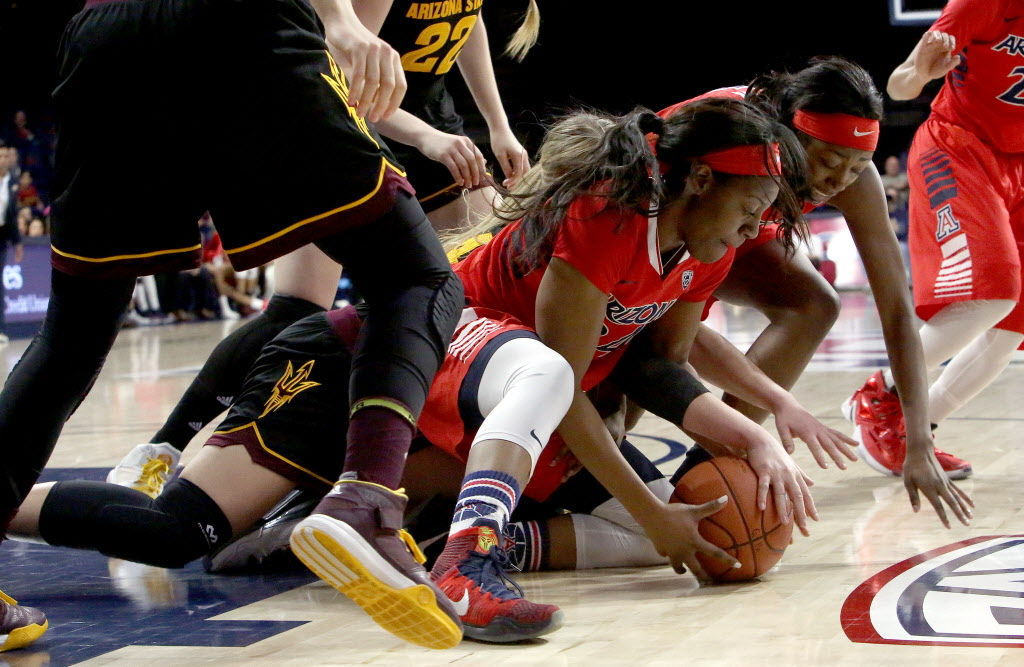 As the buzzer sounded, Niya Butts darted toward the Arizona State bench, ready for the post-game handshake before anyone else even started walking over.
She sped through the line, gathered the Wildcats for a quick huddle, then briskly walked toward Arizona's locker room.
If she was in a rush to find a silver lining, it was going to be hard to locate. Ever the optimist, at this point in Arizona's season, and her coaching tenure at UA, even Butts wasn't quite the upbeat personality she's known to be around McKale Center.
Sunday, Arizona lost to the No. 8-ranked Sun Devils by a score of 62-47, dropping to 11-9 on the season and 2-6 in the Pac-12 with its fifth loss in six games.
"It didn't go the way we wanted it to," Butts said.
Against Arizona State, it never really has. Since 2005, the Wildcats now have just two wins in 21 tries against the Sun Devils, and Butts has a 2-15 career record against Arizona's bitter rivals.
For how downtrodden the Wildcats feel right now, ASU feels quite the opposite — the Sun Devils are 16-3 on the season and 8-0 in the Pac-12.
Friday, Arizona gave ASU a fight in Tempe, and was tied at halftime and down by three late in the third quarter before losing by 12.
Sunday, however, the Sun Devils took command from the beginning. After ASU scored to start the game, UA turned it over once, and then five more times in the first quarter in which it missed 8 of 10 shot attempts and quickly fell behind 19-6.
"They came out very intense," said guard Malena Washington, "and what happened with us is we didn't come out to match that, and went kind of flat. As far as them coming out with more intensity, that wasn't really a factor, it was just the way we performed."
The Wildcats turned the ball over 12 times in the first half, and went into the locker room down 34-14.
"We didn't do what we needed to do," Butts said. "They were getting absolutely anything they wanted. We didn't get anything from our bench, we didn't get anything from our first five, and we just talked about coming out in the second half and making it a game."
Washington was a standout in the second half. She want into halftime with two points, but finished the game with 17. She brought the Wildcats within 57-45 with 1:32 to go, and helped UA outscore ASU 33-28 in the final two quarters. LaBrittney Jones was the only other Wildcat to score in double figures, finishing with 10 points and six rebounds.
"I just felt like that's what needed to be done," Washington said of taking charge. "We needed some points."
Still, it was too little, too late. For the Wildcats, with 10 games to go in the regular season, and Butts, in the last season of her contract, time is running out. UA will visit Oregon State Friday and then play at Oregon on Sunday.
"At the end of the day, we are responsible for how we play," Butts said. "We have to have a better response, and we didn't tonight. That was probably the most frustrating thing.
"But, you know, it's my responsibility as a coach to make sure our team is prepared and ready for those type of moments."