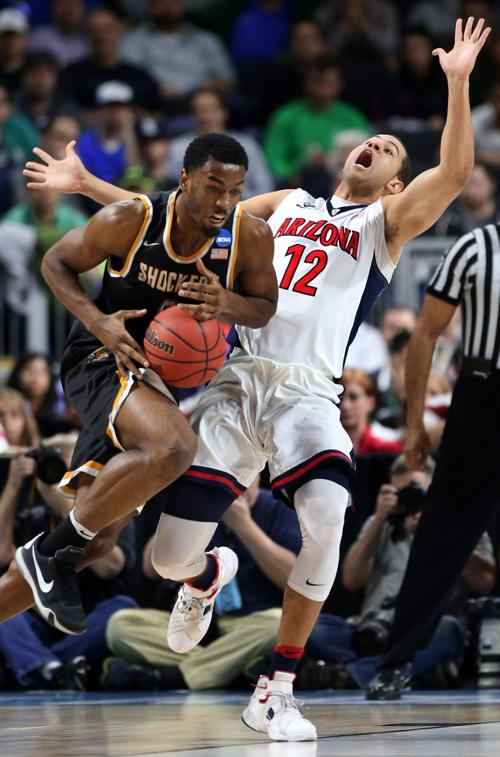 PROVIDENCE, R.I. – Thanks to a sputtering offense, the Arizona Wildcats are out of the NCAA Tournament in the shortest time of the Sean Miller era.
Arizona shot just 27.3 percent in the first half, and committed 18 turnovers over both halves, while losing 65-55 to No. 11 seed Wichita State at the Dunkin' Donuts Center on Thursday.
The loss ended Arizona's season at 25-9, the Wildcats' worst record since 2011-12, when UA lost to Bucknell in the first round of the NIT in Miller's third season. Wichita State improved to 26-8 and into a second-round game against Miami on Saturday.
Not only was it the worst NCAA tournament defeat for Arizona since Miller arrived but also the biggest losing deficit the Wildcats have had since Louisville beat them by 39 in the 2009 Sweet Sixteen, just before Miller was hired at UA.
It was also the first time Miller has ever lost an NCAA Tournament game by a team seeded more than one line lower. In fact, at both Xavier and Arizona, he had only lost once before to a worse-seeded team – in 2014, when No. 2 Wisconsin beat top-seeded UA in the Elite Eight.
What's more, the 10-point deficit was the biggest of any Arizona loss this season and the first time they had lost by double digits since Feb. 27, 2013, an 89-78 loss at USC.
Ryan Anderson had eight points and 11 rebounds for Arizona, while Kaleb Tarczewski added eight points and 10 rebounds. Point guard Kadeem Allen had seven turnovers to only one assist.
Fred VanVleet led Wichita State with 14 points while Ron Baker had 13 points and six assists.
Just when the game appeared to be going out of control, with the Shockers building leads of up to 24 points in the second half, the Wildcats went on an 11-0 run over three and a half minutes to cut Wichita State's lead to 53-40 with 7:48 left, getting three-pointers from Parker Jackson-Cartwright and Gabe York during that stretch.
Arizona managed to cut Wichita State's lead to 60-51 with a minute to go but the Shockers held on from there.
While the Wildcats have proven a different team from half to half all season, they started out the second half much like they looked in the first half: That is, disconnected.
UA had four turnovers in the first 3:03 after halftime and Wichita State expanded its 12-point halftime lead to 18 by the time Markus McDuffie made a layup that resulted from Conner Frankamp's block of Gabe York.
Shaquille Morris later picked up a foul on Dusan Ristic while dunking, giving Wichita State a 46-27 lead with 13:38 left.
In the first half, Arizona missed 11 straight field goals en route to its worst half of offensive of the season, falling behind Wichita State 31-19.
It could have been worse for the Wildcats, too.
Arizona shot just 27.3 percent from the field in the half but saved itself by playing tough defense on the Shockers until the final few minutes, helping keep VanVleet and Baker off initially, while the Shockers shot 41.2 percent only after a late flurry.
VanVleet finished shooting 5 of 11 for the half and totaling 10 points while Baker had seven on 3-for-8 shooting.
Allonzo Trier led UA with seven points on 3-for-8 shooting. Kaleb Tarczewski had four points and five rebounds.
While Arizona mostly defended well, it struggled in nearly every other area. UA could not outrebound the Shockers despite a considerable size advantage inside, with the rebounding totals tied at 18, and Arizona had 10 turnovers that led to 10 Wichita State points.
Kadeem Allen had five of those turnovers, with no assists, and UA finished the half with four turnovers in the last three minutes.
But Arizona's offense sputtered throughout much of the half. The Wildcats took a 7-6 lead with 16:28 left and then went an entire 10 minutes and three seconds before they made another field goal, when Gabe York hit a 25-foot three-pointer from the left wing.
By that time, Wichita State led 19-12 and the Shockers later took a 29-19 lead when VanVleet stole the ball from Trier and took it coast-to-coast for a layup.
The previous scoring low for UA in a first half was 29 in their last game, a Pac-12 Tournament semifinals last week in Las Vegas.