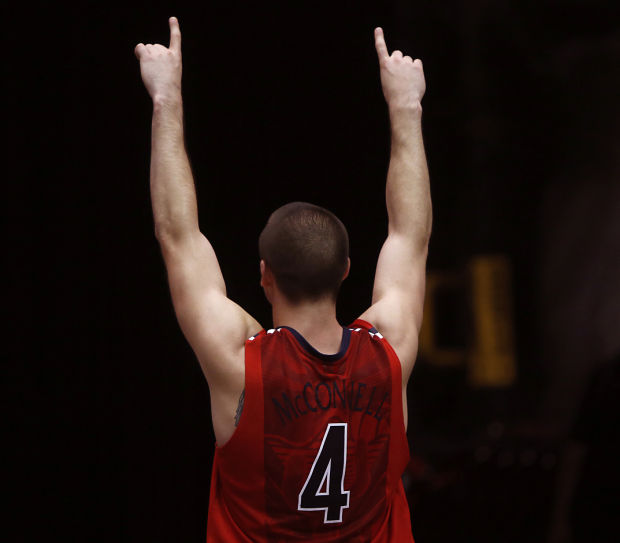 SAN DIEGO — San Diego State's rowdy fans couldn't do it. The Aztecs' full-court press couldn't do it. Nor, certainly, could well-regarded SDSU big man Josh Davis.
Only one thing ultimately stopped the Arizona Wildcats on Thursday, and that came after their 69-60 win over San Diego State: The fog.
It rolled in during the game, so much so that Arizona wasn't allowed to fire up their charter flight to go home immediately after the game.
Oh well. Arizona staffers booked the Wildcats into another hotel, and everyone walked out of Viejas Arena in a good mood, anyway.
Why wouldn't they be in a good mood? A true road game in November, at a place where they were embarrassed in a 63-46 loss four years earlier?
A place where this time, a 14-point lead shrank to just four in the final minutes and fans were on their feet rooting for a collapse.
But then … an alley-oop inbounds pass from T.J. McConnell to Aaron Gordon resulted in a dunk that moved UA's lead to six, then a few defensive stops and it was all over.
"I'm just proud of the fact that we came here and played," UA coach Sean Miller said. "We came in here not knowing how it would work out and … the fact that we played well enough to win will continue to give us confidence."
It also helped Miller continue to move key UA players into the roles he wants them to be in.
On top of Gordon's 16 athletically created points and more steady ballhandling from McConnell, Nick Johnson moved further into his role as a leader for the Wildcats. The junior scored a team-high 23 points, with 8-of-15 shooting (though he missed 5 of 6 threes), two blocks and a veteran's will.
"He played the role tonight that we need him to play," Miller said. "He's emerging as a leader."
It wasn't just the scoring and the blocks and the defense that made Johnson stand out. It was also the fact that he knew, even as SDSU trailed by 14 points at several points in the second half, that somehow the Aztecs would make a run for it.
That happened in the final five minutes.
SDSU guard Xavier Thames twice pulled the Aztecs within seven points in the final six minutes, the last 60-53 with 4:09 left. Thames later cut it to six, 62-56, on a pair of free throws with 2:42 left and after McConnell missed a three-pointer with 2:08 left, Arizona called a timeout.
But after the timeout, Thames came back for another layup to cut Arizona's lead to just four points, its smallest lead of the second half, as the Viejas crowd rose to its feet.
Johnson was ready. He tried to help his teammates get ready.
"I was telling them the whole time, when we were up 13, 14, 15, 'They're going to make a run — get ready for their run,'" Johnson said. "We were ready."
They were. Just in time. And thanks to Gordon's considerable athleticism.
After a timeout with 1:22 remaining, McConnell tossed an alley-oop inbounds pass to Gordon in the lane, and the freshman stuffed it in and picked up a foul.
With a wide grin, Johnson said he wanted to take the alley-oop but he was heavily guarded, so McConnell looked to Gordon, his second option on the play.
"I knew either Nick or Aaron would be open," McConnell said. "They took Nick away but that freed Aaron for the lob. He's a big-time athlete and made a big-time play."
Gordon missed the ensuing free throw but UA took a 64-58 lead into the final minute and SDSU failed to score on two straight possessions, sending a third of the sellout crowd home. Arizona then hung on in the final seconds.
Gordon finished with 16 points on 7-for-12 shooting, though he missed a third straight double-double while collecting six rebounds.
Arizona held San Diego State to just 36 percent shooting and was particularly tough on Davis, the grad transfer who had just two points on 1-for-7 shooting. Arizona also outrebounded SDSU 39-28.
"He had a tough game and maybe we had a little to do with it," Miller said. "But this team is fairly new to him."
Thames, who transferred from Washington State after his freshman season when he played mostly behind Reggie Moore, finished with 19 points. J.J. O'Brien also had 19 for SDSU.
Earlier in the second half, the Aztecs cut Arizona's lead to eight points, while the Wildcats ran into foul trouble early in the second half. Brandon Ashley picked up his fourth foul with 14:30 left in the game while three other UA players had three fouls each: Gordon, Johnson and Rondae Hollis-Jefferson.
Hollis-Jefferson wound up fouling out with 5:07 left, but no other Wildcats fouled out.
In the first half, UA took a 39-28 lead at halftime thanks largely to Gordon and Johnson.
The high-profile game went off to a jittery start, with both teams committing four turnovers before the first media timeout at 12:54. On Arizona's first four possessions, the Wildcats had two turnovers and two badly missed field goal attempts, a three-point try by Ashley and a layup by McConnell.
But all those nerves were long gone in the final minutes.
In what McConnell said was the toughest environment he's ever played in, he and his teammates hung on.
"We didn't break," McConnell said. "We settled down, made free throws down the stretch and that was key."