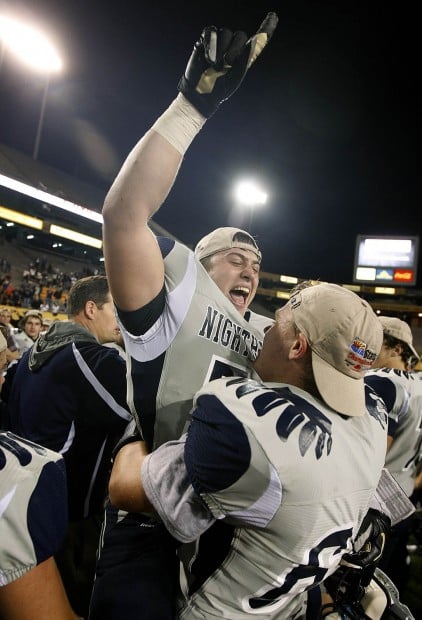 Editor's note: This story first appeared Sunday as an exclusive for out print readers.
Long after Sean Miller walked out of McKale Center and into what he called "a beautiful Saturday afternoon," Kyle Fogg was still wearing his Nike Hyper Elite Platinum jersey, No. 21.
He stood under the south basket, at which he scored 16 points in the second half, surrounded by a dozen people wearing red No. 21 jerseys.
Was this a regularly scheduled Kyle Fogg Fan Club meeting? Could it have been pure happenstance that so many people wore red No. 21 Wildcat jerseys?
And where did they get so many Kyle Fogg jerseys?
"We all came over from Brea, Calif., to spend the weekend with Kyle and watch his Senior Day," said Steven Cantrell. "Most of us have been playing with him since he was 12 or 13. I played at Brea High School with him. This couldn't happen to a better guy."
Talk about your happy endings: Do you know that Fogg's SoCal high school is located at 789 Wildcat Way?
"Pretty crazy," said Cantrell. "I don't know if you could have a better Senior Day than this."
Fogg's mother, Miriam, and sister, Marceia, also wearing red, stood nearby and watched as the group of 21s talked about old times. The biggest smile belonged to the guy wearing a Platinum 21.
Someday 20 or 30 years from now, when Fogg thinks back to his Senior Day, when he tells the story to those who didn't follow his college career, they will probably say "no way; you're making that up."
Fogg was still available in mid-May of his senior year at Brea, recruited by mid-majors like UC-Santa Barbara, Long Beach State and Boise State. Only then in the chaotic shuffling of Arizona coaches did new Wildcat assistant coach Mike Dunlap tell him that Arizona wanted him to be a Wildcat.
Now, four years later, Fogg is Mr. Wildcat, ranking in the top 10 in career categories including three-point baskets, minutes played, games started and good impressions made.
After Fogg's 20-point, nine-rebound performance in the UA's 65-63 victory over UCLA, his coach said Fogg is "as high of a character kid as I've ever been around."
The next thing to come his way, as improbably as it may sound, is that he is a near-lock to make the All-Pac-12 team when it is announced March 7. You could further make a case that he has been the league's best player over the last eight games, dating to Arizona's stunning victory at Cal on Feb. 2, a night that Fogg scored 23 points and buried 5 of 6 three-point shots. That game, those shots, turned Arizona from a bystander to a player on the NCAA's big board.
Fogg has averaged 16.5 points in that stretch. Over the last four games, he has averaged 10 rebounds, with a pair of double-doubles. His defensive prowess is well known.
On Saturday, The Bruins' leading scorer, Lazeric Jones, missed 11 of the 12 shots he attempted. On most of them, No. 21 was in his jersey. Jones scored two points. Coming into the game, he was averaging 13.4, having scored 20 two days earlier at Arizona State.
Miller described the slow and unpolished game as "just a war." In that context, Fogg was the Ultimate Warrior.
With 10 minutes remaining, the Bruins led 45-39, and Fogg was 1 for 7 from the field. The Wildcats were reeling down an off-ramp to the NIT unless someone could stick a few clutch jumpers and make Senior Day 2012 one to remember.
Cue Fogg: "That's one of the games I'll never forget," he said.
Because the Bruins didn't recruit Fogg four years ago, or even know he existed during their recruiting forays with McDonald's All-American guards, he has often used it as motivation to become something of a Bruin Killer. He has scored 20 or more points nine times in his career, and a third of them have been against UCLA.
"As he goes, they go," said UCLA guard Jerime Anderson.
Fogg has worn 21 with such distinction that he belongs in a class with those former UA stars who also wore it before him: 1950s All-American Roger Johnson, All-Pac-10 players Michael Wright and Hassan Adams, and national championship forward Bennett Davison.
After Miller completed his one-man testimonial to Fogg on Saturday, he defined this 21-win Arizona team by saying, "I believe our team has achieved to its talent level."
It was a coach's way of saying that his players have gotten the most from the skills the basketball gods have given them.
And no one more than the man in jersey No. 21.
COLLEGE BASKETBALL INSIDE
Seen and heard at McKale Center
From Miller's technical to Terry Francona courtside and Platinum jerseys, we are there. Page B9
Washington comes from 13 points behind to win 59-55 at Washington State. Page B8