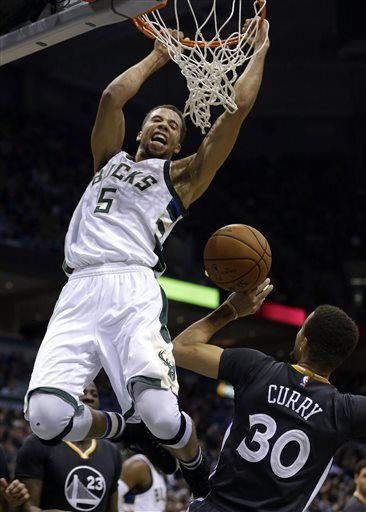 MILWAUKEE — The streak is over for the Golden State Warriors.
Their NBA-record start ended after 24 wins when the Milwaukee Bucks beat them 108-95 on Saturday night.
Golden State fell to 24-1. Its 28-game winning streak, counting the final four games of last season, came to a halt. The NBA's longest winning streak was 33 by the Los Angeles Lakers in 1971-72 — and it was also snapped by Milwaukee.
Greg Monroe scored 28 points for the Bucks, who got the all-around effort needed to beat the defending NBA champions.
It also helped that the Warriors, perhaps fighting fatigue after needing two overtimes to win at Boston on Friday, were cold from three-point range. They usually make 13 a night, but were just 6 of 26 from behind the arc playing on the final game of a seven-game road trip.
Stephen Curry had 28 points on 10-of-21 shooting from the field, including 2 of 8 from three-point territory.
Not good enough to get past the Bucks, who led by double digits for much of the night before the Warriors cut it to a point a couple times.
The Bucks had an answer each time. Monroe was 11 of 16, including a three-point play with 2:51 left for a 12-point lead.
Draymond Green had 24 points and 11 rebounds for the Warriors. Klay Thompson, returning after missing a game with a sprained ankle, had 12 points on 4-of-14 shooting for Golden State, while Festus Ezell added 13 points.