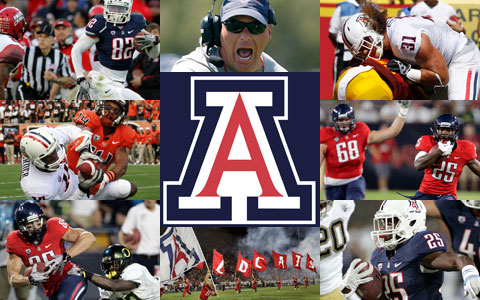 Coach Rich Rodriguez and the Arizona Wildcats held their first practice of the spring this morning at Kindall/Sancet Stadium. The workout lasted just short of two hours and gave the second-year coach a starting point for the spring.
"I thought it was a good day," Rodriguez said. "We move quickly and it does gas them. But, when they're out there, we expect full effort."
There was some news to come out of the opening day.
Richard Morrison has moved from wide receiver to cornerback. Rodriguez cautioned that Morrison could move back in the future, but is working with the defense now at the player's request.
Morrison caught 23 passes for 171 yards and two touchdowns last year. But with the Wildcats banged up in the secondary, Morrison asked the coaches if he could switch sides and get a crack in the defensive backfield.
One player still with the offense, at least for now, is receiver Terrence Miller. Miller started the first three games of the 2012 season and then after returning for one game, had his season cut short with a foot injury.
He is now seeking a medical redshirt and Rodriguez said he hasn't received official confirmation that Miller will be able to play in 2013, but is feeling good about it.
Miller had 13 catches for 143 yards and two touchdowns before injuries struck.
The team will get Sunday off before returning to practice Monday afternoon. Read Sunday's Daily Star for more coverage of the first day of practice.