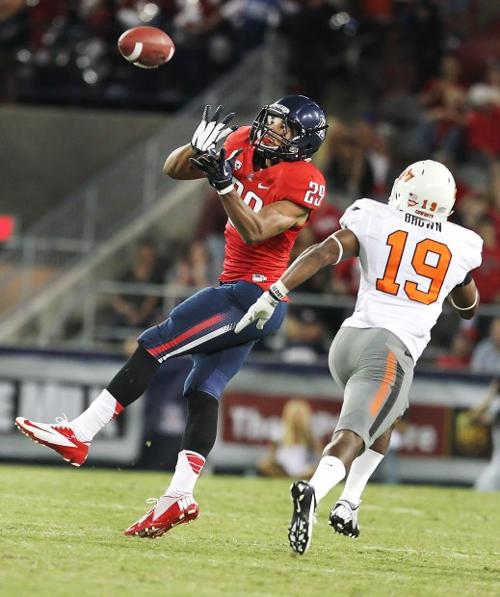 Austin Hill, the Arizona Wildcats' leading receiver in 2012, tore his ACL in practice on Wednesday and will be sidelined for several months.
Wildcats coach Rich Rodriguez announced the injury after the team's spring game this afternoon at Kindall/Sancet Stadium.
Hill had 81 catches for 1,364 yards and 11 touchdowns last season. He was a second-team All-Pac-12 selection.
"In the practice on Wednesday, he had a knee injury and unfortunately it's an ACL tear, which makes me sick because he is such a great player," Rodriguez said. "It wasn't the ACL, MCL and all that, it was just the ACL. He'll have surgery as soon as possible and get going on rehab. I don't know what his time frame is to return, but he'll be back bigger and stronger with the way the technology is today. I really felt bad for him, but our guys will bounce back.
"Austin is a tough, strong guy and he'll bounce back."
Hill attended the spring game in street clothes and watched from the sideline.
Rodriguez said they won't replace Hill with one player and will instead will rely on multiple guys. It's possible Hill could return in the middle of the season and still have an impact.
The Corona, Calif., native redshirted in 2010, meaning he's not eligible for a medical redshirt season in 2013.
It's the fourth time a prominent UA player has torn his ACL in spring practice. Adam Hall tore his in 2011 and 2012 and linebacker Jake Fischer  also tore his in 2011.