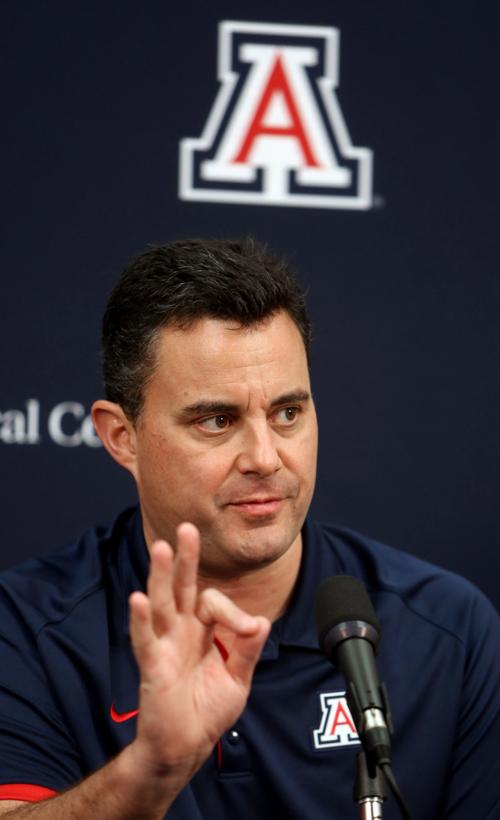 It's always tricky for coaches to talk about their current recruiting efforts, since NCAA rules prohibit them from talking about players who have yet to sign a letter of intent, but Sean Miller managed to make one thing clear Friday.
Namely, that he's not panicked about the 2016 class, which contains zero committed players at this point.
About 38 minutes into his preseason discussion of his Arizona Wildcats, Miller was asked how crucial the Red-Blue Game would be this year especially since the program has no 2016 recruits lined up yet. (Top recruits from several classes are routinely invited to UA's showcase preseason event.)
"It's always crucial," Miller said, then dug into the underlying theme of the question.
"Whether we have commitments now or not, the hay doesn't enter the barn until April as far as who's on your team," Miller said. "Sometimes you may have a good early class but there are a few others you wanted to add but you don't.
"This year a lot of things are going to happen for us later, not earlier."
Miller said that part of the Red-Blue Game is the near "dry run" sort of game-day experience his current players get and then talked about his recruiting again.
"Our recruiting doesn't always stem in the current (high school) senior class," he said. "A lot of times we're more active in the younger classes than the senior classes and this year is a good example of that.
"Whoever's at the Red-Blue Game is always something that's important for our program, and it says a lot when you get more people for an intrasquad scrimmage on a Saturday afternoon with two 12-minute halves than a lot of programs would get if Kentucky showed up."
---
Earlier in his group interview session, Miller said his current team won't be resting on the success of UA's past few years. UA made the Sweet 16 in 2013 and the Elite Eight in each of the past two seasons.
"We all embrace where we're at," Miller said. "We know the tradition. We've done a very good job recently of not relying on the past to give us the respect, not riding the coattails of the former great players and teams who have been here, and in a sense trying to create our own legacy.
"This year is no different just because the last few years have gone favorably for us. Unless you're John Calipari at media day today, nobody's won as many games as we have in the past two years. I'll say that again: When you win 67 in two years that's just not something you stick up on the wall. It's something you have great pride in.
"But whether you were a member of that team or you're an incoming freshman, that has nothing to do with how we're gonna be this year so a lot of our work this summer, this fall, is about being the best we can be and we have to guard against (resting on laurels)."
Miller then transitioned into an analysis of how the season might play out, with seven of 12 players being newcomers (though guard Kadeem Allen and forward Ryan Anderson were at least around the program as redshirts last season).
"As a group is we've only lost one nonconference game (at UNLV last season) in three years and we could lose a couple of nonconference games this year and go on to have a great season. We can't let anything this season be compared to the past. It's a new team full of new faces and we may be at our best in March. That month is special. If you're playing your best basketball in that month, a lot of good things can happen. So I hope we have a team that gets better and grows as the year goes on. It seems to be pointing in that direction because we do have so many players in new roles."
---
Allonzo Trier brings in the same kind of five-star/McDonalds All-American Game/USA Basketball cred that Aaron Gordon, Rondae Hollis-Jefferson and Stanley Johnson did in the past two seasons.
But Miller said Trier is "much different," and credited the entire four-man freshman class for their willingness to learn.
"Allonzo's been in big games, he's played against the best at this point in his career and now he's a freshman," Miller said. "So it's like you watched with Aaron Gordon coming here and Stanley Johnson. Those are great examples because they ended up leaving after a year. But yet if you judged them in September or October, they had a lot to learn.
"Allonzo's the same, very talented, somebody we're excited to have, somebody we we believe in. But he's very much about the learning process. All of our freshmen deserve tremendous credit. It's as easy to coach this group as any I've been around. You don't have to apologize for trying to make them better. They love the game. They're in the gym and willing to learn. They've really learned lean on (our) older players to show them the way."
---
Trier will be the sixth McDonalds All-American that the Wildcats will be bringing in under Miller, and you could argue that Kaleb Tarczewski (who was ineligible as a fifth-year senior in 2011) and Ray Smith (who sat out last season after an ACL tear in July 2014) could have made it eight total.
"Ray is one of our most talented players in our program," Miller said. "If he didn't have the injury he had last summer, I believe he would have been a McDonalds All-American as a senior this past year. But when you take him off the radar for an entire year and you wonder how healthy he is, he's gonna get better as his career moves on but especially this year.
"The good news is he's 100 percent healthy. His leg strength is equal in both legs, and he's worked extremely hard. We had a conditioning test this morning, which is very difficult, and he passed it, which is great for him because he hasn't run consistently over the past six or seven months like a normal high school senior has.
"So we're excited about his talent. And where Ray will be around Christmas, January, February, he could be in another world compared to maybe where he was a month ago. He's one of those guys you talk about with combinations having him in there. He gives you a six-foot-eight small forward out of the mold of some that we've recently had."
---
When asked about recent off-court issues in college basketball, including those at SMU, Miller said it was "part of the job" to make sure things are done right. But he also spoke highly of SMU coach Larry Brown.
"I don't respect any coach in the country more than I respect Larry Brown," Miller said. "He's somebody who – you could be the fourth assistant on an NAIA Division III coaching tree from Hawaii, and if you asked him a basketball question, he would talk to you for 15 minutes. He's a coach's coach and somebody I think is a pioneer of our game. He's somebody who, if one of my sons was good enough to play college basketball and he wanted him as part of his program, I'd send him in a minute. In my mind, he's one of the great coaches that's ever coached our game."
---
---
In case you missed it, we had a long notebook that included talk about the new physiques of Parker Jackson-Cartwright and Dusan Ristic, plus Ryan Anderson's new motto for the Wildcats, and more from Miller, who said he had to sometimes "shake his head at" all those questions about Tarczewski's return for a senior season.
We'll have another story looking at the preseason to be posted Saturday night and in Sunday's print edition, too.