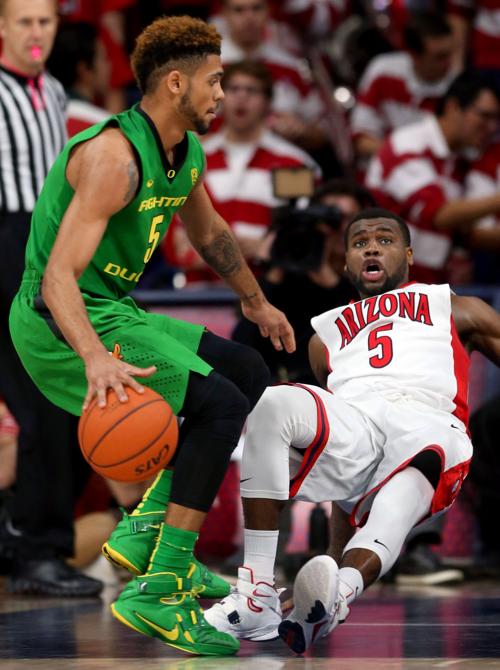 Ryan Anderson made a splash in his first Portsmouth Invitational game while facing a very familiar face.
Anderson had 27 points and 11 rebounds to lead his "Roger Brown's Restaurant" team over "Cherry Bekaert" – and Gabe York -- 112-73 in an opening game of the seniors-only predraft camp in Virginia on Wednesday.
York struggled in that game, scoring 10 points while shooting 1-of-6 from three, with two assists and three turnovers. But York had a better game today against Sales Systems Ltd., with 12 points and 2-for-4 three-point shooting, along with five assists to two turnovers.
---
Day two of the spring signing period has just about passed and the Wildcats have still not announced a letter of intent from Rawle Alkins. UA has been posting an official welcome on its Twitter site once a letter is received.
It's unclear if that means anything, but nothing is ever certain in recruiting until the LOIs are in (and even then they still aren't always certain). In any case, UA does typically prefer to get LOIs lined up together if possible so it can announce them at the same time, early in the signing period, though sometimes you'll hear of a recruit who can't sign right away because of some extenuating circumstance.
I've been told by multiple people that Alkins will return to his home in New York from North Carolina this weekend. My text message to Alkins was not returned, though one of his former coaches said he believed Alkins would sign.
UA also has not posted confirmation that it has an LOI from Ferguson, either, though the Dallas wing made his plans pretty clear during his announcement Wednesday that he would play for the Wildcats.
---
If all the LOIs do arrive, Arizona will have seven well-regarded talents between the point guard, shooting guard and small forward spots. 
Analysts Josh Gershon of Scout and Jerry Meyer of 24/7 Sports both said that poses a challenge for UA coach Sean Miller, but that the Wildcats can go with a smaller lineup that shifts Ray Smith or even Alkins at power forward.
"Whoever loses out on minutes, it's very hard to keep those guys happy," Gershon said. "Whoever is losing out is probably going to be expecting to play next season.
"And expectations are probably the most difficult when it comes to freshmen, because it doesn't matter how good any freshman is, they all come in with huge goals. (At Arizona) we've seen it two years in a row, with Justin Simon and Craig Victor (transferring). I'm not predicting that at all, but certainly when you have several guys it's a challenge."
But there are differences in each player's game. Here's how Meyer broke down the expected perimeter freshmen: Kobi Simmons, Alkins and Ferguson.
"Kobi's very athletic, sort of a high-risk, high-reward style of player who likes to make the big play, and can play the one or two," Meyer said. "Terrance Ferguson can play the two or three. He's very athletic in transition and not the strongest guy, so in traffic he doesn't have as much of an impact."
"And Rawle's just a bully, a really physical perimeter player. He has point-guard ballhandling skills but doesn't have point guard speed."
---
Stanford has made it official that well-regarded former UA manager/video aide Adam Cohen has joined Jerod Haase's staff as an assistant coach. Cohen began his basketball career as a student under Lute Olson, and worked on Kevin O'Neill's interim staff before graduating from UA in 2008.
Cohen then went to New Orleans for a year before rejoining O'Neill at USC in 2009 and spent three years with the Trojans. He has since made stops at Rice, Harvard and Vanderbilt.
---
---
Oregon's Dillon Brooks and Chris Boucher are reportedly testing the NBA Draft waters, and their decisions (plus Tyler Dorsey's) could decide who gets picked to win the Pac-12 next season, though Arizona's recruiting will make it an interesting call no matter what.
---
Be the first to know
Get local news delivered to your inbox!