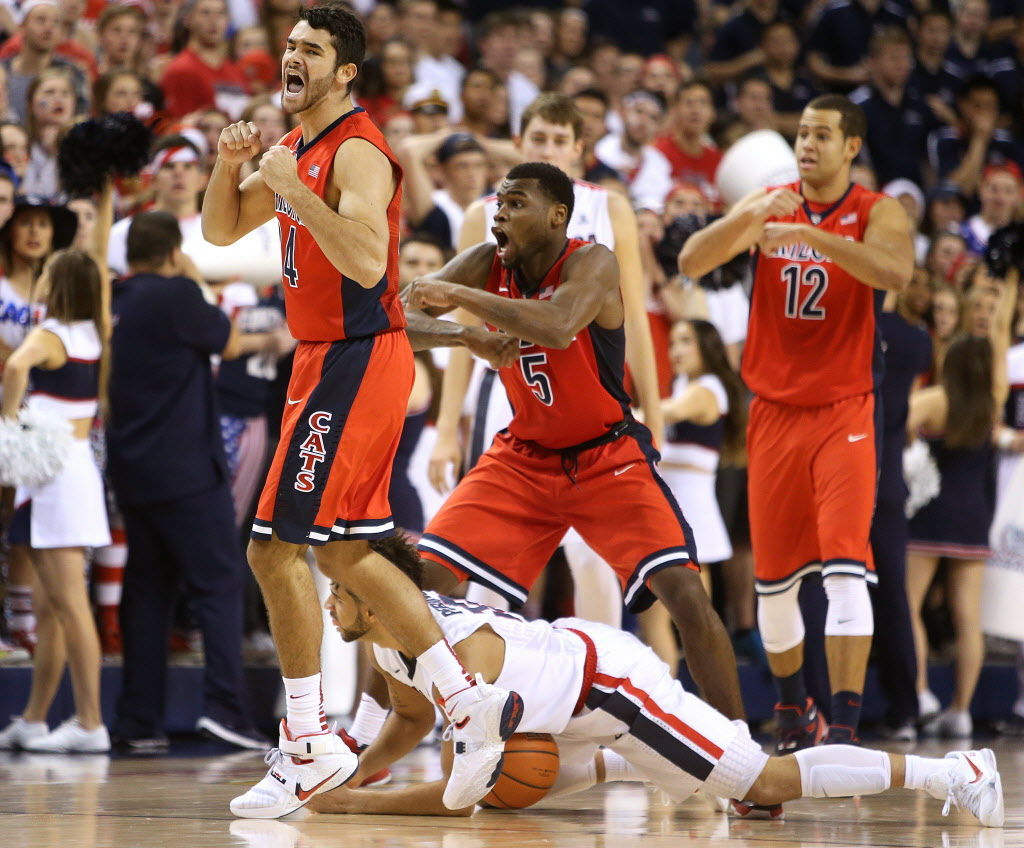 SPOKANE, Wash. – If Allonzo Trier keeps playing the way he did Saturday, he won't come off the bench again this season.
Trier was given his third start of the season at Gonzaga, and he responded with a confidence and aggressiveness the Wildcats sorely needed early in their come-from-behind 68-63 win.
Miller indicated Trier could keep being a starter if he continues to play better in that role. He started against Northwestern State and against Santa Clara, but struggled in UA's overtime win over the Broncos.
Saturday, Trier had an efficient day: Scoring 14 points on 6-for-9 shooting, while collecting six rebounds, two assists and a steal with just one turnover and no fouls.
"We put Allonzo in the starting lineup because I think we all recognized he gives us the double-figure scoring punch we needed," UA coach Sean Miller said. "Maybe we didn't need that quite as much in California."
Trier said he tried to be the same guy whether he's come off the bench or started, but said he feels comfortable as a starter simply because he's always been one until this season.
"I have a lot of confidence that I can execute and play well for this team to be successful," Trier said.
---
Not surprisingly, according to Gabe York, Miller challenged the Wildcats at halftime after they allowed the Zags to shoot 58.6 percent in the first half.
"Coach talked to us and said, `How hard are you going to work, how much effort are you going to give out on the court?' " York said.
Deep down, Miller was probably somewhat relieved. The Wildcats were trailing just 38-28 points despite a massive differential in shooting percentage: They made just 32.3 percent of their field goals before halftime.
"I thought we were fortunate to only be down by 10," Miller said. "We didn't have a lot of offensive rebounds; they were doing a great job of not allowing us to get second shots. They had our offense stretched out. We kind of stood and took some tough shots."
But the Wildcats managed to win every segment between media timeouts in the second half (what Miller calls "wars") after they lost every such segment in the first half.
"We're a really together team and we believe in each other," Trier said. "We had a lot of faith that we could pull through in the second half. … We wanted to come out in the second half and win the first four second war and if we won every single four-minute war in the second half that was big for us. We played big and consistent in the second half and didn't let up."
---
Of course, there were some X-and-Os involved with that second-half defense, too. Miller attributed a lot of it to the play of Elliott Pitts, who played eight minutes in each half.
He had two points, three rebounds, a steal and one assist, but Miller credited him for what he did defensively.
"Elliott is doing a really good job on defense," Miller said. "He went in there and kind of changed the dynamics of how it looked. We trapped one time and it wasn't the same old look. Instead of throwing a fastball, we threw a changeup. And then when we went back with Mark (Tollefsen) and Ryan (Anderson), we were able to -- I don't want to say get them out of their rhythm –but Elliott was doing a really good job."
---
Of course, that's all relative when you're facing all-American candidates. Miller joked that Pitts helped "slow Wiltjer down… slowed him down to 33." But he also knew everybody else is going to have trouble with Wiltjer too.
"We've played against two first-team all-Americans, (Providence's Kris) Dunn and Kyle," Miller said. "That's how they look. So to be able to leave here with a victory, we're proud of our effort."
---
The box score is attached as a PDF.
Be the first to know
Get local news delivered to your inbox!