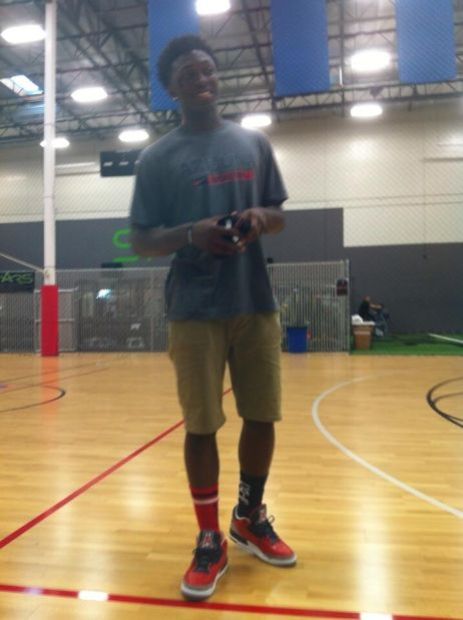 ANAHEIM, Calif. – No matter how good Stanley Johnson is, the five-star 2014 wing knows that Sean Miller will find a reason to criticism him someday.
"He's a killer. He's tenacious," Johnson said of Miller, after announcing he would play for the Wildcats next season. "Even when he starts yelling and screaming that gets me juiced. He's energetic and all that. I really like him as a coach and as a person. Over the four years he really got to me and did a great job."
Johnson, speaking this afternoon at a practice facility where he regularly works out, said he was motivated particularly to keep improving his shooting and other perimeter skills, areas where he said Miller and his staff can help him.
"Coach Miller is a great coach, a proven coach," Johnson said. "The things I need to work on, he's good at. My weaknesses are his strengths and I think he can motivate me on and off the court. And his coaching staff is great – coach (Damon) Stoudamire, coach (Joe) Pasternack and coach Book (Richardson).
"There's a bunch of things (about Arizona) but the best thing for me is playing for a genuine coach like coach Miller."
---
One of Johnson's greatest sources of motivation so far is none other than Aaron Gordon, his teammate on the Oakland Soldiers travel-ball team in 2012. "
"You don't know how hard people play by just watching," Johnson said. "I remember we were playing in the Peach Jam against Team Final, up 12 with five to go, there was a clear box-out and Aaron's on this side and I'm on that side. He boxes them out to the red line and grabs the rebound over my head. I was like `OK, this guy is playing hard. This is crazy.'
"I felt like if I could do that, if I could put that in my game, that will help take me to the next level. He helped me. He probably doesn't even know that but he helped me in the long run."
---
Those shoes Johnson flashed on the ESPNU recruiting show aren't available in stores.
Johnson said a friend who runs a small shoe restoration/customization company known as Shoe Clinics "said he would make me a signing shoe," doing so by customizing a pair of white Air Jordan 3 Cement shoes.
The shoes were painted in UA blue and red, with a big "A" on the tongue.
When they were finished, after three days of work, they became what Johnson calls, "Arizona Cement 3s"
---
After having Arizona coaches hover over Johnson for three years, Mater Dei coach Gary McKnight was hardly surprised to watch the announcement. But he said he was happy to see it.
"I know it was a hard decision for him," McKnight said. "I think Stanley's in a good situation. He's close to home and surrounded by a lot of good people. Joe worked really hard and so did Sean. They did a really good job."
Be the first to know
Get local news delivered to your inbox!