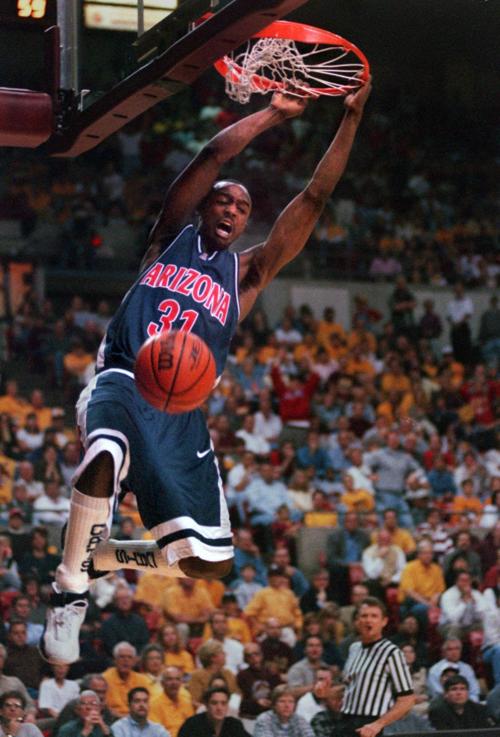 Terry qualified for the honor when Sports Illustrated, CBS and the Basketball Times named him the 1989-99 Player of the Year, since UA criteria allow only those named a national player-of-the-year honor to have their jersey retired.
But UA initially could not retire Terry's jersey because of an agreement it made with the then-Pac-10 Conference in 2000 after an investigation found Terry accepted $11,500 from agents while playing for the Wildcats.
Terry was already in the NBA when the investigation concluded in June 2000, but the Wildcats' one-game 1999 NCAA tournament appearance was formally vacated. In addition, UA asked Terry to repay the $45,363 in forfeited NCAA 1999 tournament revenue and banned him from the UA Sports Hall of Fame, including a provision that his jersey would not be retired.
But UA athletic director Greg Byrne said Saturday that Terry paid back the $45,363 several years ago and that he and UA president Ann Weaver Hart began discussing the issue with their colleagues around the conference.
Pac-12 spokesman Erik Hardenbergh said UA needed to formally request that the jersey retirement provision of the penalty be vacated. UA president Ann Weaver Hart requested it in November, and conference presidents and chancellors voted unanimously for it, Byrne said.
Terry joins only Sean Elliott (national POY), Steve Kerr (national courageous athlete), Mike Bibby (national freshman POY) and Jason Gardner (national 6-foot-under POY and national freshman POY) as UA players to have their jerseys retired.
Not only was Terry named Player of the Year by the three media outlets, but he was a valued and popular sixth man for UA's 1997 national champions and the Wildcats' 1998 Elite Eight team, a role he duplicated for years in the NBA. Terry is now a teammate of former UA guard Nick Johnson with the Houston Rockets.
"I am extremely blessed and honored to have my jersey retired," Terry said in UA's statement. "It is not only a tribute to what I accomplished as a student-athlete at UA, but to all the people who helped me on my journey. I want to extend special thanks to President Hart, Greg Byrne, Lute Olson, (former associate head coach) Jim Rosborough, (academic advisor) Jennifer Mewes, the Pac-12 Conference and all Wildcat fans. Bear Down!"
After receiving Pac-12 approval in November, UA soon after notified Terry and opted to announce the decision today. Terry's jersey will be formally retired on Feb. 19, during UA's game with USC at McKale Center.
"I've been open to it since I've been here," Byrne said. "We just had to find the right time to do it. ... This is a great honor for Jason."
After Terry was found to have taken $11,500 in benefits from an agent, UA agreed to ban Terry from the UA Sports Hall of Fame and to not retire his jersey.
UA also asked Terry to repay the $45,363 in earnings the school forfeited from its now-vacated appearance in the 1999 NCAA tournament as a result of the violation. But Terry has since repaid it, Byrne said.
"I think we've had really good relationship with Jason," Byrne said. "We've enjoyed Jason and he's given back to every community he's been a part of. It's very well-deserved."
---
There's more background on why UA originally agreed not to retire Terry's jersey in this excerpt of a June 30, 2000 story in the Star:
Former Arizona basketball star Jason Terry accepted illegal benefits from agents while playing for the Wildcats, prompting the school to ask him for $45,363 in forfeited NCAA tournament revenues and to ban him from the UA Sports Hall of Fame.
After a yearlong investigation, university officials said they found that Terry accepted about $4,500 from New York agent Larry Fox while taking another $7,000 and legal services from San Francisco agent Ndidi Opia after his junior season of 1997-98.
Arizona officials declared Terry, now with NBA's Atlanta Hawks, ineligible for the 1998-99 season as a result and initially proposed that all of their 1998-99 games be declared no contest, because of a Pac-10 bylaw requiring them to do so.
However, Pac-10 compliance officer Mike Matthews said a Pac-10 enforcement/compliance committee ruled UA did not have to declare all games no contest because the university did not know about Terry's violations.
As a result, the UA wound up forfeiting only its lone 1999 NCAA tournament game, a 61-60 loss to Oklahoma.
Most of the other penalties affect only Terry, UA associate head coach Jim Rosborough and the fans who attend McKale Center practices, which will now be closed permanently.
UA officials said they will return to the NCAA a 45 percent share of 1999 television revenues ($45,363), an amount determined by NCAA bylaws, which Terry agreed to pay. They also said Terry is ineligible for jersey retirement and the UA Sports Hall of Fame, and reprimanded Rosborough for not reporting allegations sooner.
Finally, the university said it will review and improve its rules and training program while closing practices in an attempt to reduce access to agents and gambling representatives.
UA Athletic Director Jim Livengood said the NCAA and the Pac-10 have agreed that no further sanctions will be considered. NCAA officials were unavailable for comment after yesterday's news conference, but Pac-10 assistant commissioner Jim Muldoon said the league approved the UA's response.
Efforts to reach Terry, Fox and Opia were unsuccessful, but UA coach Lute Olson said he found Terry to be "extremely remorseful" during a meeting last week, when Terry was in town to run a summer camp.
"There was no question that he understood he had blown it," Olson said. "Obviously his popularity and the sacrifices he made are well known. . . . But it's like I told him: I was very disappointed but that young people make mistakes, and unfortunately the one who's paying for this is J.T."
Livengood said that Terry will pay the $45,363 by mutual agreement, although the university's official post-investigation response to the Pac-10 stated that the university "intends to demand restitution from Fox, Opia and Terry."
Fox and Opia both denied making payments to Terry in interviews with Pac-10 investigator Dan Coonan, according to UA records, although Terry told investigators he took money from both.
Ironically, the investigation arose out of tension between Terry and his mother, Andrea Cheatham, over his choice of agents last year.
Cheatham wrote to the National Basketball Association Players Association and Rosborough in early April 1999 complaining that Fox had created an "indebted relationship" with her son. UA officials determined that Cheatham, who was also unavailable for comment yesterday, wanted Terry to hire Opia.
Terry initially hired Fox but fired him before the 1999 NBA draft and eventually signed with No Limit Management.