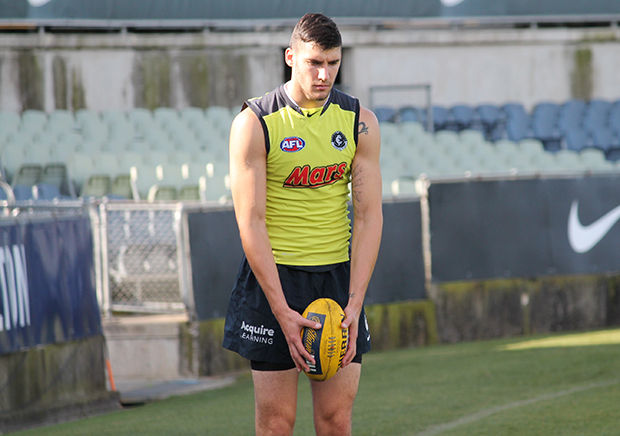 Matt Korcheck's surprise career change is complete.
After a month-long test run in Australia, the former Arizona forward has agreed to a two-year contract with the Melbourne-based Carlton Football Club of the Australia Football League.
Despite not knowing a thing about the game until this year, Korcheck impressed at an Aussie Rules tryout camp in Florida last spring, then was invited to work out and watch eight Carlton games last month in Australia.
He told the Star today he was going to sign a deal and move to Australia in October, then probably spend the next season in the Victorian Football League with Carlton's developmental affiliate.
Since Carlton paid his way to visit last month it had first right to sign him, according to the Herald Sun of Melbourne, and Korcheck said he was grateful for the opportunity.
"Since Carlton was interested enough to fly me out there and host me for that long period of time, I had a respect for them and the game so I wanted to give them my loyalty," Korcheck said. "I wasn't really interested in anywhere else."
Korcheck said he did mostly skill workouts in Australia last month and watched games toward the end of Carlton's season. Then he thought about what it all meant for his life: Korcheck not only has plans to move there for at least two years but his girlfriend has plans to move there with him once she completes veterinarian school in California.
"It was a little overwhelming," Korcheck said. "I've never been to Australia in my life so it was really cool to travel there. It was a very fast pace but it was cool. I enjoyed it and once the trip ended I knew that was what I wanted to do. I went to eight games and just fell in love with it."
Korcheck averaged only 3.7 minutes in 21 games last season but was valued for his work ethic, personality and toughness. He'll be groomed to play the ruckman position, where a combination of height, athleticism and toughness is valued.
During an Australian interview last month, Korcheck was introduced as "Matty Korcheck" and immediately asked how tall he was.
"Six-foot-10," Korcheck said.
"Six-foot-10. That is massive," the interviewer said.
The video of the interview is attached to the right. There's also some video and photos of Korcheck on the Carlton club's website, under the headline "The big American lands at Carlton."
We'll have more on Korcheck's signing posted later tonight and in Saturday's edition.
---
---
---
ICYMI, Sean Miller calls Cal the team to beat in the Pac-12 in today's notebook, which also has details on Mark Phelps' UA salary, an update on Chance Comanche's tonsil issues and other items.
---
Be the first to know
Get local news delivered to your inbox!