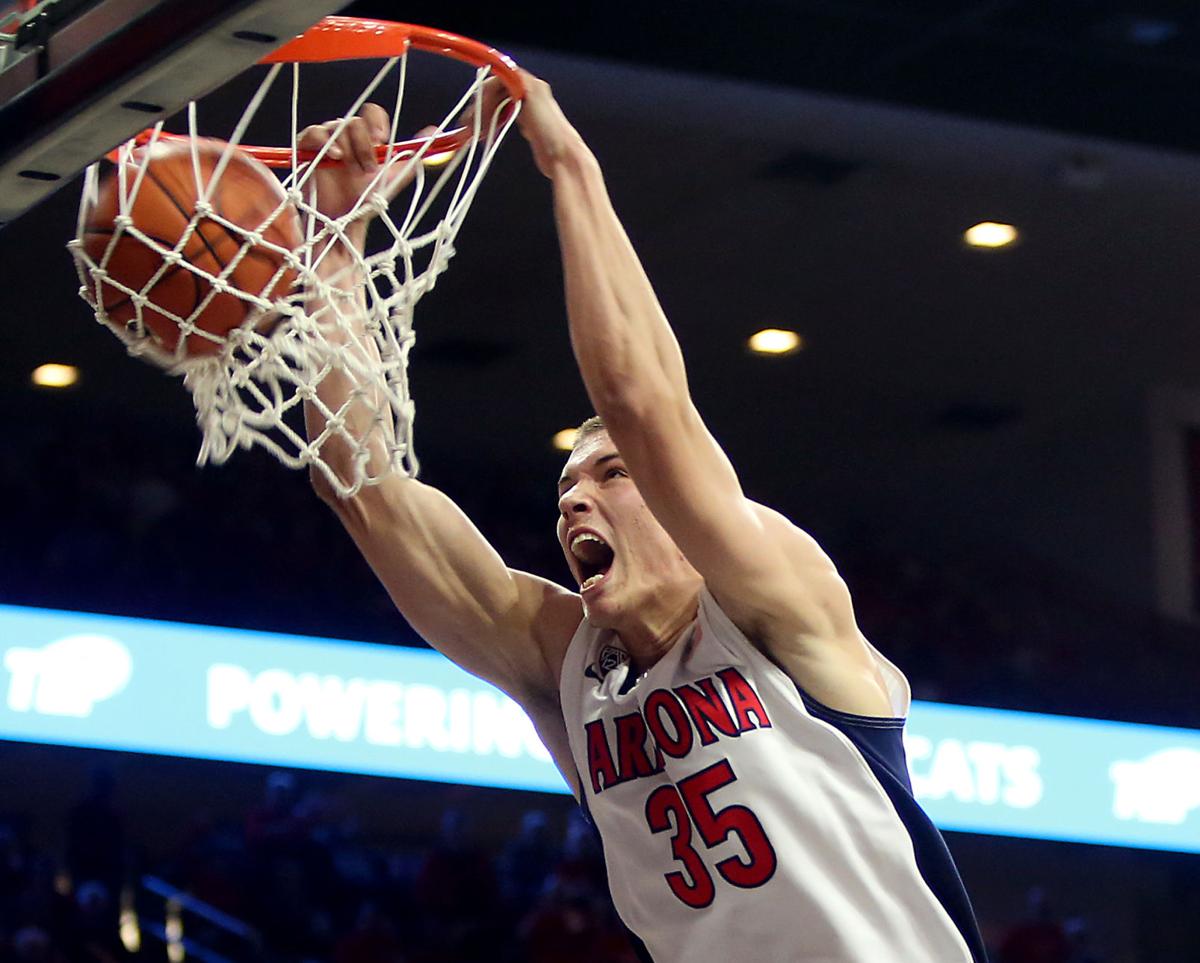 Just as Miller will be returning with the USA team he is coaching in the U19 World Championships until early July, Tarczewski will leave for a shot at the Pan American team in Colorado Springs starting on July 6.
Two staffers on that team are already familiar with Zeus' game: Mark Few is the head coach and Tad Boyle is an assistant.
"Even if you don't make the team, it's a great three or four day experience," Miller said today, at a McKale Center news conference. "If Kaleb would be able to make that team and travel and get that experience under his belt, that would boost his confidence for a strong senior year. We believe in USA Basketball and I don't believe I'm much different from a lot of coaches in the country when it comes to that."
---
Miller will be off this weekend on a somewhat unexpected USA Basketball journey of his own, having taken over the U19 head coach's role once Billy Donovan withdrew upon joining the Oklahoma City Thunder.
He said he's thankful for the opportunity.
"I'm very appreciative that they allowed me to move up," Miller said. "With that comes a lot of responsibility. But I have two guys (assistant coaches) with me, my brother Arch – it's great to have somebody that really knows me and we work together closely – and then (Providence's) Ed Cooley and I worked together as assistants last year and became very good friends. We have a great staff.
"It'll be a heck of a challenge. The one thing about this tournament the history of USA Basketball has not always been successful taking a group in this tournament. … It's not like we enter this tournament as a heavy favorite. It's been explained to me there's 16 teams, the fact that it's in Greece... We're going to face pros and teams that have been together for multiple years and we'll take a group that hasn't always been together and it's been a great challenge.
"From my perspective, No. 1 it's competing for the gold medal and No. 2, it's amazing the things you learn and bring back with you when you go into international basketball. Coaching with the short (24-second) shot clock, coaching against great coaches who have a completely different style than what we have over here. I will come back here a better coach and more prepared."
---
Miller was also asked about a number of other topics during his news conference, his first since Stanley Johnson and Rondae Hollis-Jefferson announced they were leaving school for the NBA.
 Miller said T.J. McConnell and Matt Korcheck have graduated, and that McConnell has a chance to make a strong impression in the NBA whether he is drafted or not.
"It certainly wouldn't surprise me especially once he selects his summer league team, if that team doesn't fall in love with him and he gets an opportunity. Given the opportunity like he has always done, he'll prove a lot of doubters wrong."
 Miller said Brandon Ashley still appears to be in the draft range from the late first round to second round, and that Rondae Hollis-Jefferson could move into the middle part of the first round.
"I know he's done exceptionally well, starting from the combine and moving forward," Miller said of RHJ. "His ability to be chosen in the first round is very good, which would be great for him and potentially even moving more towards the middle of the first round rather than late. That doesn't surprise me.
"Rondae has a special skill right away, that no matter who he goes with, he's going to bring to the table being a lockdown defender and rebounder initially and then allowing his offense to grow as he gets older."
Miller wasn't surprised that Matt Korcheck made a positive impression during an Aussie rules football combine in Florida. (Korcheck said last week he may be flown to Australia for a closer look).
"I tell you what," Miller said. "I wouldn't want to get hit by him."
 Miller said he's not sure if Allonzo Trier will make the U19 team (he's expected to do so easily, but the team is chosen by a committee), but said the experience will be beneficial.
"Everybody who does it learns more, creates relationships, comes back a stronger player and a more confident player," Miller said. "Aaron Gordon was the MVP of this same tournament two years ago. He had a great summer, which I thought really led into a tremendous freshman year here.
"I don't know if Allonzo will be on the team. I'm not the decision-maker. I'm just a small part of that but if he would be fortunate enough to make it, it would be a great experience for him. We always encourage our players to be part of USA Basketball."
 Four players took part in summer presession courses and practiced at UA over the past three weeks: Tarczewski, Trier, Gabe York and Elliott Pitts.
Many other players have arrived this week for the first summer session, including newcomers Mark Tollefsen, Chance Comanche and returning redshirts Kadeem Allen and Ryan Anderson.
For the second summer session, Miller said he expects to have his entire team (though Tarczewski will miss most of that session if he makes the Pan American Games team, which will compete in Toronto between July 21-25).
 New assistant coach Mark Phelps has arrived and hit the ground running. "His transition has been seamless," Miller said.