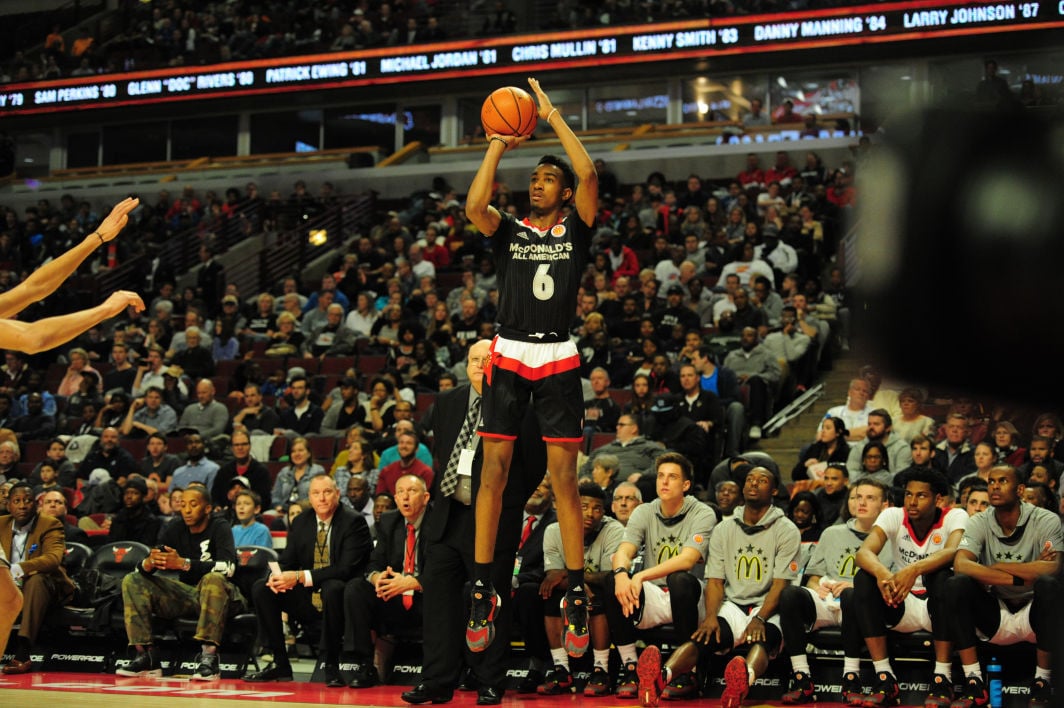 Five-star Texas guard Terrance Ferguson announced today he will play for Arizona next season, choosing the Wildcats over Baylor, Kansas, SMU and North Carolina.
Ferguson's decision gives Arizona the No. 3 recruiting class in 2016, according to 24/7 Sports, with the Wildcats also having lined up Finnish forward Lauri Markkanen, Georgia guard Kobi Simmons and New York guard Rawle Alkins.
However, Arizona has not confirmed the receipt of Alkins' letter-of-intent today, the first day of the spring signing period. Markannen signed in November and Arizona announced earlier today that it had received Simmons' LOI.
While UA coaches are still expecting Alkins to sign at some point, Alkins did not respond to a text message from the Star seeking comment about his plans.
A 6-5, 190-pound slick-shooting wing who hit seven three-pointers for USA Basketball in the Hoop Summit game last Saturday, Ferguson committed to Alabama last August but decommitted on March 1. The only visit he took after he decommitment was to Arizona, adding to speculation he would choose the Wildcats.
Ferguson told the Star before the McDonald's Game that he might take visits to Kansas and Baylor, but said via Twitter on Tuesday that he decided not to take any more visits and would announce his choice within a week.
Ferguson played on the USA Basketball team that UA coach Sean Miller led to the FIBA U19 World Championships, and told the Star last July that he would "love" to be coached by Miller.
After Ferguson reopened his recruitment last month, he and Miller began communicating again. Miller even sent Ferguson a text message after UA's loss to Wichita State in the NCAA Tournament that he would have loved to have had Ferguson in uniform that day.
"He's one of the best coaches in college basketball, so just to hear him say that to me especially after a loss like that, I really appreciated it," Ferguson said.
Ferguson also said he had a "fun visit" when spending two days in Tucson en route to the March 30 McDonald's All-American game. At that point, UA was over a week removed from its NCAA Tournament loss.
"I had a good time hanging out with the players off the court," Ferguson said. "Everyone was having fun. Nothing too serious. It was great to see how coach Miller was off the floor, just relaxed and not being so nervous."
The spring signing period opened Wednesday, and the Wildcats confirmed via Twitter that they received a letter-of-intent from guard Kobi Simmons, who committed in January. However, the Wildcats did not receive one yet from guard Rawle Alkins, who committed in February.
Arizona cannot acknowledge any of its recruits until binding letters-of-intent have been received.
The Wildcats already have an LOI from Finnish forward Lauri Markkanen, who signed with Arizona during the fall signing period in November. Miller said he is aiming to land six or seven players total in the class of 2016, meaning he'll pursue at least one more this spring.
If Alkins signs and even if the Wildcats don't add any more players, UA now has the third-rated recruiting class in 2016, according to 24/7 Sports. Markkanen is not rated because he plays overseas but Markkanen, Alkins and Simmons are all considered five-star talents.
With Ferguson, UA has two open scholarships remaining for 2016-17, and three if Elliott Pitts does not return to the Wildcats after leaving them for an unspecified reason in February.