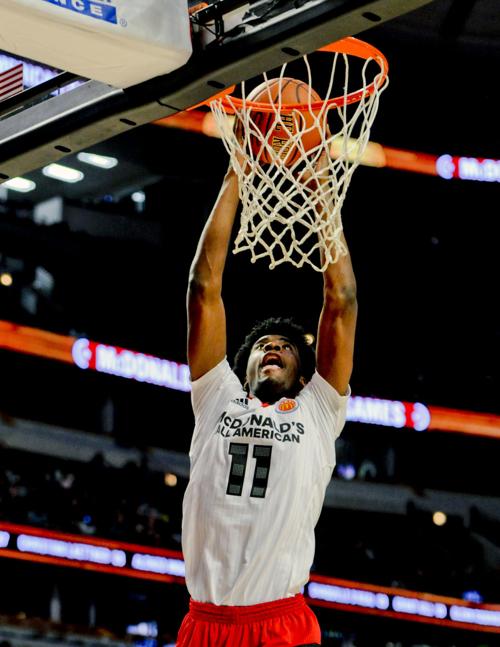 Five-star Detroit wing Josh Jackson announced today he will play for Kansas instead of Arizona or Michigan State next season.
Recent speculation had consistently suggested Jackson would choose the Jayhawks for what is almost certainly just one year in college, but the Wildcats remained in Jackson's top three largely because of his relationship with UA coach Sean Miller.
Jackson began developing a particularly close relationship with Miller last summer, when Miller coached Jackson and the rest of USA Basketball's U19 team to the gold medal in the FIBA U19 World Championships.
Jackson first visited UA unofficially last June before he and Miller went to camp with USA Basketball in Colorado Springs, Colo., and the two have kept up their relationship since then.
"Coach Miller is a really a great guy," Jackson told the Star before the McDonald's All-American Game last month. "He and I have a pretty good relationship. I've had the chance to play for him and just having that experience was really great."
Jackson also visited Arizona in December, taking in the Wildcats' 82-70 win over UNLV, and said last month that Arizona had done a "tremendous" job of recruiting him.
But when Jackson went to Kansas in June, that may have sold him on the Jayhawks. In comments posted to his travel-ball club's Twitter site, Jackson said he loved the atmosphere at Kansas' Allen Fieldhouse and that "they have the best fans and the loudest gym I've ever been in."
Believed to be headed only for one year in college, Jackson also said he has watched Kansas develop a number of one-and-done players over the past 10 years, "so I know coach Self has the ability to get me where I need to be, especially seeing him with a player of my caliber (Andrew Wiggins)."
The pickup is a big one for the Jayhawks. A versatile 6-7 wing now attending Justin-Siena High School in Napa, Calif., Jackson is arguably the No. 1 player in the class of 2016, rated No. 1 by 24/7 Sports and Rivals, No. 2 by Scout and No. 3 by ESPN.
In a recent interview for a USA Basketball story, Jackson broke down what he was looking for in a college program.
"Number one is the trust factor," Jackson said. "I just want to be around people I can trust and who are going to push me to become better on and off the court. Two is style of play. Each team plays pretty fast. I think that is where I'm best, when we are playing fast, or in the open court, transition. Three, I kind of already said it in the first one: to be under a coach who is going to push me and not just kiss my butt because I am who I am or they want me so bad. Push me to get better."
The Wildcats still have at least three scholarship openings for next season, and four if Elliott Pitts' departure proves permanent. They are still pursuing five-star guard Terrance Ferguson of Dallas, another player on USA's U19 team last summer, while they have also expressed interest in four-star power forward Taurean Thompson, as well as transfers Kory Holden of Delaware and Dylan Osetkowski of Tulane.
Miller said last week that he's aiming for six or seven players total in the class of 2016. So far, the Wildcats have three freshmen-to-be lined up in forward Lauri Markkanen of Finland, guard Kobi Simmons of Georgia and wing Rawle Alkins of New York.