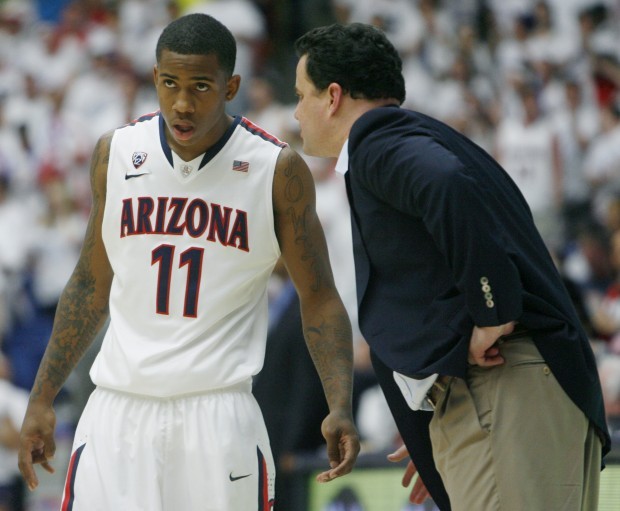 Josiah Turner is off the Arizona Wildcats' basketball roster for good.
Arizona announced today that the talented but troubled freshman guard  has decided to transfer after postseason meetings with coach Sean Miller that followed his two suspensions during the season.
Turner has not decided which school he will attend next, the school said.
"I learned a lot in my year at Arizona and would like to thank my coaches, teammates and the fans for all of their support," Turner said in UA's statement.
UA coach Sean Miller said Turner would finish the spring semester in good academic standing. That will help Arizona in its Academic Progress Rating despite the recent transfers of Turner and Sidiki Johnson.
"Josiah made a great deal of progress as a student-athlete in his year with us," Miller said. "All of us at Arizona wish him well in his future."
Turner's departure means the Wildcats are down to their 12-man scholarship limit for next season, after they added commitments from two players, guard T.J. McConnell and forward Matt Korcheck, earlier this week.
Turner is also the second player in UA's highly touted 2011 recruiting class to leave the team within a year, after forward Sidiki Johnson was dismissed in December.
The Wildcats have a total of six new players committed for next season, although McConnell and Korcheck will redshirt, and six returning players.
Turner had been suspended twice for unspecified reasons that were covered by federal privacy laws, the last time on March 7.
Turner was given a one-game suspension for UA's game at Florida on Dec. 6 and then suspended again on March 7, failing to make the Wildcats' trip to the Pac-12 Tournament.
After the tournament, Miller said Turner's suspension was indefinite and the freshman did not play in the Wildcats' first-round NIT loss to Bucknell. Turner sat on the UA bench for the game but did not wear any UA gear.
"I am disappointed in Josiah for his actions," Miller said in a statement upon Turner's March 7 suspension. "Unfortunately this suspension comes at a time of great excitement and opportunity for our team. However, the standards of our program will not be compromised under any circumstances. Hopefully, Josiah will learn a valuable lesson from this experience."
The most highly touted of UA's four freshmen, Turner struggled on and off the court all season. He opened the season in the starting lineup but was taken out of the lineup in the second game, on Nov. 9, because he showed up late for a pregame shootaround.
After Turner sat out the early minutes against Duquense, he did not play at all in the Wildcats' next game, on Nov. 13 against Ball State, after which Miller said Turner was still making adjustments "on and off the court."
But toward the end of the season, before his final suspension, Turner became a regular starter and had several solid games in Pac-12 play.
"He's shown flashes and certainly had his moments," Miller said in February. "The light shines differently for freshmen."
Miller also said then that with Turner "it's almost improvement by inches."
Turner wound up starting 17 of 29 games he appeared in and finished with averages of 6.8 points and 2.4 assists.
Without Turner, and because McConnell must sit out next season under NCAA transfer rules, the Wildcats will not have a true point guard available barring any further roster additions this spring.
The Wildcats will have two combo guards available, however: Junior-to-be Jordin Mayes, who started 16 of 29 games last season, and sophomore Nick Johnson. In addition, incoming freshman guard Gabe York has potential to play the point.
Be the first to know
Get local news delivered to your inbox!