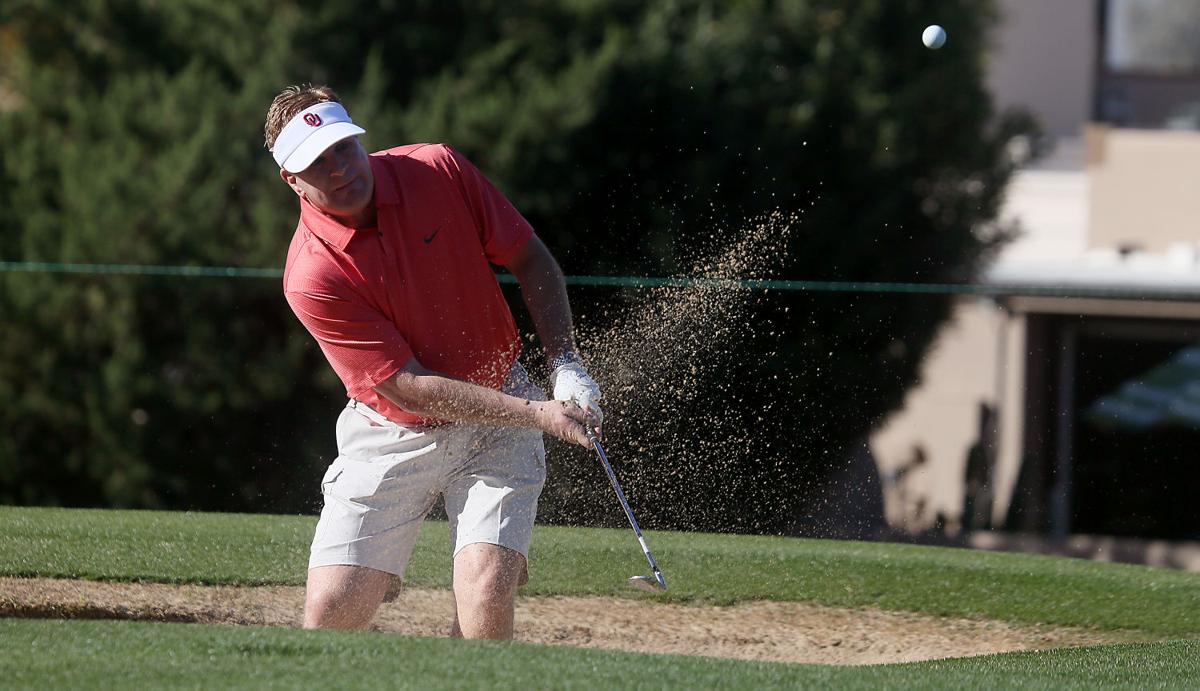 Former Arizona Wildcats coach Mike Stoops returned to Tucson this week to take care of some personal business, visit some old friends and play some golf.
Stoops participated in the Tucson Conquistadores pro-am this morning. The fivesome included buddy and tour pro Scott Verplank and Rich Rodriguez, who succeeded his friend as UA coach.
I got a chance to walk nine holes with the group at the Catalina Course at Omni Tucson National Resort. I spoke with Stoops on the 12th tee box while waiting for the green to clear. Here's how that conversation went:
What does it feel like being back here?
"It's fun. But it's different. It's nice to be around close friends. It's kind of neat to see some people and hang out and not be the head coach, you know?"
How would you describe your relationship with RichRod?
"Really good. We've been in the business for a long time. (I) have a lot of respect for what they do offensively and his teams. We're probably a lot more alike than people (realize). He's an offensive coach; I'm a defensive coach. But he's an aggressive-style coach. It was a good fit for Arizona. We enjoy each other's company, hanging out, talking football a little bit."
He seemed deeply appreciative of you extending the olive branch to him when he got the job. You didn't have to do that. Why did you?
"He went through a hard time at Michigan. That's part of the business – respect for what people do, and the camaraderie you have to have. It wasn't Rich's fault (that Stoops got fired). It was just more trying to help him get a feel for the program. I taught him a lot about the players, so they weren't going to fool him. He told them right off the bat.
"It had nothing to do with Rich. I wasn't bitter towards anything."
Having had some time to reflect on it, how do you view your tenure here at Arizona?
"Successful, for the most part. We didn't have a lot of the resources a lot of the other teams had. But I'm just really proud of the way our players and coaches pulled our teams together and got over the hump. We didn't do it with a lot of financial support. We did it on the bare minimum. We didn't have a football facility. We were stealing the basketball (facility). We were one of the only Division I (schools) – not even Power 5 – that didn't have a football complex. That part was a struggle.
"But you know what? We developed a lot of great players. It's probably the other thing I'm most proud of, whether it was (Rob) Gronkowski, Brooks Reed, Earl Mitchell, Antoine Cason. We put a ton of guys in the league. People respected the way we played. That's the thing I probably take the most pride in. I thought our kids always competed and achieved a lot at the highest level. Going to three straight bowl games is something that's only been done one other time (pre-Rodriguez). It was a great accomplishment.
"We probably took it as far as we could – and just missed out on a championship (in 2009). That hurt. But it's just how life goes. I was very fortunate to have some really quality coaches and players. Seven-and-a-half years – that's a long time here, considering the circumstances we were under and the duress we were under. We didn't have a lot of the things other teams had, but the kids never really complained about it. It's kind of crazy. We never talked about what we didn't have; we talked about the things we did have. Great place, great university, great climate … great crowds."
How do you feel about the fact that Arizona got a football building after you left?
"I'm happy for the players. They deserve it. It's long overdue. It's kind of mindboggling that we were in that situation. We overcame it, and that says a lot."
You mentioned Gronk. Did you know when you were coaching him that he'd become one of the best players in the NFL?
"Yes. Coach (Bill) Belichick called me on him. I said, 'Coach, if I'm starting a team, I want this guy on my team.' He may come across as this or that – you know how Rob can be – but when you put the pads on, that dude is money."