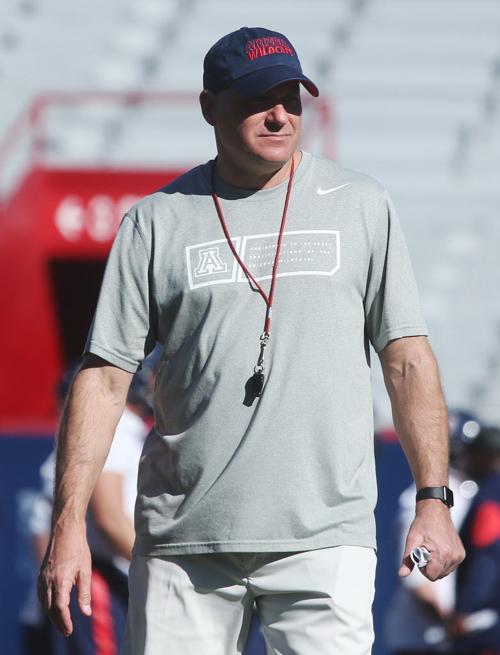 We touched on how it might impact Arizona, but hadn't heard from UA coach Rich Rodriguez on the topic since the ruling, as Arizona's spring football had already ended.
Monday, Rodriguez was made available to the media as part of a promotion for season tickets, and he — of course — didn't shy away from his thoughts on the satellite camp ruling. 
The verdict — Rodriguez falls more in line with the Leach camp than the Saban one. 
"I don't know how that rule passed so quickly," Rodriguez said. "I understand if we table it and look at it for a year, but to table it because a few SEC or ACC schools don't want to have it is not fair to a lot of coaches, a lot of programs and more importantly to the student athletes."
Arizona had planned on attending a number of recruiting camps this summer, as it has in recent years, largely all over California with other stops in Hawaii, Arizona and other states. It was at a camp in Hawaii that Arizona helped build its relationship with 2016 signee Michael Eletise, one of the UA's bigger recruiting coups in recent years.
"I don't see how it's that detrimental to the game of college football so we use them. If they say you can't use them, it's not as if it's the end of the world for us," Rodriguez said. "But I think it's been overwhelmingly positive at helping student athletes that would maybe not get a look and now they'd get an opportunity to show themselves and get a scholarship.
"If it's been overwhelmingly more good than bad, they shouldn't change the rules. A few squeaky wheels got the thing changed that quickly? I think it's silly and disingenuous."
Greg Byrne, Arizona's athletic director, is confident that it's an issue that will be revisited by the NCAA in the near future. The Pac-12 was actually one of six conferences to vote in favor of the ban, along with the ACC, SEC, Big 12, Mountain West and Sun Belt, while the Big Ten, AAC, Conference USA and MAC voted against the rule change.
UCLA athletic director Dan Guerrero was the Pac-12's representative on the NCAA council that voted on the decision. 
"I think there was a lot of focus on it because it was getting taken to another level than it had been before and there was discussion of what's that right strategy going forward for us?" Byrne said. "This is where we've landed for the short term. I think like any other legislation there will be opportunities to take a look at it again."
Here's some video of Rodriguez's response.