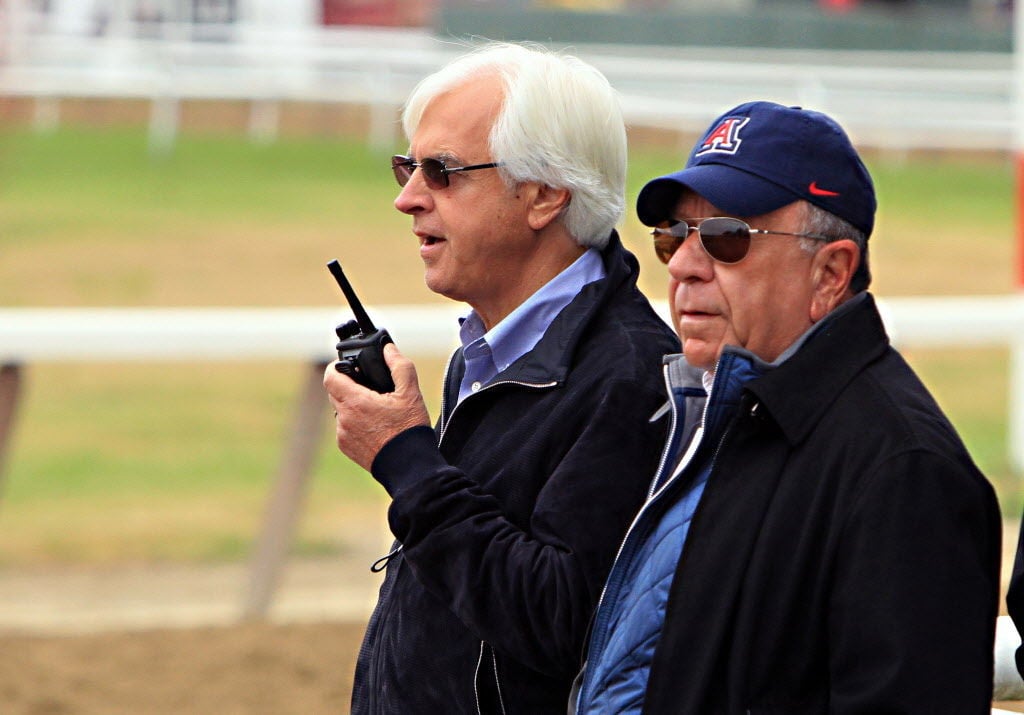 As American Pharoah hits the home stretch of the Belmont Stakes on Saturday, a very eager group will be watching in Tucson, the stakes a bit high for them as well.
Bob Baffert, American Pharoah's trainer, is a product of the renowned Race Track Industry Program at the University of Arizona. He is one of countless products of a program that continues to supply the sport of horse racing with innovative and eager young talent.
On Saturday, they will watch their fellow Wildcat either reach the pinnacle of the sport or become one of the many two-fers — those trainers who've watched a horse win the first two legs of the Triple Crown but fail in their bid for racing's immortal prize, last won by Affirmed in 1978.
"This is like the Super Bowl for us," said Sarah Crane, a senior in the program. "We have to read every piece, watch every video; we're watching everything on American Pharoah and will he end the drought? I think ahead, if he wins it, what can this do? We need this. The sport needs this."
And it needs its feeder program, the RTIP, as well.
The program came about when a group with racing industry ties approached several universities to begin what amounted to a recruitment base for the business. Arizona was the only school that would give it a go, and with a healthy endowment — one that is still alive and well — the program grew. It is now one of only two of its kind, and it operates relatively free from the university's grasp, as it is primarily self-funded. The program does its own advertising, hosts a symposium and handles its own recruitment.
As if it really needs to try.
With a track record that includes Baffert, Todd Pletcher and several executives at racetracks and in horse racing governance throughout the world, the program sells itself.
"It has been around for so long, with so many successful people out of it, that connections are everywhere," Crane said of the program, which began in 1974. "Little racetracks, huge racetracks, major trainers, minor trainers, it doesn't matter; the connections and people you meet is unlike any other."
Crane, 36, has two semesters left to complete an odyssey that stretches back nearly two decades. She first started at the College of Southern Idaho and worked as a pharmacy technician for more than 14 years, with her weekends and days off devoted to the racetrack.
Finally, she gave in, and "finally said I need to do what I love."
"I gave up a decent salary, benefits, everything for this and I'm not worried," she said. "I'm not worried at all. This program is giving me a chance to get a bachelor's degree doing what I love to do. I've worked at racetracks, and I could probably go back, but when you want to get ahead, and you want to make a career out of it, and go back to that semi-cushy lifestyle, people take you a lot more serious with this."
Part of the reason Crane is not worried — and likewise, part of the reason people within the horse racing industry consider RTIP participants to be worthy job candidates — is the seriousness with which its enrollees participate.
Students are heavily involved within the program, and a new partnership with the nearby Rillito Race Track has helped with hands-on training. They are also forced to take classes on both sides of the coin, the racing side and the equine side.
Equine students, who are typically more involved with horse training, grooming and racing, take accounting, financial management and business strategy classes. Likewise, those focused on the business end take husbandry classes before they add additional economics courses.
Sometimes, students emerge with a passion for both.
"Getting into the program, having to learn some of the other elements and not just the equine side, but the professional side, the rules and regulations, the operations, I've discovered I am really passionate about the regulatory side," Crane said. "I've switched my focus. Now I want to work in the industry and work within the regulatory body and help maintain the integrity of the sport, what we do and why we do it."
Ultimately, many of the students who enroll in the RTIP do so because they are familiar with the industry and want to treat it as a career.
Even those who've been around it from childhood, like Baffert.
"What we've done for that type of person, they now understand the entire business, not just how to put a saddle on the horse and send it around a racetrack," RTIP associate coordinator Wendy Davis said.
"Pletcher and Baffert, they run the equivalent of a corporation. When you look at revenue and expenses that go through their barns … the idea they understand the business side better, not just who got on the horse this morning, that seems to be the real important piece to the puzzle."