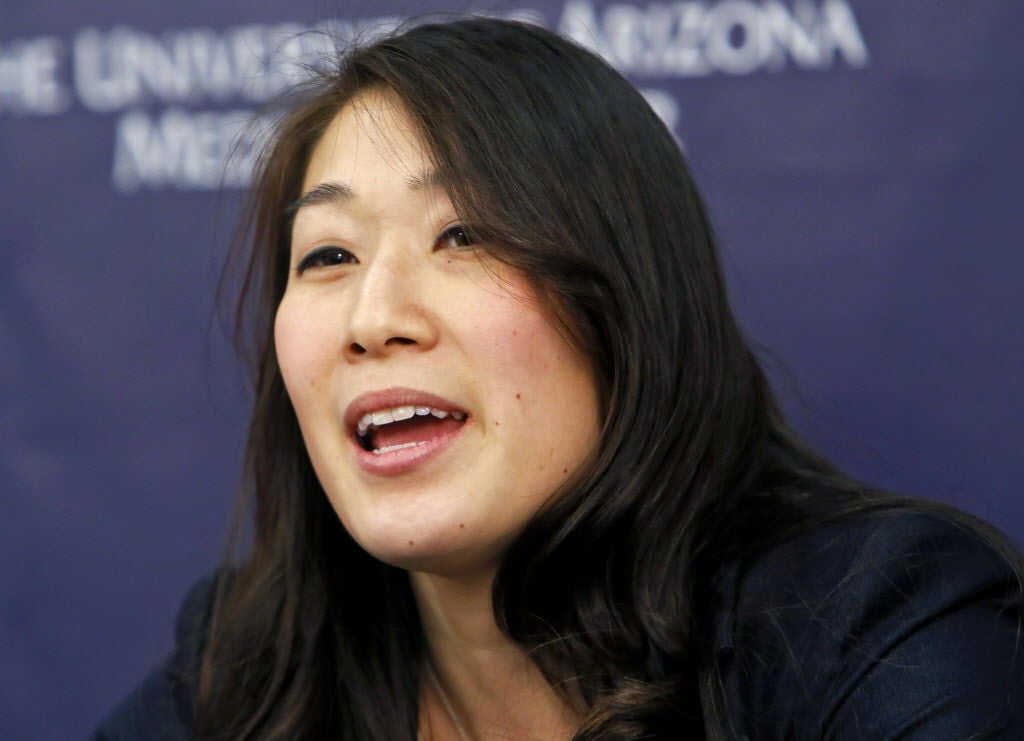 The immediate goal is simple: Raise the curtain.
It's happened once this season for the Arizona gymnastics team — a season-opening win over Michigan State in front of a record 3,707 fans — and with heated rival UCLA coming into town on Saturday, that's the goal again.
The long-term prospects of the program are bright, and with the surging popularity of collegiate women's gymnastics, there is a room for optimism. Gymnastics is the third-most-popular sport on the Pac-12 Networks, and programs like Utah and Alabama routinely draw more than 12,000.
But for now, new Wildcats coach Tabitha Yim has her eyes set on the curtain. That means there is need for overflow seating, and that the team's efforts in the community and through social media are being rewarded.
"It's been a real team effort, from the coaching staff to marketing to development and administration," said Yim, who was hired in May after five years at her alma mater Stanford, where she won 14 All-American honors herself. "Everyone has worked together so well, and I said when I came here that was one of the things that drew me here."
The results have been immediate.
The 3,707 mark is more than 1,500 more than attended last season's season-opening meet. The team's home season finale last year against Denver drew just 1,159 fans.
Arizona athletic director Greg Byrne saw potential in the program to drastically increase exposure and turnout. He sees Tucson as an ideal setting for a thriving Olympic sports community, and said, "I thought if we put it all together in the right manner, we could capture a new level of enthusiasm."
The plan has included visits into the community, partnerships with Girl Scouts and viral videos. A Youtube video of the team dancing the Whip/Nae Nae with Rich Rodriguez and football coaches has more than 300,000 views.
The game-day experience has also been enhanced with a new introduction sequence and a fast-paced program.
"How can you not go out there and have your best performance in front of that crowd?" Yim said. "People will believe in you. How can it not lift you up? I think they were surprised. The freshmen, their eyes were getting bigger. That's what we want, and that's what we need.
"It's really important for people to know their presence makes a huge impact."
It certainly has not been lost on the athletes, who've seen the drastic jump in attention play out.
"We are so excited for our home meets," senior Lexi Mills said. "We don't just want to perform for ourselves. It is an event. The bar is set high. What's amazing about Tabitha is she wants to treat us like a top-10 team, and she believes if we're treated like that, we'll become that. That really fuels our energy."
It turns out Mills and Co. are not the only ones flipping for Arizona gymnastics in Tucson this year.
"When we hired Tabitha, I told her I felt we could dramatically increase our attendance if we did a good job of marketing it," Byrne said. "Her energy she has brought, her plan — academically, athletically, socially — the fact that everything Tabitha has done in her life has been at a world-class level … I felt she was a very easy person to take a risk on."