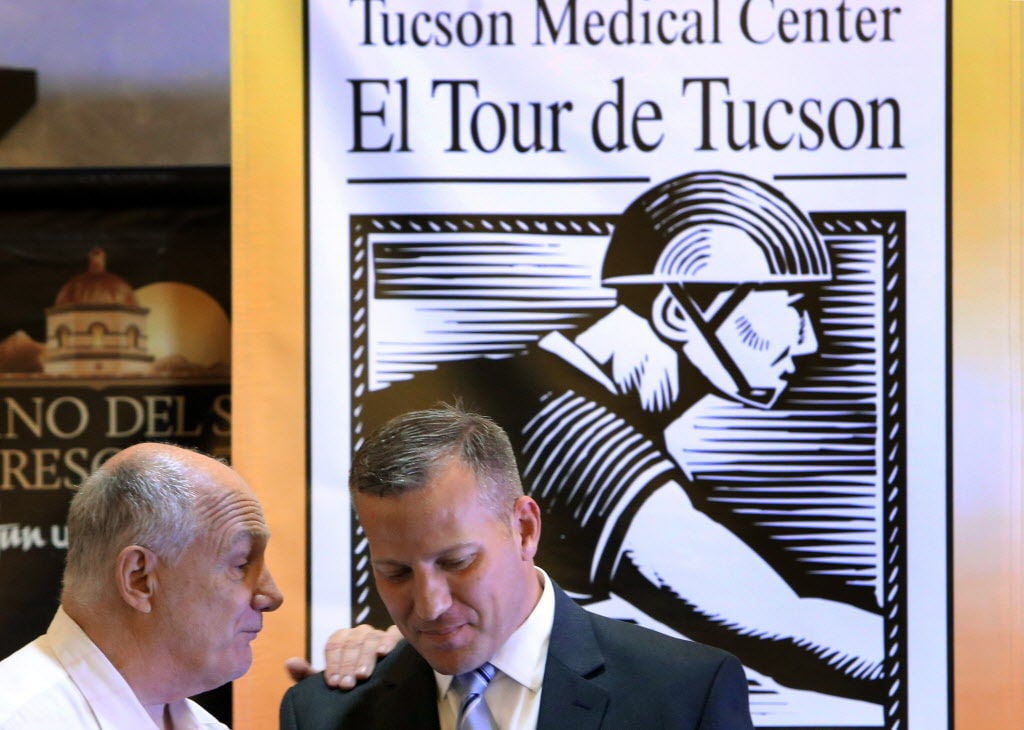 El Tour de Tucson has a new title sponsor: Tucson Medical Center.
The 33rd annual Tucson Medical Center El Tour de Tucson presented by Casino Del Sol will take place Nov. 21, officials said during a press conference Tuesday.
TMC is the 12th title sponsor for the annual event and, founder and president Richard DeBernardis said, it's key to the race.
"You're saving us this year; you're allowing the Tour to go on for another year," he said.
The pairing is a natural one, El Tour and TMC say. The hospital gives out over 8,000 bike helmets a year to kids.
"El Tour, like TMC, is grassroots in this community," said Julia Strange, TMC's vice president, community benefit. "Tucson is really the healthiest city in the country. The work of El Tour is very in line with that."
This year's race will showcase the town of Marana more than ever before, DeBernardis said. El Tour will stage a 25-mile race there in 2016.
"We want people to know when they come here that there is a difference between Marana and Tucson," DeBernardis said. "Just go up there and look at their bicycle paths, they're almost twice as wide as ours."
El Tour brings in more than 18,000 visitors from around the world, contributes an estimated $18 million to $30 million to the local economy on ride weekend and has raised more than $48 million for nonprofit organizations. Between 8,500 and 9,500 cyclists are expected to take part in one of El Tour's seven available races ranging in length from a quarter-mile to 104 miles. The 10th annual Indoor El Tour, which can be done during race week, starts Nov. 14.
This year's El Tour is dedicated to former U.S. Rep. Gabrielle Giffords and NASA astronaut Capt. Mark Kelly, who are expected to ride in the event. Kelly and Giffords would've liked to attend Tuesday's event, DeBernardis said, but "they have a schedule busier than the president."
"One day they're at the White House greeting the pope, and the next day they're on Double Jeopardy," he said.
Easter Seals Blake Foundation will be the primary beneficiary this year for El Tour. Last year's El Tour raised more than $8.2 million for 40 beneficiaries.
"We are so grateful and so glad," said Easter Seals Blake Foundation CEO Ema Kammeyer.
"Richard has done so much for this nonprofit community in Tucson that there should be a statue of him on a bicycle somewhere."