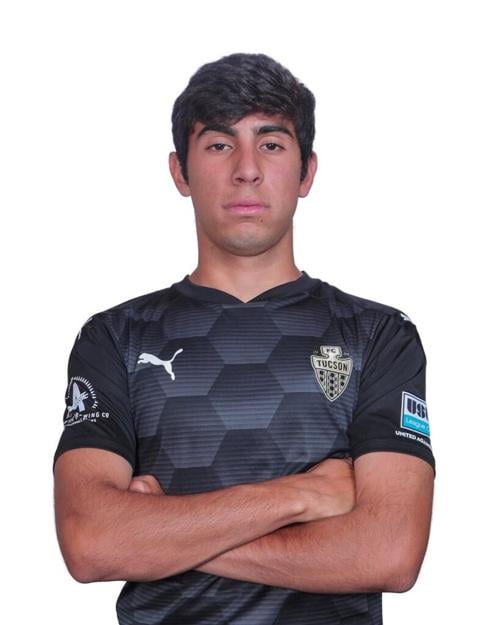 It started with a simple phone call.
Brandon Sanchez answered his ringing phone to find that FC Tucson vice president of operations Jon Pearlman was on the other line. The two have known each other for six years now as Pearlman has closely watched the development of the 17-year-old Tucson native.
What Sanchez thought was just a quick check-in by someone he considers a mentor quickly turned into a career-altering conversation.
"Pearlman said he wanted me to practice with the first-team guys," Sanchez remembered. "It was super exciting."
The news meant Sanchez, a Canyon del Oro High School student who had been playing on FC Tucson's Academy team, would now train with the club's professional USL squad. Over a two-month span, Sanchez impressed Pearlman and the coaching staff enough that they decided to give the youngster a shot in the pros.
On Aug. 14, the 17-year-old Sanchez made his USL League One debut, starting at midfield for FC Tucson in front of a home crowd at Kino North Stadium.
"I never thought it would happen," Sanchez said. "It was just a dream come true to play in front of my family and my hometown."
Although FC Tucson went on to lose 1-0 to Union Omaha that night, Sanchez became the first Tucsonan to suit up for the Men in Black this season.
FC Tucson (5-8-4) will take on the Greenville Triumph SC (7-10-3) at 7 p.m. Saturday at Kino North Stadium.
The debut was also a special night for Pearlman, who has known Sanchez since he was 11 and playing for the Tanque Verde Soccer Club at the time. The two have developed a bond over the years.
Pearlman calls him "a coachable kid" who is "really respected by the older players."
"It's been a joy to watch him grow as a player," Pearlman said.
Sanchez considered Pearlman a mentor on and off the field. He goes to the FC Tucson coach when he needs career advice in soccer or in life.
"We have a tight relationship," he said. "He trusts me and believes in me."
Getting a taste of the professional game has opened Sanchez's eyes to potential future paths as he begins his senior year of high school. The CDO student holds a 4.0 GPA, and has career goals well beyond the realm of the soccer field.
"I've always wanted to be a surgeon," Sanchez said.
Sanchez will use his senior year to explore options. His ultimate goal is to find a university that allows him to both play soccer at a high level and pursue medical school. He could also opt to stay in Tucson and continue playing professionally for FC Tucson.
"I know that Pearlman will always accept me here if I choose to stay," Sanchez said.
While it hasn't been determined if Sanchez will suit up for Saturday's match, the Tucsonan said he is enjoying his time in the pros — whether he plays or not.
"Every time I go on the field, I just want to work hard with everyone else," he said. "I just want to enjoy it and motivate myself to be one of the best players out there."
Corner kicks:Forward Gio Calixtro earned USL League One Player of the Week honors after scoring a hat trick in FC Tucson's 4-0 win over Fort Lauderdale. He scored three times in the first 53 minutes to help the club snap a four-game losing streak.
Midfielder Charlie Dennis and defenseman Kaelon Fox made USL League One Team of the Week for their performances against Fort Lauderdale.
Saturday night's home game against Greenville Triumph SC will be a 'Black Out'. Fans are encouraged to wear black to support the team.
Contact sports producer Alec White at 573-4161 or awhite1@tucson.com. On Twitter: @alecwhite_UA