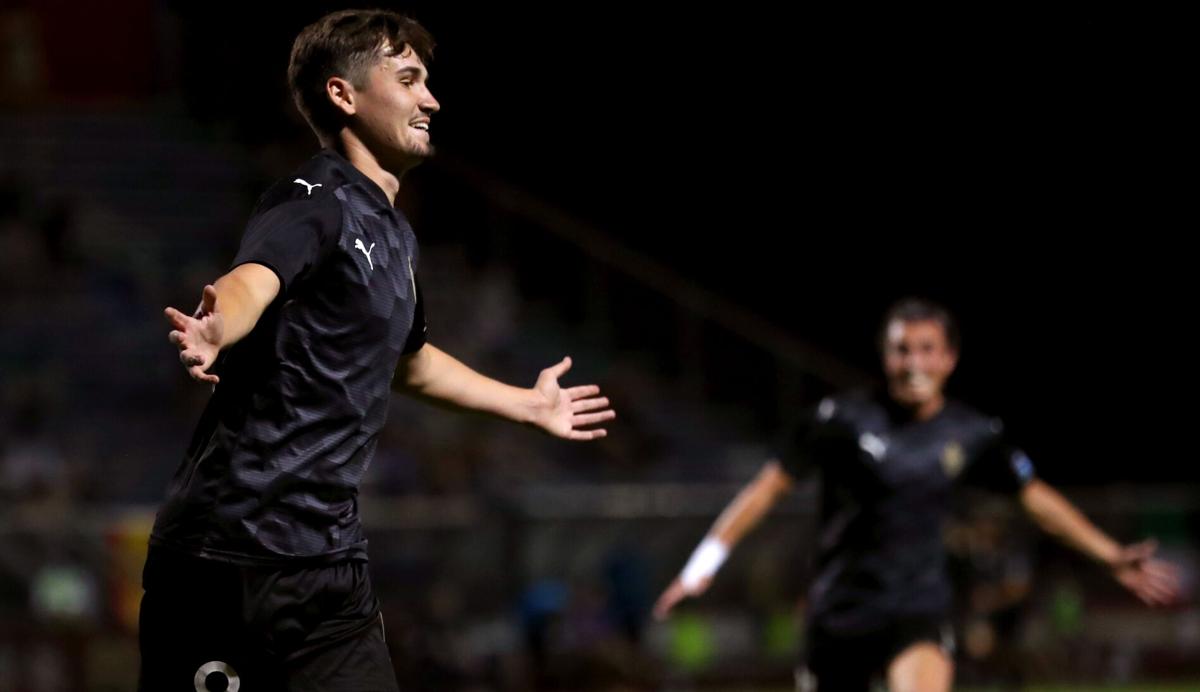 FC Tucson will take on the Chattanooga Red Wolves SC on Saturday night looking to make it four consecutive matches with a positive end result in the standings.
The Men in Black (2-2-2) have tallied seven points toward the USL League One standings over their last three matches, earning two wins before drawing 1-1 in last weekend's home match against Toronto FC II.
However, the club remains in search of its first home win of the season as it takes on the Red Wolves (3-1-1) at Kino North Stadium. Coach John Galas said this week that the team's recent success can be traced to improved defense and possession of the ball.
"We wanted to get back to sort of ball control, possession and tempo of the game," he said. "We're playing better football and have more confidence and composure now."
FC Tucson has stifled opponents defensively over the last few weeks. After conceding five goals in a loss to Fort Lauderdale CF on May 16, the Men in Black have given up just one goal to each of its last three opponents.
"We've seen remarkable improvement from Game 1 to Game 6," Galas said.
Last weekend's 1-1 draw is a perfect example of that improvement. FC Tucson fell behind in the 16th minute, then answered five minutes later with a goal from Giovanni Calixtro, his first of the season.
Galas sensed the early deficit didn't wreck FC Tucson's approach or mental state — something that might have happened a month ago. The club its composure at the end of regulation, even after defenseman Maximiliano Schenfeld picked up his second yellow card and was dismissed from the match.
Chattanooga poses a difficult threat this weekend, however. The Red Wolves have conceded only five goals and are one of three clubs in USL League One to have three or more victories in their last five matches.
Though FC Tucson's play has picked up steadily over the last three weeks, Galas says he needs to see one more match to be sure his team has fully overcome its 0-2-1 start.
"I want to say we've turned the corner," Galas said. "It's fair to say if we get a positive result against Chattanooga, I can use that phrase."
Corner kicks
The FC Tucson Women improved to 2-0 on the season with a victory over FC Arizona on Wednesday night. Erin Craig scored in the 17th minute half, and Luz Duarte added a 56th-minute goal as the team won 2-1. The FC Tucson Women are in first place in the WPSL Desert Conference.
"It was a little ugly, but we got the job done," FC Tucson Women coach Kelly Pierce said.
Duarte, a former member of the Mexican National Team, has scored three goals in two games.
Saturday night is "Pride Night" at Kino North Stadium. Fans who enter promo code PRIDE when buying tickets on FCTucson.com can get a ticket and a T-shirt for $20.
Contact sports producer Alec White at 573-4161 or awhite1@tucson.com. On Twitter: @alecwhite_UA