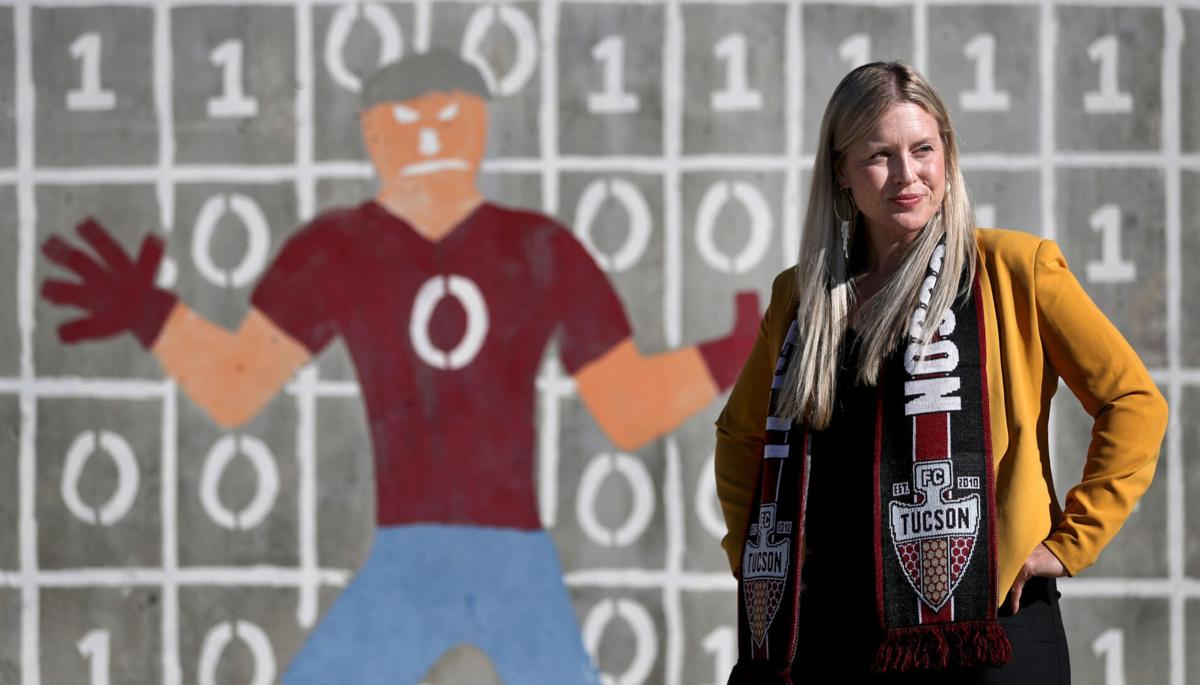 After she let coach John Galas go nine games into the season, FC Tucson president Amanda Powers took a step back and thought about the big picture.
Jon Pearlman, the club's vice president of soccer operations, was named interim coach at the end of June. Powers believes the team is in capable hands as she navigates FC Tucson's uncertain trajectory.
"Jon's done a fantastic job with the team given everything," Powers said. "I think there's a different spirit on the pitch from the players than what we've seen earlier this year."
Under Pearlman, FC Tucson is 2-2-1 and has a plus-one goal differential during that span. The Men in Black (4-6-4) host North Texas SC (4-5-4) on Saturday night.
Powers has taken initiative this summer to learn more about the business and technical side of USL soccer. Her goal is to ensure all three teams she manages — in addition to FC Tucson, she runs the FC Tucson Women and an academy team — are aligned and have the proper resources to succeed.
Her newfound strategy is why FC Tucson has yet to hire a full-time replacement for Galas. Powers said she doesn't expect a decision to be reached in the immediate future.
"What we're actually doing is taking more of a holistic approach," Powers said. "It's not just the head coach that we're looking for. It's more of a global and technical vision of FC Tucson."
During the summer, Powers has engaged in several conversations with USL sporting director Mark Cartwright about the direction of the league and its role in developing professional soccer players.
The technical side, Powers said, revolves around creating a strategic approach to player development and solidifying a five-year plan for the club. Through her discussions with Cartwright and others in the USL front office, it's become clear that FC Tucson will need to hire an additional front office staff member — likely a technical director — to handle such responsibilities.
"When you're trying to develop America's next soccer players as a united league, you need a coach that's focused on daily coaching and development," Powers said, "And you need a technical director or sporting director that's focused on supporting the coach, scouting, negotiating contracts and establishing pipelines overseas."
That's why there's been little to no movement over the last month in the coaching search, Powers explained. She said she's gathering as much information as she can before going in a new direction.
As for Pearlman, he's been alongside Powers every step of the way during the process both as a coach and as a front office staff member, offering support and guidance when needed.
Even once the new hires is made, Pearlman — a founding member of the club — is expected to play a crucial role.
"Jon is absolutely somebody that I want to have by my side," Powers said. "I can't say for sure where his long-term title lives, but he's a very important figure in our organization."
Corner kicks
Saturday night is Teacher Appreciation Night. FC Tucson is partnering with Faith Christian Academy, International School of Tucson and Marana Unified School District to raise funds for teaching supplies. The team will donate $5 from every $15 ticket sold to the schools.
Defensive midfielder Mo Kone signed with FC Tucson on Thursday. The 27-year-old previously played for New Amsterdam Football Club, logging 887 minutes over 10 games in 2021.
Contact sports producer Alec White at 573-4161 or awhite1@tucson.com.
On Twitter: @alecwhite_UA